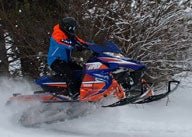 Add-ons for your Yamaha
If you own a new Yamaha Viper, you probably can't think of too many upgrades it might need. Rightly so.
Still, if you are a vintage collector of things Yamaha, own a Nytro and can't figure out what to do with it since the Viper has basically obsoleted it, or actually want to add some thing to your Viper, we found a few suggestions. One of the more impressive re-do kits we've seen essentially re-invents that old Nytro.
Born Again Nytro
Located in central Minnesota, Paynesville-based Skinz Protective Gear offers a way to virtually re-purpose an older Yamaha Nytro MTX. The company's "Black" concept can transform a Yamaha Nytro MTX 153 into a purpose-built boonie-whacker that utilizes many of the company's tried and tested parts, but brings them into a coordinated whole that can be built up to create a sled for your very specific riding style.
The "Black" kitted Nytro gains a gusseted front sub-frame, black powder-coated tunnel, an under the tunnel exhaust, Airframe runningboards, a Timbersled rear suspension and SPG's Concept front suspension with Fox Evol shocks. The rebuild includes complete dismantling, modification and re-assembly.
SPG specifies a Camoplast Challenger Extreme track for its Black project. The track's single-ply construction and advanced molding technology make it one of the lightest in its category, while its lug geometry and flex action give it unmatched flotation.
The Skinz Nytro Black project allows you to totally reinvigorate your older Nytro MTX and transform it into something that will work consistently in the powder, eliminating the uncertain handling of the stock sled.
SPG's "Concept" high performance Nytro front suspension repositions the spindle 4.5-inches forward along with an increase in caster that addresses many of the sled's handling problems.
Skinz product information notes, "This front suspension significantly improves trail handling and reduces or eliminates the erratic behavior of the Nytro. It enables the Nytro MTX to perform and function as a technical riding machine in the mountains allowing the rider to experience technical side hilling, off camber maneuverability, downhill to uphill turns, etc."
Skinz offers kits in 39-in. widths for the mountain models and 42-in. width for the trail/crossover models. Kits can be purchased with a variety of shock packages, including Fox Float 2 or Fox Evol R. Regardless of whether you purchase a kit with or without shocks, the shocks you do chose must have spherical mounting ends, which means that the stock Nytro shocks will not work.
The price of the kits ranges from US$950.00 to US$1949.00. For more specific and updated information about the Nytro "Black" project and SPG's Concept suspension, visit: http://www.skinzprotectivegear.com/.
If you don't want to go full "Black" project, you can add pieces such as the Skinz ChromAlloy front or rear bumper. These lightweight Nytro-specific bumpers come with an aluminum-polished finish and are designed for easy installation. Said to be extremely strong, the bumper adds a "Baja" style to the sled. Pricing for a front bumper kit begins at US$139.95.
Grippy Seat, Grippy Feet
Race Shop Industries of Boise, Idaho, offers a slip resistant high performance "gripper" seat cover for serious backcountry snow runners. The cover is said to enhance onboard rider to seat traction in both wet and icy conditions. The seat is a direct replacement for the stock one and comes in an all black "carbon" style that resists fading.
Priced at US$174.95, the RSI seat is available specifically for Yamaha Nytro MTX models and features a durable industrial seam construction that outperforms the stock design.
RSI also gives you added traction for your feet as well as your bum with its Yamaha Dumpers, aggressive running board traction inserts with unique snow evacuating ports to help eliminate snow/ice build up. Made of aluminum with a powder-coat finish for durability, the Yamaha Dumpers provide additional bracing support to the tunnel as well as giving you excellent foot traction when running in deep powder.
Priced at US$169.95 the inserts can be readily installed with the supplied mounting rivets and backing washers.
Located in Boise since 2007, RSI started out offering tapered aluminum handlebars, pivoting risers and such items as Hi Power heated grips. For more information about other Yamaha-specific add-ons, contact: http://www.rsiracing.com/.
Map Holders
One thing that has annoyed us about the new Yamaha Viper, as well as with many other new sled models, is a total lack of useful onboard storage. If you are out on an unfamiliar trail, how do you reference a local map? Do you use a trail app, assuming that there is cell coverage in the boonies? Or, do you stop trailside and unfold a map, gather your bearings, refold it and go on your way?
How about simply utilizing a simple, but effective strap-on map holder that lets you view a large trail section? Some map holders can be mounted to the handlebars and others, like the Gears Canada Map Holder can be fixed to your sled via a buckle attachment kit. The Gears map holder provides a very helpful easy to see-through clear vinyl window. The bag is made of a heavy-duty polyester material that has been polyurethane-coated for water resistance.
The suggested retail price for the Gears Canada Map Holder is about US$15.00. You can order online at http://gearscanada.com/ or shop other outlets such as Dennis Kirk or your local dealer. This is one product that you'll be apt to keep for many seasons as it offers "universal" fit from sled to sled if you use an optionally available buckle attachment.
It's Covered
One of powersports most organized online outlets for all things snowmobiling is Dennis Kirk, which has been supplying sled parts and accessories since 1969.
The company started as a small storefront and snowmobile parts and accessories mail-order business in Rush City, Minnesota, in the heart of midwestern snowmobiling. It's still located in Rush City, but now fulfills thousands of orders daily from a 200,000 square foot automated distribution center that carries more than 150,000 items in stock and ready to ship.
Dennis Kirk offers up-to-date merchandise and carries a vast selection of product that includes the Parts Unlimited Custom Fit Snowmobile Cover to protect your new or older Yamaha.
Constructed of a heavy 600-denier polyester fabric with water/mildew-resistant treatment, the cover features a built-in protective soft liner on panels that make contact with the windshield and painted areas. This is a good quality and long-lasting cover complete with:
• Double-sewn seams; • Adjustable tie straps for secure installation • Venting to reduce moisture during storage and reduce under-cover turbulence during trailering • Sewn-in handlebar reinforcements • Zippered gas cap opening for fueling • Over-cover body strap to accommodate multiple windshield heights and accessories such as risers and hooks.
This Made in the U.S.A. sled cover is designed to protect your sled against adverse winter weather, but it is not recommended for long-term outside summer storage. Suggested retail is US$145.95. For more information about this item and other accessories for your Yamaha, visit: https://www.denniskirk.com/.