2017 Arctic Cat ZR 6000R SX and XC Race Sleds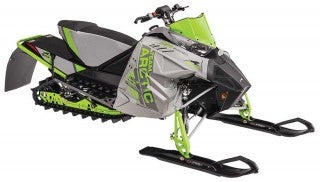 Arctic Cat race sleds get revamped for 2016-17 season
Arctic Cat unveiled an EFI-equipped ZR 6000R SX snocross race sled and a ZR 6000R XC cross-country sled at the 50th  Anniversary Sno Barons Hay Days.
2017 Arctic Cat ZR 6000 R SX
The new ZR 6000R SX is the first production snowmobile built for snocross competition featuring electronic fuel injection. It's powered by a modified Arctic Cat 600 C-TEC engine that was co-developed for competition by Speedwerx. Other key improvements and features are aimed at defending its ISOC Pro Open and Pro Lite championship titles from last season.
Features
Arctic Cat – electronic fuel injected race engine
– New intake flanges and air box assembly
– New T-map sensor (same as 600 C-TEC2)
– Speedwerx ported cylinder for increased rpm and improved performance
– New cylinder head profile for enhanced performance
– Modified 600 C-TEC2 throttle bodies (Speedwerx developed)
– New electrical harness and mounting
– New coil mounting bracket
– New engine mounting position
– New programmed ECU with new hot start function controls
– New coolant tank nipple and hose assembly
– Engine knock sensor (same as 600 C-TEC2)
– New exhaust system co-developed with Speedwerx
– New fuel tank with fuel pump assembly
– New voltage regulator
New lightweight vertical side spars for improved chain case durability
New cowl and windshield – improved windshield mounting
New rear spars for improved fit
New front exchanger – for engine mounting. All new engine mount plates
New intake boot – improved performance in G-outs
New torsion TSS-04 TEAM secondary for improved backshift
Added Power Sport gauge with hot start function indicator and other functions listed:
– Speed, rpm, speed, water temp, exhaust temp, voltage
New spindle machining for increased strength
New high-strength handlebar and grip (same as XC race)
Modified track for improved lug durability
2017 Arctic Cat ZR 6000R SX Specs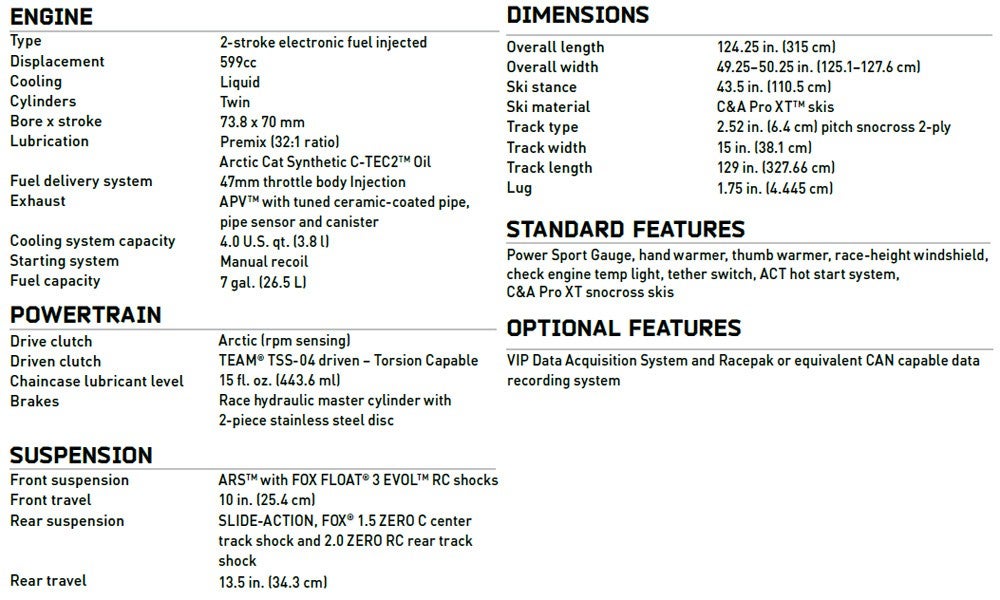 2017 Arctic Cat ZR 6000 R XC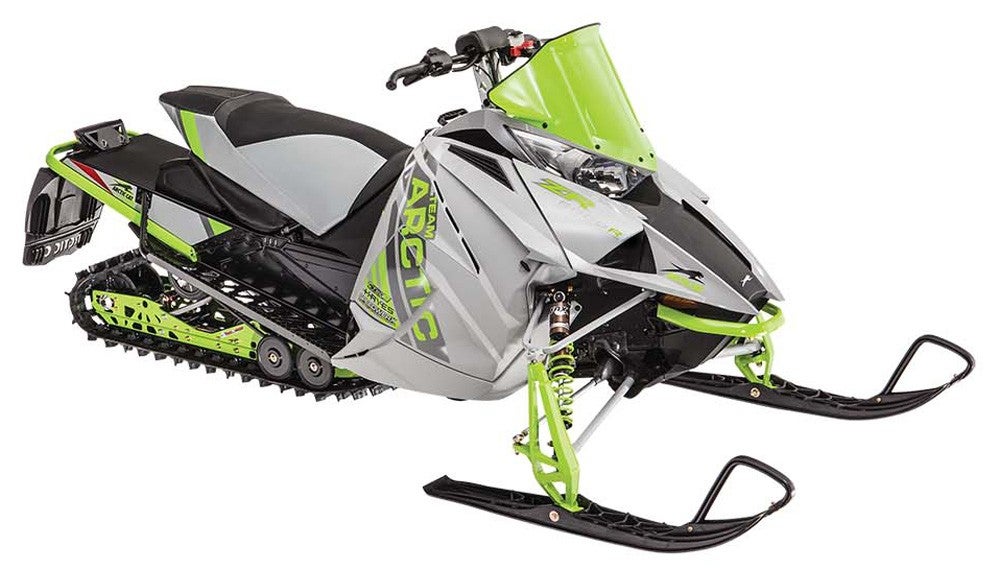 Cross-country racers will pilot the new 2017 ZR 6000R XC production race sled, which features all-new Gen-II plastic bodywork; FOX 1.5 ZERO QS3-R coil-over ski shocks with Kashima coating; and other improvements. It's powered by the Arctic Cat C-TEC2 600 DSI engine and contained by the ProCross chassis, a combination that captured five USXC championships last season, including Pro 600 and Pro Open.
Features
Gen II body plastic with improved access, improved venting, and improved installation and removal
Rear tunnel cooling system
– Front and rear tunnel coolers are separated
– New tunnel assembly (required for new cooling system)
– Tunnel cooler with incorporated tunnel strip protectors
– New rear tunnel/stud protector kit
– New coolant fitting and hose assembly
Improved chain tensioner arm and pad for increased durability
Revised TEAM drive clutch hardware and components for improved durability
TEAM TSS-04 driven with torsion spring capable for improved backshift and performance
Revised pipe covers for improved heat retention
Seat base and mounting for improved attachment
Revised spindle machining for increased strength
New hand warmers for improved durability
Rear belt bag for increased storage
FOX 1.5 ZERO QS3-R Kashima coated, coil-over ski shocks
Arctic Cat built C-TEC2TM with dual stage injection and electronic oil pump
Procross chassis with additional reinforcements for the rigors of cross country racing
43.5-in. wide Arctic Race Front Suspension
Stationary clutch guard with spare belt mounting
Offset ski spacers for adjustable ski stance
2.86-in. pitch 8-tooth track drive shaft for added ground clearance
2.86-in. pitch 129 in. x15 in. x1.25 in. Cobra track
Torque overload sensing (TOS) bottom chain sprocket for eliminating spike loads into the drivetrain
Borg Warner chain and sprockets for reduced stretch, lower friction, and increased strength
Revised chain case mounting and fasteners
Race-proven brake caliper and pads for improved wear and increased stopping power
Brake pads friction material has changed back to T-124 for increased pad life
High-grip seat cover with race comfort foam
Race-proven SLIDE-ACTION Rear SuspensionTM with 7-position rear coupling for a wide range of transfer control
Rail allows for additional mounting holes for front arm shock (ice racing)
Revised rear shock valving for improved handling and increased rebound control
Fully clipped Cobra track for improved ice racing performance
New ECM map for improved durability and performance
Lightweight exhaust system
New lightweight/high-strength handlebar for reduced weight
2017 Arctic Cat ZR 6000R XC Specs