2022 Ski-Doo Mach Z Preview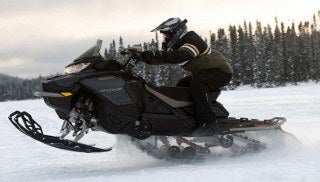 The Mach Z is back with a new 180-horsepower 900 ACE Turbo R Engine
The 2022 Ski-Doo Mach Z should excite the Ski-Doo faithful with its new 180-horsepower 900 ACE Turbo R engine and innovative Smart-Shox semi-active suspension.
Ski-Doo Mach Z Is Back!
Fast Facts
Engine: 900 ACE Turbo R
Horsepower: 180
L x W x H: 47.6" x 48.5" x 49.4"
Track: 137" x 15" x 1.25"
Front / Rear Susp: RAS X / rMotion X
The Mach Z holds a place in the hearts of power-hungry Ski-Doo fans and the muscle sled is back for 2022. The only downside is Ski-Doo says this will be a brief one-year return to the lineup.
The Mach Z is built on the REV Gen4 platform and will rely on the proven rMotion X and RAS X suspensions. But power is definitely the name of the game with the Mach Z as it boasts the most powerful engine ever in a Ski-Doo.
"The heart of any muscle sled is the engine and the Mach features the NEW Rotax 900 ACE Turbo R powerplant that delivers an eyeball flattening 180 horsepower plus there's the exclusive Launch Mode," Ski-Doo says in a release. "Launch Mode raises RPM and boost for maximum power that accelerates off the line like nothing else on snow – the ferocious sounds add to the thrill factor too."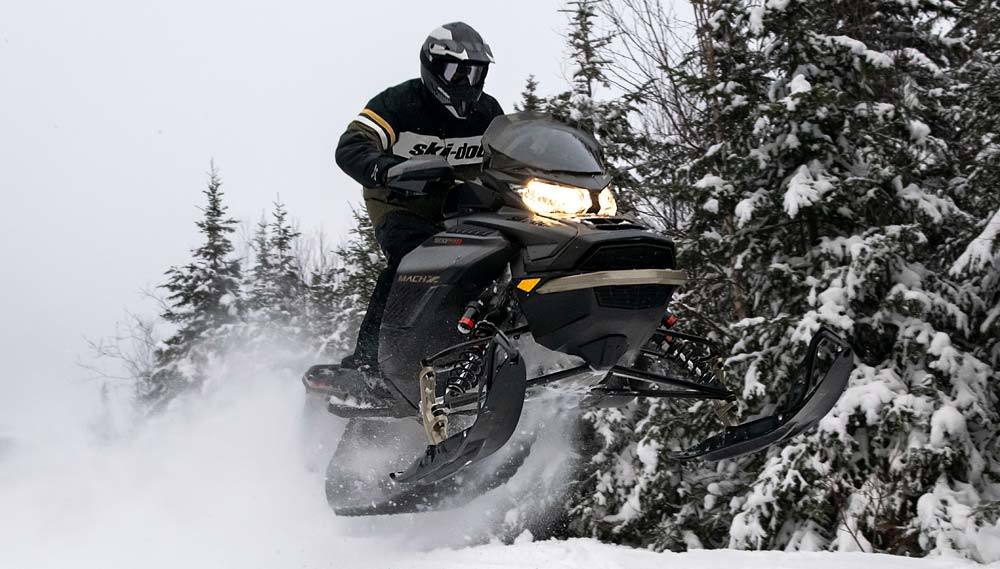 Delivering that power to the snow is a what Ski-Doo calls a fortified pDrive primary clutch and QRS vented secondary clutch mated to your choice of a 2-ply 137 x 15 x 1.25-inch RipSaw II track or a single-ply 137 x 15 x 1.25 Ice Ripper XT track.
Smart-Shox
So, you might be wondering about those new Smart-Shox. Here is how Ski-Doo describes this interesting bit of snowmobile suspension technology:
Industry first, innovative semi-active KYB shock technology combined with rMotionX and RAS X provides the ultimate suspension performance available in snowmobiles. Riders get more performance, control and comfort as the system constantly reads engine parameters and chassis inputs, including steering, to adjust damping of shocks as needed to deliver anti-bottoming, lateral stability and forward and aft pitch control. Three on-the-fly adjustable settings – Comfort, Sport and Sport + – make it easy to fine tune for conditions.
Other Mach Z Features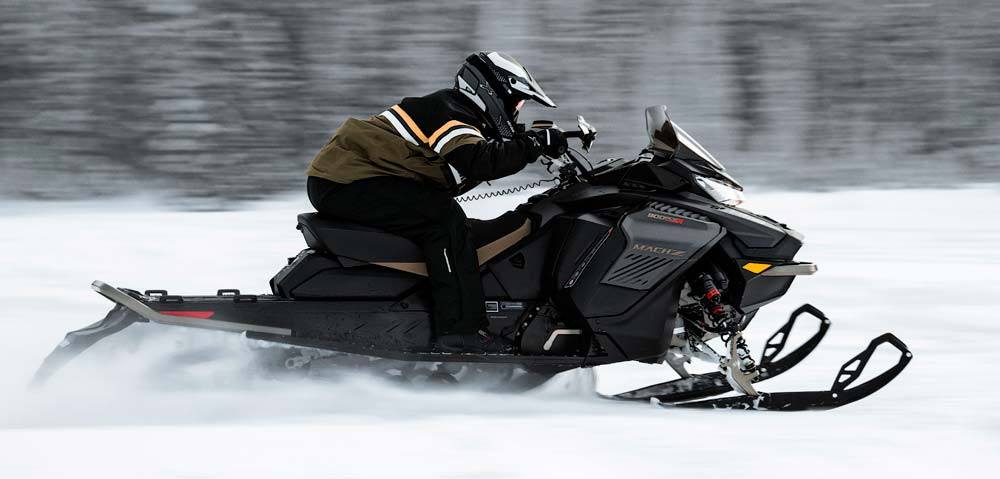 While the new engine and suspension will get the headlines, there are some other features on the 2022 Ski-Doo Mach Z worth digging into.
First, is the revised pDrive primary clutch. This system has been updated with new, stronger roller and spider material for use with the 900 ACE Turbo R engine.
"Fast and friction-free dual rollers transfer torque in place of traditional sliding buttons on this clutch," Ski-Doo says in a release. "Oversized rollers with needle bearings, wide based flyweights and a shaft-on-shaft design emphasize smooth operation and long life. Ultra-responsive shifting, impressive RPM consistency, lightweight and maintenance-free. Fixed sheave is finned to circulate more air – paired with the new CVT cover delivers better air flow and cooling."
Other features include a new dark smoke low windshield and handguards, new cable-activated intelligent throttle control (iTC) technology, and push-button reverse.
And buyers of the 2022 Ski-Doo Mach Z will have access to more than 150 Ski-Doo accessories, with four different LinQ mounts installed on the tunnel.