Harley-Davidson Snow Hill Climb to Make It's Debut at the Winter X Games +Video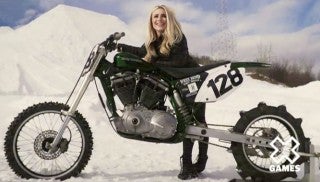 This is not your daddy's snowbike!
While not your typical snowbike with a track and ski, these fire breathing Harley-Davidson hillclimb machines are a new and unusual addition to the Winter X Games. Outfitted with studded tires, the "bikes" will drag race up the center of the half pipe as the final event of this year's Winter X Games in Aspen. Former Miss Supercross Dianna Dahlgren provides a walk-around of the bikes to be used in this new event.