Levi LaVallee's UpsideDowntown Stunt at Superbowl LII + Video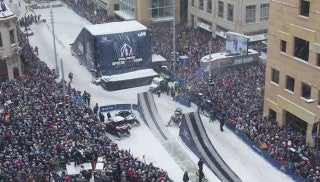 That's not the first time we've seen LaVallee riding his sled through Minneapolis.
With the eyes of the nation turned towards Minneapolis in anticipation of Superbowl LII, Levi LaVallee put Polaris Snowmobiles front and center during all the excitement with its UpsideDowntown backflip in downtown Minneapolis. Check out this video of the perfectly executed stunt and Levi's excitement afterwards.