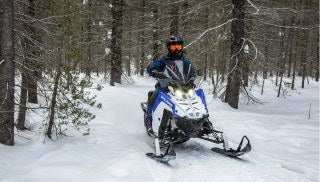 With the Farmer's Almanac forecasting a deep freeze winter for wide swaths of the country (hey – don't knock the Almanac, ok?), there's a solid chance there will be plenty of great snowmobiling conditions in coming months for those who are in the mood. And with an abundance of brand-new sleds on offer for the 2023 model year, why wouldn't you be jonesing to go?
We've gathered together a rogue's gallery representing some of this year's hottest rides to hit the snow. Grab yer helmet, saddle up, and hold on tight. But if you're truly keen on picking up a new snowmobile, you'd be wise to get to your local dealership ASAP, as stock on-hand may end up being limited again this season.
Polaris 9R RMK Khaos Slash 155
You're damn right we're starting off with a sled that refuses to travel the trails unnoticed – and this is a rig the performance to back up its bold looks. The latest so-called factory mod engine is a 900cc Patriot delivering what's described as a "lightning fast" response and lightweight power. Polaris says it's the lowest inertia engine in the lineup, meaning those of you who like the deep powder can attack technical terrain knowing the power and response lies in wait to back you up. The premium Walker Evans Racing Velocity shocks have sufficient adjustability to dial in the ride with high and low speed compression adjustment, as well. Toss in the brand's RideCommand and you've a machine unlike any other.
Yamaha Sidewinder L-TX LE
Now packing electric power steering for 2023, this sled now has the power and suspension to devour whatever terrain its rider throws under its wide track. The addition of power steering enhances control, lightens effort, and reduces negative feedback through the bars. All of which is to say one's confidence on this thing will skyrocket, allowing them to ride deeper into corners whilst reducing the muscle required for steering. Premium Fox QS3 shocks up front keep you hooked up while the dual QS3 shock skid handles bumps like a pro. The wide ski stance is balanced out by a 137‑inch RipSaw II track.
Ski-Doo MXZ Neo+
Bombardier knows a thing or two about snow, putting their knowledge to good use in this downsized REV Gen4 chassis. Some of yer buddies will scoff at the Neo+, given its diminutive size, but you'll be having the last laugh whilst ripping through trails while they stand there trying to heave their heavy sleds around the latest obstacle. The MXZ Neo+ uses the same philosophy as the Neo itself but adds 15 more horsepower to its Rotax 600 liquid cooled two-stroke. There's also a more aggressive track plus a few more creature comforts riders of any skill set will appreciate.
Polaris Patriot Boost Indy VR1
As a SnowCheck exclusive, there might not be many opportunities to find one of these things on the trail, especially given the supply chain challenges of the past year. Nevertheless, the new presence of this turbocharged two-stroke (yes, we said two-stroke) 840cc twin means Polaris has brought the Patriot Boost engine down out of the mountains for the rest of us to try. Without the weight penalty of a four-stroke engine, this brute has an estimated dry weight of under 500 pounds and an overall length of just 10 feet. With an estimated 180 horsepower on tap, you'll want to be looking dead ahead whilst thumbing the throttle.
Arctic Cat ZR 6000 R-XC
Heads up, ditch bangers: the Cat Crew is making its ZR 6000 R-XC available to consumers. This gives riders the chance to saddle up a sled very similar to the whip piloted by Zach Herfindahl to competitive wins. In this manner, the ZR 6000 R-XC isn't brand new for 2023 but this is the first year that average Joes and Josephines can buy one without becoming part of the Team Arctic race program. If you want to see what a race-winning cross-country sled feels like, this is a good way to do it. In terms of gear, the major mods between a workaday ZR 6000 and the R-XC are found in a longer front skid arm, new multi-position rear coupling system, and Fox Zero QS3 shocks. The chassis, rear suspension, chaincase, and brake are also upgraded.
Polaris ProStar S4 Voyageur
Heading back to Polaris for an instant, we find this rig which hangs out in the tough-to-define 'sport utility' segment. Driven by a smooth four-stroke twin in the 1000cc class of engines, this liquid cooled beauty is capable of hauling the mail – and most of your winter's wood. A decently sized fuel tank means you won't be wasting yer day refilling a thimble, though you'll want to pay attention in deep snow since this thing's dry weight is nearly 600 pounds. Add in cargo to its rear rack, under seat storage, or even a trailer and the Polaris ProStar S4 Voyageur is likely to weigh more than you did after four plates of Thanksgiving dinner.