Reflections: Snowmobile Model Year 2017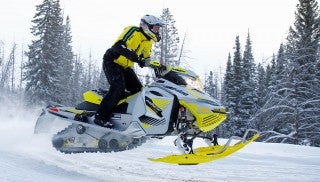 Some of the season's newest sleds literally jerk you out of complacency
Model Year 2017 jerked us out of complacency. Kinda hard to be complacent when two sled makers packed their line-ups with turbocharged four-strokes capable of 200-plus horsepower, quite a bit more than the 180-horsepower advertised.
Model Year 2017 demonstrated the full-fledged battle that's going on for the hearts and minds of the steep n' deep powder crowd. Light weight. Big power. Brand new chassis. Big 850cc two-stroke twin. Does that stock turbocharged 200-hp mitigate unflattering weight for mountain sleds? That verdict appears to be in for now as Polaris with its lightweight two-stroke and Ski-Doo with a new platform and bigger two-stroke twin duke it out, leaving Arctic Cat and Yamaha to scrap for leftovers.
Model Year 2017 started off poorly in some cases as pre-season ordering didn't make the numbers most sled manufacturers wanted to see. In the Midwest, snow hit just after Thanksgiving, providing dealers with hope for a great sales season. We took our sled in for a tune-up two weeks before Christmas and the dealership was busy and the sales manager was excited. When we picked up our sled right about Christmas, the snow had melted from warm temperatures and washed away from rain. Only employees were in the dealership. The sales manager said only a few people had come in. Business stopped.
Now there is visible snow on the ground. It's the reality of snowmobiling. In the "lake effect" areas snow stayed on the ground, but for city snowmobilers who could see only brown, there was the belief that it was brown all over the snow world. They were staying home.
This will probably have some effect on overall sales, but we expect the Weather Channel's exposure of vast unrelenting snow storms surging from the West Coast to the Atlantic seaboard has overcome the winter "brown out" and that snowmobilers from Washington State to Mt. Washington in New Hampshire started riding before the trails were set. Such is the reality of snowmobiling where the only factor that matters is snow.
From our perspective, the sport is underway. We're riding, but wondering what's coming. Model Year 2017 proved interesting. Now even as the season gets started, the sled makers ready "sneak peeks" of their next year's sleds. More of the same? New?
How did Model Year 2017 fare with each sled maker?
Ski-Doo
Quebec's pioneering and perennial all-star sled maker could have waited for a better snow year to introduce its fourth-generation REV and next variation of its popular ETEC two-stroke. The fact that Ski-Doo came full throttle into Model Year 2017 made a statement. The brand is Number One. The brand's parent company, BRP, plans to stay #1. Creating that all-new GEN-4 chassis and all-new 850cc ETEC two-stroke cost money and signifies commitment to the business and Ski-Doo's grip on the marketplace.
With that new engine and chassis combination, Ski-Doo set a direction for future seasons as we'll undoubtedly see an influx of GEN-4 based models as the company spreads out the development costs across more niches; trail sport, two-up, touring and eventually utility. The benefits of the newest ETEC system should work their way into future Rotax engines.
Model Year 2017 showed where the money is. Ski-Doo's biggest effort with its new technologies targeted mountain and off-trail snowmobiling with a cursory appeasement to groomed trail sport riders. That GEN-4 platform aimed for deep snow riders but was made to work for trail riders. The foot areas and runningboards suit the mountain crowd. Optional custom add-on pieces bring the chassis into play for aggressive groomed trail riding. That nifty adjustable handlebar set up placates the trail set. Relocating the engine to be more centered works for all GEN-4 riders and will be an asset for touring and sport sleds in coming seasons.
More than any other sled maker, Ski-Doo offers consistent evolution with the widest assortment of choices. Look at its four-stroke options. There are efficient and economical ACE engines to power virtually every model niche sans the highest performance ones like MXZ XRS and such. Pick a horsepower range, there's either a Rotax two-stroke or four-stroke positioned just right in every sled category. What other sled maker has the portfolio of Ski-Doo?
Polaris
We applaud Polaris' Model Year 2017 mix. With two self-engineered and manufactured two-stroke performance twins, an 800cc and a 600cc, Polaris successfully fights Ski-Doo head-to-head in the profitable deep snow market. With its ability to create lightweight powder models with strong power-to-weight ratios, Polaris takes its 800cc Pro-RMK to the top of the sales charts. This is where Polaris battles for market share.
Why not? Industry statistics show this arena as the most profitable, the equivalent of 4×4 pickup truck sales in the automotive world. Sure, the all-new XCR makes a colorful addendum and throws fresh meat to the bump and bang on/off trail crowd. Make no mistake, deep snow is where the action is. With Ski-Doo closing in on Polaris' low weight claims and offering the first 174-inch tracked powder sled, you expected this other sled pioneer to fight for market share. Model Year 2017 brought a 174-inch RMK to the Polaris line up. The 800 SKS crosses over to provide adventure riders a born-again option of good power working through a totally revised chassis, suspension and functionally styled bodywork.
Polaris entered Model Year 2017 with a plan to make its mark in snowbikes, becoming more aggressive in marketing its Timber Sled acquisition. This season Polaris threw more effort in promoting this niche of snowmobiles, anticipating the challenge that has come from new brands and the Arctic Cat snow-specific creation.
Interestingly, Model Year 2017 offered zero four-stroke models. The low-buck sleds drew power from a tried and true fan-cooled Fuji-sourced twin. Polaris thrived in Model Year 2017 with two liquid-cooled two-strokes of its own design and a venerable fan-cooled one from Fuji.
Arctic Cat
Unlike Ski-Doo and Polaris, Arctic Cat's Model Year 2017 offerings demonstrated dependence not independence. At least in the engine department. Arctic Cat makes just one of its engines, the 600cc C-TEC2, but it works well enough to power an impressive number of models. The big stick two-stroke comes from Suzuki, whose 800cc twin is strong, fast and well regarded by Cat aficionados. The most powerful of Cat's two-strokes, the 800 is not the most powerful powerplant.
Cat's partnership with Yamaha brought the company the most powerful stock snowmobile powerplant any season has ever seen. Officially rated at 180 horsepower, Cat minions "leaked" the results of a private dyno company, which claimed more than 220 horsepower for the all-new turbocharged Yamaha-built 998cc four-stroke triple!
For frugal sport, touring, utility and powder riding, Cat turns to the Yamaha-supplied 1049cc four-stroke. Model Year 2017 even brought a nuanced 700cc four-stroke over from its wheeled product line. Used in various models the 700cc design resulted from Cat's partnership with Kymco.
The key partnership has to be the one with Yamaha whereby Cat manufactures sleds under the Yamaha brand and gets a "deal" on engines. The Cat-Yamaha partnership seemed a bit odd at first, but seems to have settled in as a good thing for both companies. Indeed, Arctic Cat appears to have mastered he partnership "thing." Partnering with Yamaha gained them engines and a manufacturing customer.
After a bad season or two with a particularly troublesome drive system that caused wear and belt issues, Cat decided to partner with Team Industries, a leader in drive systems that has worked with snowmobile companies, including Polaris among others. With this hook-up. Cat saw its warranty issues fade and the Team alliance led to creation of a co-engineered multi-speed drive system for its utility and touring sleds.
Model Year 2017 showed Cat trying to gain a larger foot print in the deep snow markets, but it has yet to return to the dominance Cat sleds owned more than a decade ago. It will attempt to make a mark in the snowbike niche with its own snowmobile-specific SVX 450, developed in conjunction with track maker Camso.
Yamaha
Model Year 2017 moved Yamaha deeper into the realm of partner as it greatly expanded its line of Arctic Cat manufactured models. Adding to the proven good results of the Cat-produced but Yamaha-powered SR Vipers, Yamaha brought serious four-stroke high performance to its dealers. The new for 2017 Sidewinder showed more Yamaha content than any other of the co-produced sleds.
The sleds may have been manufactured by Cat in Thief River Falls, Minn., but the engine was virtually all Yamaha, not a box engine like the 1049cc. That engine featured Cat intake and exhaust. The Sidewinder's 998cc three-cylinder turbocharged four-stroke has the Yamaha stamp on it. The turbo system was uniquely a Yamaha partnership with a major turbo maker that normally did automotive engines. Sidewinder clutching came from Yamaha engineering as did the Viper drive and driven. The two companies worked together to revise the engine compartment and fit a new design cowling around it. The performance was Yamaha and suited the "most powerful" litany of Arctic Cat marketing. It allowed Yamaha the chance to showcase what the company does best – make power.
Model Year 2017 brought powerful new sleds to the Yamaha brand, but it brought a bit of model confusion as the company remained a virtual non-player in the profitable steep and deep market. Powerful, but heavy remained the perception of Yamaha's powder models. The "heritage" RS models like Vectors, Phazers, Ventures and Apex sold in small numbers to diehard Yamaha loyalists but weren't likely to provide a Yamaha dealership with a strong return on investment.
Of the four snowmobile manufacturers, Yamaha may be the strongest financially worldwide, but suffers as a weak number four in market share.
While Model Year 2017 kicked off with a powerful statement from Yamaha, it remains to be seen how the future goes. Yamaha is all four-strokes (save the VK 540). Polaris is all two-strokes. Arctic Cat is partner dependent except for its own 6000 C-TEC2. Ski-Doo sits well in the sled biz with its assortment of fuel efficient and performance-oriented two and four stroke designs, allowing the brand to blend power and sled chassis options at will, filling and creating niches.