You Can Convert Your Arctic Cat Twin Rail to Alpha One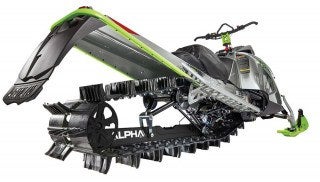 Conversion kit lets you move from twin rail to single beam suspension
Arctic Cat's Alpha One single-beam rear suspension system has been a big success for the Minnesota-based manufacturer. But if you happened to buy a twin trail-equipped sled before the Alpha One set up showed its teeth, you might be feeling a little left out.
We've got good news on that front, as Arctic Cat has released an Alpha One conversion kit, which allows owners of 2017-19 Arctic Cat twin rail sleds to convert their machines to the lighter single beam design of of the Alpha One.
The kit comes with the following:
165-in. x 15-in. x 3-in. Next-Gen Power Claw Track with 3.5-in. pitch and 3-in. paddles
7-tooth Track Driver
Mounting Hardware
Instructions
Extruded Aluminum ALPHA ONE beam without shocks
Now for the bad news…the Alpha One conversion kit does not come cheap – it retails for US$3193.95 or C$4279.95. That's a big kick to the wallet, but if you really want an Alpha One single beam suspension don't want to sell off your 2017-19 Cat to buy a new one, this kit lets you join the party.