Christian Brothers Racing Report: ACS 5-6 and USXC 2

It was a busy weekend for the Christian Brothers Racing team, with half traveling to the ISOC Canterbury Snocross in Shakopee, Minn. and the other half hitting the USXC cross-country race in Detroit Lakes, Minn.
The USXC event was held on Big Detroit Lake where the USXC crew had laid out a 10-mile ice lemans course featuring a mix of tight and sweeping corners and flat-out straightaways. It made setting up the Arctic Cat snowmobiles challenging but the CBR crew was able to dial in the machines and set fast times in both Pro classes with Brian Dick taking wins in both the 100-mile Pro Stock race and the 40-mile Pro Open race. In all, the team claimed a total of four of six podium spots – Zach Herfindahl finished third in Pro Stock and Ryan Simons, who swept the previous race at Pine Lake, took second in Pro Open.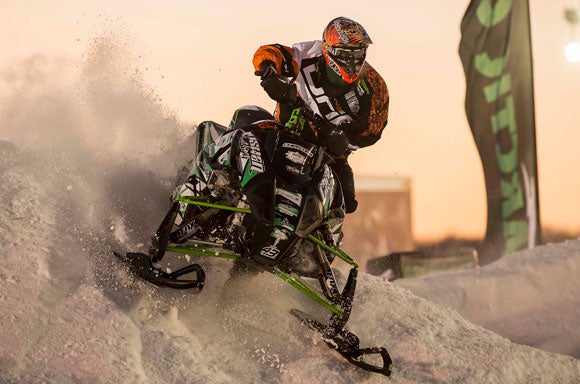 Three-and-a-half hours South of Detroit Lakes, at the ISOC National snocross race in Shakopee, the team was tackling a highly technical snocross track in front of a crowd of fans packed into the Canterbury Downs horse racing facility. During Friday night's racing Logan Christian went 3-1 in heats and qualified his DRIFT Racing/Troy Lee Designs Arctic Cat in the third spot for the final. Garth Kaufman went 3-5 in heats paving his way into the front row of the final with his teammate. Christian lined up in the middle and Kaufman set up his Michelob Golden Draft Light-sponsored Arctic Cat on the far outside. On green Christian slotted in fourth and Kaufman was mixed in with a bunch of riders just behind. As the 22-lap race played out, Christian faded to seventh place while Kaufman worked his way up to fifth.
During Saturday night's racing Christian looked to be cruising to another top qualifying spot when he blew a belt in the second round of heats. That put him in the LCQ, which he won. Kaufman also ended up in the LCQ where he finished third, earning a transfer spot. In the race, Christian finished seventh and Kaufman came in 11th.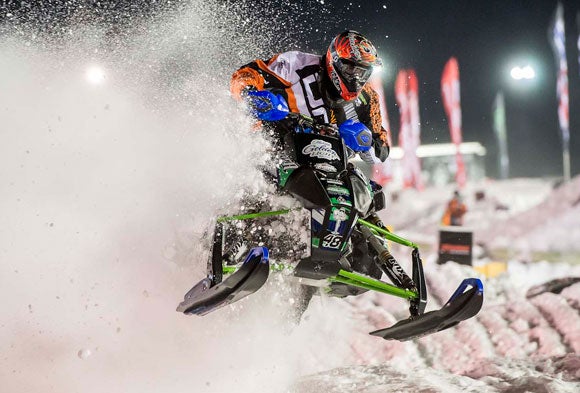 "The blown belt was a bummer but it was a blessing in disguise because it resulted in maybe the best ride of my career in the LCQ," says Christian. "That race was so much fun and I proved I can set the kind of times that will put me on the podium and win races."
Christian currently sits in sixth place in Pro Open National points while Kaufman is working his way up from 14th place in the standings.
CBR Junior rider Trent Wittwer won the Junior Novice 10-13 class and during Sunday's Regional race Wittwer took wins in Junior Novice Combined and Junior Novice Limited. Evan Christian won Transition Limited and Transition Combined on Sunday.
"It's been a little bit of a slow start to the season but the guys are starting to pick up the pace and finish at the front," says Christian Brothers Racing co-owner Dwight Christian. "As long as we keep moving forward things will be good and that's what we plan to do."