What's Next in Snowmobiling?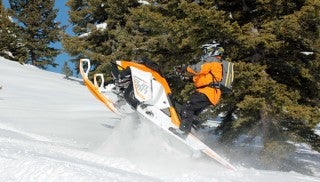 Predicting the future of snowmobiling isn't easy at all
We'd love to be able to predict the future of our sport. What will be coming down the assembly lines in the seasons to come and what new technologies will we be seeing? Unfortunately, we suspect that we are the worst prognosticators when it comes to such things. We can usually predict the obvious like the expansion of heated hand and thumb grips and the eventual move to electronic fuel injection. But when it comes to serious industry changes, we plead ignorance.
While we can appreciate the evolving snow bike market, we remain skeptical to its overall impact. At first blush the snow bike seems to be a low-cost way to go snowmobiling and a good way to maximize the value of a summer dirt bike. Adding a track and snow kit to your bike will cost about US$5000. If you purchase a new 250cc dirt bike, the total expense could top US$12,000, but most kits go on existing or used models and the expense is way less.
The appeal of the snow bike is its lightweight, go anywhere capability. Well, that's anywhere there's deep powder, as this seems to feed the immediate affection for this niche. Being youngish and adventurous helps.
When we examine the snow bike market we are reminded of Yamaha's lightweight snoscooters of last century. They had two skis and a track, used pre-existing motor scooter technology and proved more valuable as used snow toys than when they first came out. And there was Ski-Doo's attempt about a decade ago to create a "freestyle" market with a lightweight, low cost sled powered by a 300cc single cylinder two-stroke. Neither of those efforts worked.
Perhaps, being snowmobiles, these products were too tame for the existing snowmobiling clientele and too early in the marketplace to be seen as viable by the yet to surface "life as an experience" millennial crowd of outdoor enthusiasts. Off-road biking is big with both a motor-oriented and non-motor segment of under 35-year-olds. Witness the winter-time use of fat tire bicycles. These top line models retail for US$3500 and up. There's even a two-wheel drive fat tire electric bike. So, the advent of the deep powder snow bike shouldn't be unexpected.
Polaris has jumped on board the niche by buying one of the major players, Timbersled. Arctic Cat plans to release its all-new purpose-built SVX 450 snow bike this season. There is a market and because of the growing interest there will be an aftermarket of specialty manufacturers. Only time will tell how real this niche is. It could be like the youth-oriented go kart phenomenon of the 1960s that initially seemed huge but eventually settled into a true but quite small niche market.
Snowmobiling itself enjoyed an explosive first decade with stock analysts predicting annual sales upward of a million units. Back in that robust period of the late 1960s and early 1970s, such prospects lured major corporations like Armco Steel, Textron, Coleco, AMF, Massey-Ferguson, Kawasaki, Harley-Davidson, John Deere, Yamaha and Suzuki to compete with little known sled builders like Polaris, Arctic Cat, Scorpion, Ariens and others. Market conditions put the brakes on those hefty expectations, leaving just four sled makers with annual sales at about 10 percent of those earliest estimates.
Still, though, the snowmobile industry considering its relatively small size has managed to create products with some unique features even if the basic concept of a snowmobile remains startling similar to the early Eliason designs of the 1940s. Sleds have settled into a structure of a singular tunnel attached to a framework for the engine, a single endless track, two skis and a CVT transmission.
While that design seems to be the best one for a snowmobile, it didn't preclude adaptation and modernization. Sleds that once weighed less than 250 pounds are now double that with engines that produce 10 times the power of the early Ski-Doo Olympique 250s.
Sleds have retained their basic architecture into the new century, but how we interface with them has changed. Ski-Doo revolutionized the seating position. Polaris took rear suspension design outside the skid frame. And all four sled makers have made deep powder riding unique with suspensions that tilt, skis that float, tracks that grip and body shapes that plane.
When invited to a snowmobile manufacturer's "focus" group several years ago, we proved a bust for forward-thinking. Like many of our brethren we base our thoughts about future snowmobiles on what we know and have experienced. Our desires come down to wanting lighter sleds, more powerful engines, more suspension travel and such. We normally don't think about how a sled can utilize a new automotive glue process in its construction to reduce weight and simplify repairs, but Polaris did. Even though we used to move far forward on the seat as we rode, we didn't interpret that as a new way to ride. Ski-Doo did and REVolutionized our riding style. We thought about four-strokes as being cleaner than a two-stroke, but it took Ski-Doo and Rotax to bring marine technologies to bear in the creation of E-TEC direct injection. Yamaha fought back on the weight issues of its sleds by adding electronic power steering. To better balance its power to weight issues, Yamaha maintained its weight but upped its four-stroke power by turbocharging it, creating a new power-to-weight ratio for its top of the line sport sleds.
So, when a snowmobile manufacturer asks how we'd create a new concept sled, we stammer. Obviously, we'd say there might be a need for a sporty lower priced model. They'd say it exists in the used sled market. We'd offer how about a new rear "track" design that features a swing arm for a 15-inch balloon-like tire. Would a new direct drive concept work that features a driveshaft powering a front sprocket differential drive? And can the engine be moved further back? How about a lightweight body envelope that fits over a tube frame backbone? Silly, obviously, but as we said, our time in a snowmobile manufacturer's focus group showed us as a bust.
Sleds will change, but the incremental changes will be slower and less dramatic than those we saw in the latter part of the last century. This is probably the right way to grow. But can't sleds be lighter, faster and even better riding?