Quebec: Blessed by Snowmobile Angels
Some of the best riding in the world
Story by Normand Prieur, Photography by FCMQ, Dec 18, 2008
March 8, 1971. The Quebecers who are 40 or older remember the day the ĎBlizzard of the Centuryí dropped 50 inches of snow over a province that was totally paralysed in a few hours. They recall that day and the families caught in their cars on the side of the freeways, the crowded busses jammed at the bottom of the hills in downtown Montréal or Québec city and every single radio or television station suspending regular programming to carry messages from Pierre looking for Louise, or Suzanne searching Jacques.
From the rural back roads to the streets of the largest cities, who do you think helped that day locate, save and return home all the unfortunate victims of this incredible blizzard? Thousands of snowmobilers engaged in the rescue, riding on the freeways or Ste-Catherine Street, Montréalís Downtown shopping district closed to traffic. This wasnít a surprise to anyone. Snowmobilers were already a well-organized fraternity ready to help in the home province of J.A. Bombardier and his Ski-Doo, a province who at this time also manufactured and commercialized thousands of Alouette, Boa-Ski, Moto-Ski, Skiroule, Sno-Jet or Sno Prince sleds.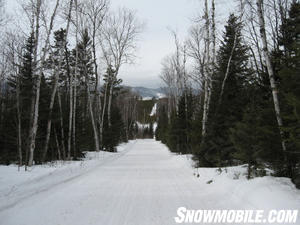 This flashback isnít useless. It demonstrates how snowmobiling has been a major component of Québec culture and economy for half a century. In the 70ís, a large share of the incredible 33,000 km (20,500 miles) trail network existing today was already opened to riders, mainly because clubs subsidized by Bombardier were able to acquire grooming machines at a reasonable price.
While the industry lost several players when it was hit by the first oil crisis, the Quebec snowmobiling community shrunk but survived and maintained the trails. In the late 80ís, the ATRs (Regional Tourism Boards) and the Ministry of Tourism realized that people in a number of communities were making a living providing services for a growing number of snowmobilers from the United States and neighbouring provinces during the winter season. Soon, the trail network was seen as a treasure worth being developed and promoted. Today more than 20,000 sledders from abroad enter Québec every winter.
In 2008, with the exception of BRP (Ski-Doo) and its manufacturing facilities in Valcourt, snowmobiling no longer contributes to the strength of Québecís economy with jobs on assembly lines. Those jobs have moved from early December to late March to hotels, motels, restaurants, dealerships and garages along the trails. Theyíre now in places like the picturesque Arthur Savard lumber camp on trail 3 in Saint-Siméon (Charlevoix area), the restful Manoir du Lac Williams on trail 25 in Saint-Ferdinand (Chaudière-Appalaches area) or the always popular Cabanon on trail 345 near Saint-Zénon (Lanaudière area). Just try to figure out how many cooks, maids, waitresses, front desk clerks, gas station attendants, mechanics, wardens, trail keepers are needed to accommodate an ever-growing number of sled riders entering Québec every winter.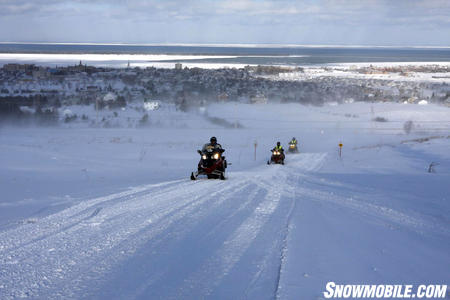 Snowmobiling as a tourism product has become so important and so rewarding for Québec that it obliges the architects of the trail network, the snowmobile clubs federation (FCMQ) and its 200 members to be innovative in many areas. Excellent grooming and great trail conditions remain an object of great pride to clubs. To keep this up, renewing the equipment required important investments for machinery in recent years. Enlarging trails and avoiding frozen lake crossings wherever it was possible for rider safety, and securing the snowmobiles parked at night near lodging facilities are other areas where improvements were made over the last decade.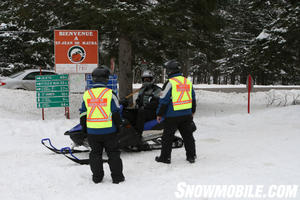 The FCMQ has even launched a program named ĎRecommended Secured Hotelsí which recognizes near fifty hotels offering either a garage or a fenced and secured area, locking devices, cameras or a night watchman to avoid unpleasant awakenings for customers finding their beloved sled has been stolen while they were sleeping. The ultimate remains a heated garage, like the ones offered at the famed Manoir Richelieu on trail 378 (Charlevoix) or the lovely Auberge de la montagne coupée on trail 341 (Lanaudière).
Talking lodging and food, one thing comes instantly to mind when you look at what Québec offers: itís different. Itís fewer motels and more inns and lodges, less steaks & ribs and more French cuisine, less hot tubs and more spas. Since so much of the province offers excellent snow coverage, the nicest resorts remain open during the winter months and groom and connect their own trail to the snowmobile network. No doubt they offer unique lodging and great food.
Now, where should we go for great riding? Anywhere on the north shore of the St-Lawrence River from the foothills of the Laurentians or on its south shore, east of Quebec City in the Appalachians that stretch all the way to the Gaspesian Peninsula and the Atlantic Ocean. Each winter youíll find good snow and open trails from mid-December to mid-March. Closer to Montréal and to the southwest of the province, there are great areas such as the Townships but the riding season is normally shorter.
Many riders are familiar with the trails linking the Devilís Mountain (Montagne du diable) area of Mont-Laurier in the Laurentides region to St-Michel des Saints, St- Zénon, St-Gabriel in the regions of Lanaudière and ultimately Mauricie. This area remains extremely popular. The second interesting corridor on the north shore links Portneuf and Charlevoix regions with the beautiful Quebec City standing in the middle. It provides great riding and splendid scenery and links to the Saguenay, the Monts Vallins range and its Peak of the Hut (Pic de la Hutte). The Chaudière-Appalaches south of Québec City offers the advantage of trail connections with the State of Maine and the Jackman area. Further east, the fascinating Gaspésie region takes in more and more followers for its powder snow and late season riding. To the Northwest of the province, these years Abitibi-Témiscamingue is increasingly popular with Ontarians and Michiganders.
You have to buy a permit to ride in Québec. Donít venture on the trails without affixing your sticker, or you might find yourself with a $300 fine. Instead, get your season permit at $250 before unloading your trailer. Weekly and daily accesses are also available for $150 and $50 respectively. All permits include $500,000 in liability insurance.
Québec is heaven for snowmobilers. It was such forty years ago and remains the same today.