A Pivotal Center for Riding Quebec Trails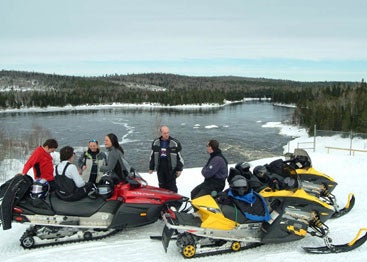 It all starts at Saint-Zénon
Early March 1984. It's my second day of work at Bombardier and my new boss has chosen that morning to throw a first punch at me: "Have you been riding lately?" he asked. "Nope…not lately, not this winter…in fact, I haven't been on a snowmobile for many years," I confessed as the incoming and quite humble new PR officer.
I discovered instantly that the boss had figured out my lack of practice and already had a plan. "It looks like you need a quick immersion. I'm sending you to Saint-Zénon for the rest of the week." The next morning, I was driving village of 1,394, some 170 kilometers (105 miles) north of Montréal. The following days, I rode and enjoyed every minute on and off the trails with Rolland, who guided me during that memorable initiatory journey, discovered and loved forever a fantastic riding area.
Established in 1870, Saint-Zénon remained for 80 years a tiny village where men spent their winters not as trail groomers but as lumberjacks. The life was ruled partly by agriculture, largely by the timber industry and the local saw mill operator. In the late 1940s, its first tourists were the anglers willing to confront the squadrons of black flies and mosquitoes as the 200 lakes, well stocked with big rainbow trout, have attracted them. Then came the 1960s and the snowmobiles. In this beautiful mountainous environment at 2,000 feet above sea level nobody is ever concerned by the amount of snow the winter months will bring.
It took probably another 20 years before Saint-Zénon earned its reputation outside Québec as a snowmobiler's heaven. In the mid 1980's  it became the pivotal center for whoever was looking for snow, a room for a sleep, parking for the trailer and miles of well-groomed tails. In other words, a place to unload the sleds, start the engine and ride good distances several days in a row without ever (almost) tracking the same trails. It's simply amazing.
In all honesty, the only problem with Saint-Zénon has to be its capacity to deliver such a promise due to the limited amount of lodging facilities. Aficionados often book its nearly 200 rooms early, some returning to the area year after year, in some cases for decades. The good news is that a short thirteen kilometers (eight miles) north on highway 131, Saint-Michel-des-Saints has just fewer than 500 additional rooms to offer. And they're all connected to the same trails.
That morning of March 1984, my first ride ever in the area took me from the backyard of La Glacière (on trail 63) to the northwest into the Rouge-Matawin Reserve, then south to Saint-Guillaume, east to St-Côme and back to the northeast into Saint-Zénon. If I remember correctly, it was a good start, probably 150 kilometers (93 miles) at a decent pace to fully enjoy the beautiful scenery, especially in the first part of the day heading into the Rouge-Matawin Reserve.
The second day at a better pace, we went east into the Mastigouche Reserve, northwest to the popular Le Cabanon (trail 345) and later Saint-Michel-des-Saints and its Vieux Moulin à Scie (Old Sawmill) restaurant and back south to La Glacière for nearly a 200 kilometer (125 mile) ride. That afternoon, I was ready for more mileage but I suspect my guide had been instructed to restrain my enthusiasm by someone who expected me in full shape at the office the following Monday morning.
Saint-Zénon is in the northern part of the Lanaudière region of Québec In the mid 1980s, the ATR (Regional Tourism Board) was a leader in promoting itself out of the province first by printing a regional trail map and soon, attending exhibitions or gathering of snowmobilers in the neighboring provinces and states and spreading a very strong advertising line such as '# 1 Snowmobile Country'. Frankly, it has never been an overstatement. The network that I discovered in 1984 has improved immensely since. There are more trails (including some in the wildest areas), more inns and outfitters' lodges opened and linked to the network, improved grooming and excellent signage. And as ever, there is a guarantee of snow during the whole winter. Generally speaking, if an ice storm hits Montréal, rest assured that Saint-Zénon will get snow instead.
Back to the notion of Saint-Zénon being a pivotal center, the ATR had the good idea of designing 10 different loops. Nine of them have the famed village as a possible starting point. The shortest loop (137 kilometers/85 miles) has you circling the great Taureau Lake, including riding on its spectacular dam. It's a must see. And other very interesting one (268 kilometres/166 miles) links Saint-Zénon, Saint-Michel des Saints, Saint-Donat, Notre-Dame-de-la-Merci and Saint-Côme, pretty much on the trails I discovered in 1984.
From Le Cabanon, a 284 kilometer (176 mile) loop brings you mainly in and around the Mastigouche Reserve. Another 300 kilometer (186 mile) trek in the wilderness to the North (trail 345 and 33) includes stops at Lac du Repos lodge and, later at the village of Manawan where the Atikamekw Indians are great hosts. Not listed as one of the ATR loops, I suggest the ride to the east on trail 63, toward Saint-Gabriel-de-Brandon, the other important snowmobilers' meeting point in the region. It could be part of a good 200 kilometer ride if you head back to Saint-Zénon via trail 349 north and 318 west through the Mastigouche Reserve.
Finally, we should not forget to mention that Saint-Zénon can serve as a great starting point for the trail eaters rides, with at least one overnight stays away from the base. We are talking about rides such as the one to the northeast, La Tuque and the Lac-Saint-Jean area or to the northwest and the Abitibi region.
I'm no longer the young cocky PR officer of 1984. I do not ride as often as I would like, but Saint-Zénon remains a favorite spot for obvious reasons.
(You can learn more about snowmobiling – including regularly updated trail conditions – in Saint-Zénon and the Lanaudière region at http://www.paysdelamotoneige.ca/.)