Riding in the Quebec City and Charlevoix Region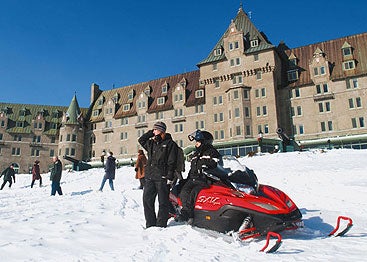 The perfect spot for a romantic getaway
For many, one great pleasure in life is travelling with buddies to find a great spot and enjoy great riding. One should add "…and having the luxury of spending a week teasing each other!"
Some twenty five years ago as a neophyte, the first time I met this kind of group, it puzzled me. My natural curiosity had me formulating questions such as "Do they have wives and where are they? Why aren't they riding too?"
Then I met couples on trails. He had his sled, she had hers and they shared the same passion. And one day, a guy went further by telling me that he and his wife had a three-year cycle that worked fine for them: a couple of winters with the buddies, the third exclusively devoted to Madam.
"Believe me, we always manage to make these vacations quite romantic," he confessed that day. Very interesting. Well, if someone wants a romantic snowmobile getaway in a beautiful area, I have a great destination to suggest: go ride the Québec City and Charlevoix regions!
Don't get me wrong – you can certainly ride this area with your buddies, booking anywhere along the 200 km (125 mile) Saint-Lawrence River north shore that the region covers between Portneuf and La Malbaie. It offers all the essentials: plenty of snow, great riding conditions, beautiful scenery and connections to other regions. But having the possibility to discover a 450 years-old jewel such as Québec City, or to spend a few nights at the spectacular 5-star Manoir Richelieu in Pointe-au-Pic makes this venture an attractive one for a couple.
I suggest that you select one of three interesting areas to establish a kind of base camp along trail #3 – the main corridor that is generally extremely well groomed and snakes through the whole area. The first one would be near Sainte-Catherine-de-la-Jacques-Cartier or the northern part of Québec City itself, near the airport and in Charlesbourg. Trails lead to some large hotels such as the popular Quebec Inn with its indoor tropical garden on Hamel Blvd (Highway 138), or the Sheraton Four Points, on Le Marigot Blvd (Highway 369), both FCMQ's Recommended Secured hotels. From these locations, you'll enjoy riding the foothills of the Laurentians, west and north of the city, including a visit to the amazing Hôtel de glace, a real hotel made of snow and carved ice cubes that melts every spring before being rebuilt the following year. You can pay a visit to the Huron-Wendate Indian village or plan a longer ride in the spectacular Laurentian Forest Reservation, a 300 km (186 mile) loop on trails # 23 and # 369, just north of Québec City.  To reach other regions to the north, trail # 73 will take you to La Tuque and trails # 23 or # 355, to the Lac-Saint-Jean area.
Now it's time for the romantic pause! Be sure to devote a few hours, whether it's an evening or a full day to, Québec City. Remove your snowmobile gear, jump in the pick-up and drive right into the oldest part of the city. Take a walk in the Petit Champlain district in the lower part, climb up the stairs and walk the Dufferin terrace, get your picture taken in front of Château Frontenac, do a little shopping and have a nice dinner 'en tête-à-tête'. Your drive back to the hotel and the world of snowmobiling will be less than twenty minutes away.
The second interesting area where you can book a room is 40 minutes east of Québec City. It's called La Côte de Beaupré. Trail #3 circles around the impressive Mont Sainte-Anne, a popular ski resort where two major establishments, Château Mont-Sainte-Anne and Hôtel Val-des-Neiges, both accessible via trail # 320, are FCMQ Secured hotels. It's a great starting point for a ride west and the area described above. It includes a crossing of the Montmorency River, upstream from the spectacular frozen falls. Going east, you can go to Baie Saint-Paul for a good day ride. The trail at the bottom of Mont Saint-Anne offers spectacular views on the Saint-Lawrence and the Ile d'Orléans in the middle of the river. Forty minutes away from Québec City is plenty close enough to plan a drive back to the historic capital of the province to enjoy an evening or a day as described previously.
The third interesting area requires a longer drive but once there, you will understand why Pointe-au-Pic is one of the nicest places to be on earth. The Charlevoix tourism association says it offers "the majesty of mountainous landscapes with the splendor of the St. Lawrence River." Plain truth! The main attraction is the Manoir Richelieu that has understood for a long time that snowmobilers must be treated well. This is the hotel where the heated underground parking has two entrance doors: one for cars, one for sleds. Built on a cliff facing a now very wide Saint-Lawrence River, the Manoir is astonishing and romantic. And it's connected to the Casino de Charlevoix, a fun place to be for a few hours of gambling.
While most of the hotels, inns and restaurants are near the river and around the Manoir in Pointe-au-Pic, the trails to ride are a few miles north in a gorgeous mountainous area. Several view points have to be visited: Mont À Peine on trail #83, Mont Thérèse-Casgrain, between trail #3 and #378, Mont Grand-Fonds (ski resort) on trail # 378.  Lumber camp Arthur-Sauvé on trail #3 in Saint-Siméon is a must see. Going on trail #83 north, a stop at Lake Moreau's Auberge du ravage is also a must. For those who plan longer rides, there are great loops to do with the Saguenay-Lac-Saint-Jean area trails, just next door. Also, if you like powder snow, the local riders will show you the nicest bowls.
Related Reading A Pivotal Center for Riding Quebec Trails Quebec: Blessed by Snowmobile Angels