2008 Arctic Cat F6 Sno Pro
For speed racers who like "cush."
When Arctic Cat aimed its latest breed of Cat sports sleds at the performance market, the company tried to blend its popular Firecat series with a dash of all things to everyone luxury. Styling-wise the newest sports Cats show off a nice rounded design.
Fast Facts
Engine Type:Horizontal In-line
Cylinders:2
Engine Stroke:2-Stroke
Valve Configuration:Reed Valve
Displacement:599 / 36.6
Starter:Pull
Turbocharged:No
View Full Spec
Features-wise the F-series offers a new level of adjustability never before seen in snowmobiling. Performance-wise there are some familiar engines such as the 570 fan-cooled twin, retention of the popular 600cc liquid-cooled twin from the Firecat 600 and the addition of 800 and 1000 power twins. And, yet, these very nice new F-models leave many Cat fanciers wanting more.
Odd, isn't it? Despite all the initial problems with the now discontinued Firecat, those owners embraced the sled due to its great combination of power, light weight and ability of the Firecat 700 to often outrun competitors with larger engines. Cubic centimeter to cubic centimeter, both the Firecat 600 and 700 were trail performers equally at home blasting across lakes or whipping around tight turns. More than likely the Firecat series will find its way into snowmobile lore much the way Yamaha's SRX, Mercury's SnoTwister and Sno Jet's Thunder Jet have.
Embracing Heritage
Today's latest sports Cat, the F-series, tries to embrace the Firecat heritage, but is just too different, too civilized and too nice. In reality, the F6 is a better overall snowmobile for more riders than the Firecat 600 ever could have been. The engine under the F6 hood may be the same as the one in the Firecat, but all else has changed. The F6 suits itself to more riders, making the F6 almost a 'one sled fits all' model.
To compete with the rider-forward competitors highlighted by Ski-Doo's original REV and Polaris' IQ chassis, Arctic Cat had to come out with a more rider-friendly design. Arctic engineering actually created a sled superior to the Firecat in rigidity, ride-forward seating and the F6 is superior to the competition in overall rider friendliness.
Most Adjustability
Check out the most adjustable F-series models, the Sno Pro and LXR. You'll find a seat with more than seven inches of multi-density foam and seven-way adjustability that can be set by way of a rear seat-mounted lever. Unlock, find your favored seat position, lock it in and ride. It's really that easy. Each position translates into slightly more than a half-inch forward and three-tenths inches of vertical movement. The claim is more than 3.6 inches total forward adjustment with a total rise of nearly 2.5 inches. Cat marketers claim you can do all this with one hand. Generally speaking we agree, but we have encountered a few Cats with recalcitrant seats that required both hands and a bit of effort. We expect Cat production engineers will address that phase of fit and finish.
You'll also find LXR and Sno Pro models feature one of the niftiest adjustable handlebar sets in the business. Unlocking a cam lever gives you a choice of 11 positions varying from high rise to moderate rise and sets from fore to aft. Of course, this adjustability centers on the best-in-the-business Arctic Cat handlebar with its performance hooked grips. Cat's adjustable handlebar set-up blows away the moveable handlebar post first featured on Polaris' Fusion.
As part of its Infinite Rider Positioning system, Cat also includes three positions for the footrest.
Unparalleled Ride
The bottom line for the top of the F-series is a ride position unparalleled in snowmobiling history. If you can't get comfortable on an F6 Sno Pro or LXR, you won't be comfy on any sled. The infinite ride system makes these sports sleds unique.
Talking with snowmobilers convinces us that Cat's styling is a love it or hate it affair. Maybe in its second season on the snow the reaction to the new style Cats will soften. Much of that styling was necessitated by the Twin Spar chassis.
Twin Spar Design
Yamaha claimed years ago that its rigid chassis meant significant improvement in handling. Now Cat follows suit with a stronger and more rigid chassis for its newest sleds. According to Cat, the Twin Spar chassis is more than 46% more rigid than the Firecat design. Achieving such a stiff frame requires advanced robotics that precisely place self-piercing rivets in a consistent and repeatable process. Cat engineering is so confident of this manufacturing process that it claims "These self-piercing rivets result in a chassis that will be just as strong after riding 8,000 miles as the day it left the factory."
Providing rigidity and durability is just one aspect of the Twin Spar design. The key to Cat handling lies in engine placement, low and centralized. Check out Cat's line of twin cylinder motors with intake and exhaust on the same side and you'll see they sit low and fit against the tunnel's front wall.
Proven Power
The F6 engine should be familiar to Cat fans. It powered the Firecat and still powers the Crossfire 6. Designed by Arctic Cat but built by engine partner Suzuki, the 599cc two-stroke twin comes with an electronic ignition and Cat-pioneered batteryless electronic fuel injection with twin 38mm throttle bodies. Stuffed under the hood is a two-into-one tuner which helps pull an estimated 120-plus horsepower from the F6 twin. Such power puts the F6 comfortably in the same range as Ski-Doo's MXZ 600 and the new Polaris Dragon 600.
The F6 twin delivers power to the track via a unique planetary gear system engineered to smooth out the driveline.
When it comes to on-trail performance, the F6 powerplant is a rock of consistency. For many seasons, we have enjoyed the easy throttle pull of the Cat EFI and its quick and crisp response. Cat's batteryless EFI is stellar.
Stellar Suspension
That word 'stellar' can also be applied to the Arctic Cat A-arm front suspension. When the reborn Arctic Cat graduated from leafsprings in the late 1980s, it went directly to the A-arm set up. Because there were no distracting experiments with trailing arms or telescopic struts, Cat's AWS evolved to the seventh generation seen on the current F-series. Pioneered on production Cats, the AWS is one of four A-arm front suspension designs in use by the four sled makers. We'd argue that the Cat is the best in all-around versatility with smooth comfort and top-notch trail handling.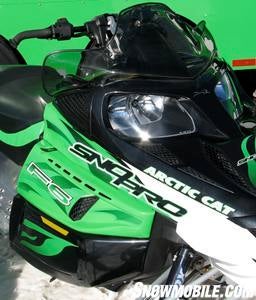 This seventh generation AWS provides up to 9.5 inches of travel with control coming via Fox Float shocks and a specially calibrated sway bar to minimize roll. Skis are a plastic saddleless style with dual runners.
Since it was Arctic Cat engineering—and current Cat vice-president of engineering Roger Skime—that developed the first production slide rail design back in the late 1960s, it seems only natural that Cat should have a superior parallel rail slide suspension system under the seat. The F6 Sno Pro Slide-Action coupled suspension features up to 13.5 inches of travel. For handling, add in torsion springs and Fox shocks with internal floating pistons. The suspension's coupling blocks smooth the transition of bumps from front to rear while keeping the skis on the snow under quick acceleration.
Civilized Performance
There is a distinct performance heritage built into the F6 whether you would opt for the aggressive Sno Pro or more civilized LXR. Of course, for those expecting an evolution of the Firecat, there may be a sense of disappointment. The latest sports Cat is very nice, perhaps too nice for some.
These are much more civilized sleds with vastly superior ride compared to the Firecat. The F6 is very comfortable and either the Sno Pro or LXR can be truly custom-fitted to you. Whether this makes the F6 better or worse than its predecessor is your call. We know from riding the F6 that it is a strong performer on rutted trails and a much, much better all-day ride than the Firecat could ever been. Maybe the F6 isn't the perfect sled, but it is a solid performance machine with the best rider ergonomics you'll find for 2008.