2010 Arctic Cat Bearcat 570 XT Review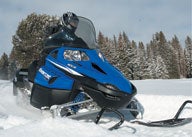 The sport utility Bearcat hints of a growing segment
There may be a new segment gaining sales power in the snowmobile business. Think of it as a sport-utility category that places as much emphasis on personal ergonomics as it does functional utility. Along with fellow Minnesota-based competitor Polaris, Arctic Cat totally revamped its basic go-anywhere work sleds into more ride-friendly versions that allow you to play nearly as hard as you work.
Fast Facts
Engine Type:Horizontal In-line
Cylinders:2
Engine Stroke:2-Stroke
Valve Configuration:Reed Valve
Displacement:565 / 34.5
Starter:Electric
Turbocharged:No
View Full Spec
For most of snowmobile-dom such utilitarian work sleds drew little attention amongst a sled maker's engineering staff. Indeed, such "work sleds" were most often viewed as stout bodied machines that got big tracks, beefed up suspensions and basic features. The big engineering breakthroughs tended to come in the form of rear suspensions that articulated over snow-covered logs, heavy-duty hitches and multi-geared transmissions with a high and low range plus reverse. You figured that such sleds would get wide skis for plowing through backcountry snow and wide tracks with a Yeti-like tendency to stay afloat in deep snow.
The engines powering these work machines tended to be air-cooled, two-strokes. These engines were simple, reliable and durable. That portion of the new sport-utility formula remains. Reliability and durability are critical, but now you see liquid-cooled powerplants. You can figure that horsepower still stays relatively modest by sport sled standards. These sleds live by another definition of performance. Instead of sheer horsepower, these sleds rely on the guile of torque and lower speed drives. Generally speaking work sleds tend to hit their top speeds quite quickly as they are geared to haul and slog through miles of ungroomed snows.
New Breed
While the original concept of a work sled bored sport riders, this new breed, while not exactly scintillating, can engender respect even amongst jaded, veteran sledders. This new breed of Arctic Cat work sled manages itself very respectably on the trail and can actually out perform many sport sleds off trail. What's going on?
For starters, a few years ago all the sled makers began responding to a serious demand from overseas. There was a new breed of Russian-based snowmobilers who possessed enough financial clout to buy now and demand more. Like their Finnish, Swedish and Norwegian counterparts, these arctic area riders needed something rugged, durable and heavy-duty to penetrate wilderness areas with minimal roads and populations too small to be reached by freeways. Heck, these riders had to be self-sufficient to survive. They might have to carry fuel and supplies. What they needed to take along required more than an optional rear sport bag could handle. There was a demand for a new type of work sled — a sled that provided sport along with utility.
Heritage Plus
The 2010 Arctic Cat Bearcat 570 XT relies on the heritage of old-style work sleds, but brings a redefined sportiness to its basic virtue. Under the bright blue hood lies a fan-cooled soul displacing 565cc in a twin cylinder format. While it reflects the latest in electronic CD ignition technology for reliable starts and maximum efficiency, the engine comes with dual Mikuni 34mm VM carburetors that represent proven durability. The Suzuki-built, Arctic Cat spec'd two-stroke uses its low-end power to churn a 20-inch wide, 156-in long track. And, yes, the off-trail rear suspension does feature an articulated section in its rear suspension to ease over hidden obstacles and provide agile traction when backing up.
While that track offers 3,120 square inches of total surface area, its 1.25-inch lug profile assures adequate bite to power through powder or ice-encrusted snow. Where the old-fashioned versions of a work sled might offer basic comfort, this 2010 Bearcat 570 XT features a slide-action rear suspension design with adjustable torsion springs and hydraulic damper to deliver up to 13.3 inches of travel. There's a twin-tube shock on the suspension's front arm and a 2-inch diameter hydraulic shock controlling the rear arm. If you get a little slippage developing on an icy trail, a modulated tap on the hydraulic disc brake should keep things under control.
Up front you'll find a full-featured Arctic wishbone suspension on this model that assures positive steering on trails and agile handling off trail. The plastic, saddleless skis move through 9.5-inches of travel, controlled via hydraulic shocks and coil springs. Depending on your needs, the front ski stance can be adjusted from a narrow setting of 40-inches to a wider 44-inch center-to-center stance.
As you might expect, since this sled needs to perform in severe climates, it comes standard with a hefty-sized windshield that throws cold over the rider's head and away from the hands. Note that Arctic Cat engineers included the same comfortable handlebars with sport-style bends, as you'd get on a trail model.
Stiff & Strong
Unlike utility sleds of the past, this modern version features Arctic Cat's exceedingly rigid Twin Spar chassis design that puts the Bearcat driver in a more active riding position. Use of box-aluminum spars and self-piercing rivet construction adds joint rigidity for strength and durability.
Depending on how you might use this sport-utility snowmobile, you can specify a quick-conversion by using Arctic Cat's exclusive "Speedpoint" rail system which allows you to convert the Bearcat from two-up seating to solo seating plus cargo rack.
Standard equipment on the top line two-stroke Bearcat version includes: a digital/analog tachometer/speedometer with trip meter functions; an electric gas gauge; low oil warning light; electronic pushbutton reverse; hand and thumb warmer; a mountain strap; and, yes, a tow hitch. If you need more "bennies," opt in for mirrors, a suite of storage baggage, heavy-duty bumper and electric start.
We've found the new breed of work sleds, especially rider-friendly on the trail and incredibly easy-going off trail. While they are not among the lightest sleds in a manufacturer's stable, they are extremely agile when compared to what used to pass for a utility sled. This new breed brings a totally unique dimension to snowmobiling as you can use it for a trail safari, break trail to a remote lake cabin, haul the kids around, or just take it ice-fishing — it'll even pull your fish house!
2010 Arctic Cat Bearcat 570 XT Specs
Engine
Arctic/Suzuki 565cc, 2-stroke twin; dual VM34 Mikuni carburetors; CD ignition
Horsepower
N/A
Drive
Arctic rpm-sensing drive and roller cam secondary ACT drive system
Front Suspension
Arctic AWS VII A-arm suspension; hydraulic tube shocks with coil-over-spring; 9.5-inches of travel
Rear Suspension
Arctic slide-action parallel rail slide with twin-tube hydraulic shock on front arm; 2-in diameter tube shock on rear arm; adjustable torsion springs; up to 13.5-inches of travel
Length
128.0 in
Width
52.0 in
Ski Stance
40.0 to 44.0 adjustable
Track
20 x 156 x 1.25
Fuel Capacity
10.8 US Gal
MSRP
US$8,799 (C$10,399)
Related Reading:
2009 Arctic Cat Bearcat Z1 XT Review
2009 Arctic Cat T500 Touring Review