2013 Polaris Turbo IQ LXT Review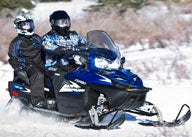 Last of the red-hot turbos?
Although we have railed and ranted about the late not nearly great Polaris Fusion, we occasionally admit that it wasn't all bad and some good did come from it. Of course, you better look back quickly as virtually all vestiges of that sled will be gone from the Polaris snowmobile line before too long. And that includes the good pieces that deserve to continue forward. Polaris continues to move forward with great new products that actually say quite a lot that's very good about the company's snowmobile group.
Fast Facts
Engine Type:Horizontal In-line
Cylinders:2
Engine Stroke:4-Stroke
Valve Configuration:OHV
Displacement:750 / 45.8
Starter:Electric
Turbocharged:Yes
View Full Spec
New for 2013 Polaris product seems almost incredible when you think about the accomplishment of creating a full-fledged top of the mountain sled that weighs in less than most short-tracked trail sport designs. Of course, many of the engineers and such that were too closely associated with the Fusion project have moved on – or out. To the company's credit it has moved past that disaster, regrouped, recommitted and reminded everyone why this company was Number One in sled sales for more than a decade. These new sleds are quite something. Where outside the box thinking is needed, Polaris does it. Where staying with proven ideas works, Polaris does that too. Soon, most of the Polaris product will have transitioned to the newer ride-forward platforms and the few IQ-based, Fusion-like holdovers will simply devolve into snowmobiling history and become sled trivia.
Before that happens, though, we can salute Polaris engineering for taking a lemon and making lemonade. At least, that's how we feel about the 2013 Polaris Turbo IQ LXT, the company's two-up touring hot rod. Looking at the individual pieces you won't get any great feeling for how good this specific model really is. The four-stroke turbocharged 750cc twin certainly had its early problems until Polaris engineering figured out how to make it run cooler. The multi-position steering system always worked okay, but seemed a bit unnecessary on a sport sled. The IQ suspension got a bad rap because Polaris had been so smug and arrogant at the time of its introduction, virtually claiming that it was s-o-o superior. And that after having bad-mouthed A-arm designs right up to coming out with its own on the Fusion. Ouch! That was truly uncalled for and totally annoying as though we snowmobilers had all just fallen off the last Polaris Comet out of Roseau. Snowmobilers aren't stupid, regardless of what focus groups and high-priced surveys might indicate. Maybe they were just being polite and not wanting to hurt the feelings of Polaris engineers.
Well, we are making nice when it comes to the Turbo IQ LXT. If you want to make nice and get one, you'd better hurry as we imagine that this is the last of the red hot turbo 750s coming from Polaris. For 2013 we can find only two four-stroke 750s in the product mix. The non-turbo version powers the utility-sourced FS IQ Widetrak. The only turbo version lies under the sloping hood of the IQ LXT, also available with the Cleanfire 600cc two-stroke twin.
The Polaris turbo four-stroke possesses surprising power – upwards of 140 ponies, depending on boost. Quiet and totally unassuming, the engine can get the 645-lb touring sled to triple digits in 1,320 feet over hard-packed snow. It's wicked quick thanks to its four seconds of programmed 30 percent overboost upon standing start full throttle acceleration. That makes this sled plenty fast and somewhat unexpectedly quick unless you have ridden one in the past. In its earliest iterations the turbo motor's exhaust had been aimed at the rider's foot and could – on a warm spring day – generate enough heat to almost re-vulcanize an LL Bean Boot. Polaris did get that fixed, mostly.
We always liked the smooth, rider-friendly way this 750cc four-stroke responded. In the modest trail sport versions, there was always way too much weight out over the skis. Wrestling with that version on a day's ride made you greatly appreciate Yamaha's electric power steering. Oddly enough, the two-up IQ LXT doesn't seem to be such a handful, especially in model year 2013. There have been ample tweaks and updates to the IQ front suspension. The latest version features RydeFX shocks to work with the coil springs controlling the 10-inches of travel. While the linkages aren't as radical as the new Arctic Cat's ARS front end, the IQ ski spindles stand tall and work well in keeping the trail-oriented touring sled a smooth ride.
The rear suspension works a 136-inch HackSaw track, keeping its footprint planted and allowing more than a foot of movement. The 14-inch travel is modulated via RydeFX shocks, including an MPV version on the rear suspension arm. There are tuning settings to allow changing from one to two riders, but either way Polaris engineers go for a smooth, controlled action consistent with the wants of long distance riders.
The "big" upgrade for 2013 might be glossed over as it involves a re-do of the sled's backrest. This year it's a multi-position "Lock & Ride" backrest that can be readied without tools and is said to allow quicker adjusting for riding with or without a passenger. As you'd expect the two-up chassis includes a rear storage area, which can accommodate various travel packs. As a luxury unit, you expect passenger handwarmers. The Turbo IQ LXT has them as well as protective passenger hand gauntlets. Made of stout poly-plastic, they not only deflect wind but also protect you and the hi-low handwarmer switch from trailside branches and other such detritus.
Although the passenger has ample comfort, it is the driver position you want. A carry over from the Fusion, the Turbo IQ LXT comes with five-position steering that allows you to select a "standup" handlebar setting for maneuvering off trail or a lowered bar setting for cruising down a groomed trail. Most likely you'll settle for a groomed trail setting and a position for rough trails. The other settings are a bonus.
The sled's overall design allows you comfortable seating for kicking back in cruise mode or moving forward when encountering rough patches. Beyond the basic ride comfort, you'll find this last of the turbo touring Polaris sleds outfitted with plenty of good-to-have features such as the standard 12-volt power outlet for mobile phone or GPS. There's also an RCA plug to accommodate your heated visor.
While we don't know for certain that the turbo 750cc is going away, don't be surprised if it does. This turbo engine dates back to Polaris Watercraft and was the engine that would have propelled its PWC models if the company hadn't literally pulled the plug on that business in 2004. Polaris originally planned to put this 750cc in its full production run, but instead carried the motor to snow products, where it better met federal emissions standards at the time and helped offset the company's "dirty" two-strokes.
While modest in size, the turbo performs well when compared against its luxury sled counterparts from Arctic Cat, Ski-Doo and Yamaha. While the niche for two-up luxury cruisers has diminished in recent times, this specific model holds a bit of history under its hood. It showcases the best parts of the Fusion debacle with IQ platform and suspension, five-position steering and a unique drive system that may prove to be the last of the Polaris four-stroke 750s. Hey, you got a chance to get history and a sneaky fast luxury hot rod with this sled.
2013 Polaris Turbo IQ LXT Specs
Engine
Polaris turbocharged 750cc twin cylinder 4-stroke; liquid-cooled; fuel injection
Horsepower
140 (estimated)
Drive
Polaris P-85 drive; P2 driven with mechanical reverse
Front Suspension
Polaris IQ — 10-in maximum travel; RydeFX MPV gas shocks
Rear Suspension
Polaris IQ 136 Comfort parallel rail; 14-inches of travel; RydeFX gas shock on front arm with RydeFX MPV on rear arm
Length
127.0 in
Width
48.0 in
Height
52.0 in
Ski Stance
42.5 in
Track
15 x 136 x 1 Hacksaw
Weight
645 (claimed)
Brake
Polaris Phantom hydraulic
Fuel Capacity
10.2 US Gal
Features
Multifunction gauge; 12v-DC outlet; 5-position Rider Select steering; 20-in smoke windshield, rearview mirrors; standard bag
MSRP
US$11,299
Related Reading
2012 Polaris Turbo IQ LXT vs. 2012 Arctic Cat TZ 1 Turbo LXR
2013 Polaris 600 Switchback Review – Video
2012 Polaris Switchback Adventure 600 Review – Video
2013 Arctic Cat TZ 1 LXR Review