2012 Polaris Switchback Adventure 600 Review [Video]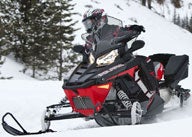 Polaris creates a "bagger" for serious sport riders
Polaris officially introduces the next step in sport snowmobiling with its new for 2012 Switchback Adventure 600. Essentially Polaris extended the track and suspension on its base Rush 600 and added a nifty new rack to hang a set of poly plastic storage bags. That's the down and dirty explanation. And the somewhat unkind one as well.
But, let's give Polaris engineering much more credit than that. The Polaris designers that came up with the Adventure concept actually ride sleds for hundreds of miles in a weekend. It's partly their job, but partly their "fun." By riding their product these engineers realize that snowmobiling can't be simplified into a few easy categories like trail, speed, touring and powder. They understand that there is immense crossover usage by snowmobilers who may call themselves "hard, aggressive" riders but who use their speed/sport sleds for on and off-trail adventures as the mood and conditions dictate.
These engineers recognize that the Rush fulfills a sporting role, but not so much an off-trail role as outfitted prior to this season. It would be easy to simply say, "Well those riders will buy our Switchback with the 144-inch tipped rail." Then again, these guys ride, too. Like the folks that bought the Rush, they want the comfort and ride of the Pro-Ride progressive action rear suspension with its adjustability. And it would be easy to dismiss "touring" riders as buyers who want just the trail luxury of the LX series. You know it's not that simple, because the modern touring rider is also a sport and speed rider on many occasions. He wants storage options and convenience features without having to ride a standard touring model. He wants performance in all areas — performance, comfort, storage and an ability to go poking off-trail when the mood hits him.
Polaris engineers arrived at a pretty darn near perfect compromise with the all-new Adventure. They took full advantage of model changes planned for the 2012 model year by outfitting the Adventure 600 with critical standard gear for on- and off-trail comfort. If you take a look at the new Adventure, you'll see that it is based on the new for 2012 Switchback 600 model, which enjoys a longer suspension and 136-inch Cobra track for added traction and capability to "bridge" moguls and help you break trail when riding down ungroomed fire roads and such.
The Rush Pro-Ride progressive suspension has been stretched seven inches, effectively moving the rear external shock assembly back and creating a longer wheelbase. With the extra length in the center of the sled's on-snow footprint, you'll find that the change makes the extended Rush much more trail friendly as its ride has "slowed" down. The short track version seemed to be a bit "busy" over normal everyday trail bumps; the extra length in the Pro-Ride seems to have eliminated a lot of the chop. It also means that the suspension set-up is more forgiving. With the shorter track model, you had fewer pounds per increment in the rear coil-over-shock adjustments. Adding extra length nearly doubles the suspension's incremental changes for rider weight.
The added length means more foot room. Of course, it also means that there is room for a Switchback-specific rear rack. Available as an option for the 2012 Switchback series, the new Polaris rack comes standard on the Adventure. This should be a "must have" item as it's a simple bolt-on replacement for the rear portion of the wider Switchback comfort seat. The new seat sits plush in the middle but tapers so you can move forward when riding more aggressively.
The rack is key to the new Adventure cargo system. There is room in the center of the rack for a "day bag" to carry spare gloves, facemask, bottled water and snacks. For longer outings, you can attach a set of Lock & Ride saddlebags. They attach with a quick flip of a friction lever and will hold tight until you decide to take the bags off when you reach your destination. Polaris offers inner liners for added gear protection.
The Adventure 600 is about as close to a serious sport touring sled as you'll find for 2012. It is fundamentally a Rush with a longer wheelbase, which gives it on-trail versatility not seen in any previous Rush-based model. Part of that nuanced handling improvement comes directly from the racetrack as Polaris engineers liberally borrowed ideas developed and proven by its racing drivers. The result is that steering effort is claimed to be 20 percent lighter than previous models and the skis stay flatter when cornering. That means when you point the 2012 Adventure into a corner it goes where you point it and its skis won't pop up in retaliation when you make a correction.
With its longer track and revised front suspension, we expected a bit of push when going into the tight turns on our pre-determined test route. The engineering changes work well as the Adventure and other Switchback models we tried seemed nearly neutral in cornering. We appreciate that. The wide sweepers were truly fun to run, more so with the 800cc powered versions.
If we have a complaint, it's that the 2012 Adventure is only available with the 600 twin. Even though Polaris engine designers reworked the Cleanfire injection system to make it cleaner and more efficient, it just doesn't have the pop of the latest Cleanfire 800. Yeah, yeah, yeah, we're being hypocritical as we've always said that we would rather have the more trail-friendly 600s than the 800s, but the modern 800 power twins offered now are as rider-friendly as the "6" but give you more pop on the top end. If this new-for-2012 Polaris "bagger" catches on, we'll bet you'll see an 800cc version.
If you were willing to forego some standard Adventure features like the taller windshield, rearview mirrors and 12-volt accessory plug, you can easily update any 2012 Switchback 800 with the rear rack and storage options. Of course, we're never satisfied, but we have to allow that the Switchback Adventure 600 is a "keeper" just the way it comes. It has Polaris' version of electronic reverse, electric start, and side panel mounted wind deflectors — which do make a noticeable difference on the trail.
What we like best about Polaris' 2012 Adventure 600 was its ride, handling and convenience. It is a self-contained sport sled that retains the performance attributes of the Rush and new Rush-derived Switchback. It is decidedly the best handling Rush-type sled Polaris has brought to market. The Adventure is well balanced to handle everyday riding while offering its rider off-trail capabilities. Offer an 800-engine option and Polaris comes into 2012 with one of the best all-around sleds you can buy. Let's hope the "bagger" concept catches on.
2012 Polaris Switchback Adventure 600 Specs
Engine
Polaris Liberty Cleanfire 599cc twin cylinder 2-stroke; liquid-cooled; Cleanfire fuel injection
Horsepower
125+
Drive
Polaris P-85 drive; P2 Driven
Front Suspension
Polaris Pro-Ride (race-inspired & new for 2012); 9-in maximum travel; Fox gas with internal floating piston shocks
Rear Suspension
Polaris Pro-Ride slide rail 136-in; Fox gas shock on front arm and Walker Evans compression adjustable shock on the rear arm; 14-inch maximum travel
Length
115.0 in
Width
48.0 in
Height
46.0 in
Ski Stance
42.5 in
Track
15 x 136 x 1.352 Cobra
Brake
Polaris Phantom hydraulic
Weight
525 (claimed)
Fuel Capacity
11.0 US Gal
MSRP
TBA
Related Reading
2012 Polaris Snowmobile Lineup Unveiled
2011 Polaris 600 Switchback 136 Review
2011 Polaris 800 Switchback Assault 144 Review
2011 Polaris 800 Rush Review