2014 Fan-Cooled Sport Sled Shootout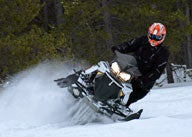 Three sleds with a high value-to-fun quotient.
What kind of snowmobile can you get brand shiny new for about US$7000? If you say it's gotta be a fan-cooled model, you'd be correct. If you say it has to have dated features, you'd be fairly correct. If you say it wouldn't be much fun to ride, well, you are dead wrong!
Despite the fact that we have been trying to kill off every snowmobile manufacturers' 550cc fan-cooled two-stroke for the past few years, they remain to power a series of high value to fun snowmobiles. All of the four sled makers except Yamaha, which switched its North American market sleds to 4-strokes, rely on last century two-stroke fan-cooled technology to afford them each a budget line of sleds. We were nearly shocked when we saw the 2014 line from Polaris that featured an enhanced lineup of 550 fan-cooled models. The Roseau, Minnesota-based manufacturer has invested its reborn Indy series as its value brand and offers 550 engines to power short tracked Indys, long tracked Indys, adventure touring Indys, utility Indys and whatever else it can devise.
One of the key players in the re-launch of the Indy has to be the Indy 550, which replaces the less than exciting Shift series. While the 550 Indy looks markedly different than the Shift it replaces, the underpinnings bear strong similarities. Plus, the Indy's competition is virtually the same as it was for the Shift as it sells value against a higher priced Arctic Cat F570 and Ski-Doo MXZ Sport 550F.
These three sleds make up a budget set of trail sports sleds that can cook speed to 70-ish miles per hour on a well-groomed trail and enable better than adequate ride over moderate bumps and fun handling in tight trails. To our way of thinking, except for that strong pull off a corner that you'd get from an MXZ TNT 600 ETEC, 600 Rush Pro-R or Cat ZR 7000, these 550s can pretty much take on all comers in really tight, narrow trail conditions. But, since these are value-based sleds, you'll find that value-based shocks will fade faster than the top of the line components you get on the 10-to-12 thousand dollar performance sleds. Still, for sheer fun on a budget any of these three sleds will be hard to beat.
The Arctic Cat F570 carries a price tag a few hundred dollars north of seven grand, but it comes standard with electric start. Adding the available electric start option to the Polaris 550 Indy or the MXZ Sport 550F brings their sticker price within a few dollars of US$7000.
From a pure pricing viewpoint, the 550 Indy appears to be a bargain at US$6399. The Ski-Doo retails for US$6549 and the Cat at US$7299. All come with a fan-cooled two-stroke twin and turn of the century Mikuni carbs. There is no electronic fuel injection for these budget models. It's all simple two-stroke engineering with some refinements. The Suzuki-built Arctic Cat 565cc twin features reed induction, as does the Ski-Doo. The Fuji-built Polaris air-cooled twin comes with nicasil lined cylinders that are supposed to add to its reliability.
Of the three engines, you'll find that they actually all have about the same power, though Arctic Cat claims 65 hp. Polaris doesn't boast of its power, but it'll be in the ballpark. Rotax lists its 553cc twin in the MXZ Sport as having 57 horsepower. Regardless, since they are all air-cooled, they will tend to be noisier than a liquid-cooled engine of similar displacement since they don't have a liquid cooling shroud to dampen noise and because air-cooled engines have loser tolerances to allow for heat expansion. Experience has taught us that the three motors all offer very good drive away torque and compelling acceleration to midrange. Top end speed gathers slowly, but these sleds will readily exceed all known trail speed limits.
Interestingly, the three drivetrains evolved quite differently in recent years. Polaris endowed its Fuji-built twin with new "old" technology from CVTech. The CVTech Powerbloc 50 drive works with a CVTech engineered Invance driven and should be about as bulletproof as it gets for a 1970s inspired drive system. Ruggedly simple and reliable, the CVTech replaces Polaris' own drive set up that had been used in the Shift series. The new Indy drivetrain should be very reliable and incredibly simple to maintain.
When Ski-Doo went from its Bombardier Lite drive system to the unique eDrive, we thought we had seen the last of the Powerbloc derived clutching. Ski-Doo's Lite clutch set up was actually a Powerbloc system, simply renamed and tuned for the Rotax 550. Ski-Doo developed the new eDrive from its sister Can-Am ATV line and has expanded the eDrive concept to handle the all-new ACE 900 four-stroke.
Arctic Cat's F570 combines older ACT Diamond Drive technology with the Suzuki-sourced 565cc twin. This system looks more familiar to Cat fans as it uses Cat's six-post rpm sensing drive with a cam-driven roller secondary in combination with the Diamond Direct Drive planetary gearcase. This gives you excellent drivetrain response for the two-stroker.
Each of the three budget sport sleds feature older chassis lay outs. The Cat F570 retains the older Twin Spar chassis that first appeared on the Jag four-stroke. Ski-Doo's keeps cost low by packaging its MXZ Sport 550 on the REV-XP, one chassis removed from the top line REV-XS chassis used on the TNT. Polaris' 550 Indy shifted over to a new Indy platform that derives a heritage from the RMK, but is shorter to accommodate a 121-inch track length.
As you would expect, suspension technologies, while good, are not the top of the line. The Ski-Doo Sport steps back to the basic SC5 instead of the higher cost, more tunable rMotion. Polaris' Indy design mimics older pre-Rush parallel slide rail models. The Arctic Cat comes through with a modest version of its Slide-Action system. All three feature budget shocks front and rear, either hydraulic or low buck gas bag ones that work well enough until pushed hard. A truly spirited rider will learn the value of better shock absorbers that resist fade and tend not to overheat quickly.
The 550 Indy features a version of the ProRide front end, which at just over 7-inches offers the least amount of travel of the three. The Cat's wishbone design gives you the most at 9.5 inches of available travel. The Ski-Doo counters with 9-inches. At the rear the Cat and Indy give you more than 13-inches, but the Ski-Doo scores bigger with 15-inches of travel.
From an amenities standpoint these three sleds provide similar features, such as electronic push button reverse and easy-to-read gauges. The Cat steps up with standard electric start. The Ski-Doo offers in-seat storage and the Indy features the latest Polaris-designed skis.
One thing that we like about all three is the use of performance-oriented hydraulic disc brakes. The MXZ Sport features braided stainless steel brake line for its Brembo unit.
While the Cat and Polaris both utilize 15-inch wide tracks with one-inch lug heights, the Cat track at 128-inches stretches out 7-inches more. Although Ski-Doo has the shortest length track at 120-inches, it is the most aggressive of the three with a 1.25-inch lug height and a Ripsaw pattern.
We can find differences between the three models, but it is the value to fun quotient that will appeal to savvy buyers. You will find that sleds like these three with 60-plus or minus horsepower and weighing closer to 400 pounds than 500 pounds can provide plenty of excitement on the trail. Plus, there's that sense of value you get as well.
| | | | |
| --- | --- | --- | --- |
| | 2014 Arctic Cat F570 Specs | 2014 Polaris 550 Indy Specs | 2014 Ski-Doo MXZ Sport 550F Specs |
| Engine | Suzuki 565cc twin cylinder 2-strokel fan-cooled, two 34mm VM Mikuni carbs; two-into-exhaust | Polaris 544cc twin cylinder 2-stroke; fan-cooled; two VM34 carbs; two-into-exhaust | Rotax 553.4cc axial fan-cooled two-stroke twin with cylinder reed porting; two VM30 carbs; two-into-exhaust |
| Horsepower | 65 hp (Claimed) | 60 hp (Claimed) | 57 hp (Claimed) |
| Drive | Arctic 6 post rpm sensing with 10.4-in diameter Arctic roller cam driven with ACT Diamond Direct Drive planetary gearcase; electronic push button reverse | CVTech PowerBloc 50 drive with Invance driven; PERC electronic push button reverse | eDrive primary with QRS secondary; electronic reverse |
| Front Suspension | AWS 7 double A-arm; hydraulic shocks, sway bar, up to 9.5-inches of travel | Polaris ProRide – 7.1-in maximum travel; RydeFX MPV shocks; Pro Steer skis | Dual A-arm; Motion Control shocks; 9.0 inches of travel |
| Rear Suspension | Arctic Cat FasTrack slide action with coupling blocks; hydraulic twin tube shocks; up to 13.5-in of travel | Polaris Indy parallel rail; 13.9-inches of travel; RydeFX MPV shocks | SC-5 parallel rail with Motion Control shocks; up to 15.0 inches of travel |
| Length | 118.0 in | 114.0 in | 114.4 in |
| Width | 48.0 in | 48.0 in | 47.9 in |
| Height | N/A in | 48.0 in | 47.6 in |
| Ski Stance | 43 in | 42.5 in | 42.5 in |
| Track | 15x128x1.0 | 15x121x0.91 Shockwave | 15x120x1.25 RipSaw |
| Brake | Hydraulic disc with disc on drive shaft | Polaris RMK hydraulic | Brembo hydraulic with braided stainless steel brake line |
| Weight | N/A | 422 lbs (claimed) | 423 lbs (claimed) |
| Fuel Capacity | 10.8 US Gal (87 octane fuel) | 11.5 US Gal | 10.6 US Gal (87 octane fuel) |
| Features | Features Standard: Twin Spar chassis; Electric gas gauge; electric start. Options: storage bags; rearview mirrors; accessory outlet; windshields | Standard: analog gauge; REV-XP X seat with storage; pushbutton electronic reverse; mountain strap Optional: key start; storage bags; rack; tank pads; optional windshield sizes; LinQ mounting system for accessories | Standard: Indy ProRide seat; mid-height windshield; analog speedometer; digital tach; mechanical fuel gauge. Options: 12v-DC outlet; handlebar hooks; bags; mirrors; electric start |
| MSRP | US$7,299 (Electric start standard) | US$6,399.00/with Electric Start $6,999 | US$6,549.00/with Electric Start $6,949 |