2010 Ski-Doo Lineup Preview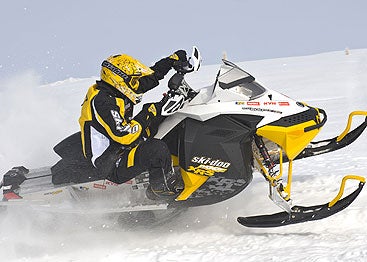 Ski-Doo tightens its hold as the No. 1 snowmobile brand
One new sled that Ski-Doo brings us for 2010 is a 'trail' version of its snocross racer. Frankly, it is interesting to watch how the various snowmobile makers leverage their racing exploits. Polaris offered the 600 RR race replica a couple seasons ago that failed to catch on — too expensive? This past season Yamaha showcased its 2009 Nytro RTX SE for limited availability, although fully planning to make the 'race' chassis the underpinning for future Nytro 'big bump' models. This year Arctic Cat revisits the Polaris experiment with one big change. Its 2010 Sno Pro 500 race replicant uses a more modest engine and will retail for US$7,995, substantially less than the Polaris model.
Now Ski-Doo entices its most enthusiastic big bump riders with a 'spring only' 2010 Ski-Doo MX Z X-RS racer-like model that is a direct descendant of the company's stock snocross racer. The Ski-Doo race replica takes the chassis from the MX Zx 600RS racer and gives early spring buyers a choice of powerplants — the 800R PowerTEK or latest E-TEC 600cc twin.
You had best be a serious extreme rider if you put spring cash down on this model. It is hardcore. Maybe not full-on racer, but close enough that anyone with back disc issues needn't apply. You will be able to take big bumps hard. Its racetrack stiff SC-5 rear suspension features four rear idlers and snocross-type rail reinforcement. The shocks are the race-tested KYB Pro 40 piggyback type that were seen on the racetrack. These are big bump shocks. The front suspension package includes stiffness to reduce diving under braking and cornering. There is nothing gentle about this sled. This is not a 'cosmetic' MXZ. It is as close to the race sled as Ski-Doo engineering figured non-racers could handle.
We'll have to wait a season to see how the race replica war ends up. Will Cat's lower-priced snocross 500cc-powered 'boy' racer replica beat out Ski-Doo's full-on, man-priced, big-power replicant for sales? The answer will be interesting and it will depend on who you are, we guess.
Brand Synergies
With its utilization of existing REV-XP race chassis and updated direct injection 600cc E-TEC twin, the Ski-Doo trail racer hints at BRP/Ski-Doo's corporate direction, which is, as BRP vice president and generalmManager Roch Lambert stated at the Ski-Doo media launch, "… to leverage as many synergies with our brands as we can."
As the operational director of BRP's Ski-Doo, Sea-Doo and Evinrude brands, Lambert has already worked to combine some of those synergies. He noted that low emission E-TEC direct injection technology begun at Evinrude is now incorporated into select Ski-Doo models. Under the current economic challenges, Lambert stressed that BRP will strive to "… reduce our costs and create more exposure for our brands. Our vehicle and manufacturing operation teams will bring (to market) the right product at the right time."
"We have enjoyed a strong leadership position since the REV," he explained. "We continue to fight hard for leadership."
He said that Ski-Doo holds a strong lead in market share and that his group will continue to bring new technologies to the market and expand the Ski-Doo brand with engines and platforms.
Innovation
With its advanced technology center located in Sherbrooke, Que., Lambert emphasized, "Innovation is one of the pillars of BRP."
"What is it that our customers don't know they need yet?" he asked. "We are focused on delighting a broad range of snowmobile customers."
In this third year of the Ski-Doo REV XP platform, model year 2010 should delight a much broader range of potential Ski-Doo owners, as there is an expansion of the XP platform design and usage. With a chassis that is one of the lightest in the industry, the inclusion of the Rotax 550 fan-cooled motor in that chassis makes undercutting Ski-Doo's weight advantage even tougher. Fitting the 50-plus horsepower fan-cooled twin to the XP chassis gives you some serious trail sport options in the MXZ and GSX model lines.
Modular Growth
If you were wondering about the success of the 1200cc 4-stroke Rotax triple, let Ski-Doo director of marketing Dominique Godbout answer. He said, "Our 4-stroke market share grew." He also stated that BRP's Rotax engine manufacturing group makes more 4-strokes than many of its competitors and that it enjoyed an engine development partnership with Cosworth, one of the world's most renowned engine technology specialists. The 1200 4-stroke triple, however, was developed in cooperation with Petronas.
He explained that Ski-Doo continues to evolve its engine and transmission packages as it transforms technology to its snowmobiles. Stated Godbout, "Ski-Doo is the industry leader and offers one-stop shopping as our REV-XP platform is modular and continues to redefine the riding experience."
Special Utility
That modular platform expands in 2010 with the 'spring only' Expedition SE. Powered by either the Rotax 1200 4-stroke or 600 E-TEC twin, this utilitarian crossover is suited for serious play or work.
Separating the special order SE from the in-season version are: higher capacity battery to power a 1,500-lb capacity Warn winch, power outlets or owner-added accessories; standard 4-position tilt steering; 20-gallon injection molded cargo box; protective skid plate; and special red and black graphics package.
This updated heavy-duty snowmobile is in addition to an all-new for 2010 Tundra line that is now based on the Rev-X platform. The Freestyle-based Tundra is history. The replacements — Tundra, Tundra Sport and Tundra LT — feature a 37 percent stronger chassis with an extruded structural spine on these 550cc fan-cooled models. The Rotax air-cooled twin is the only engine option for 2010.
To offer maximum off-trail utility to the Tundra series, Ski-Doo engineering fit a Lynx Telescopic strut front suspension to the chassis. This creates a 32-inch wide ski stance, narrow by sport sled standards but nimble for off-trail needs. The base Tundra has a 15-inch wide track while the Sport version adds an inch in width but retains the same 136-inch overall length. The LT comes with a 154-inch long track measuring 16-inches in width.
The returning utility models feature minor upgrades and revised graphics. The Expedition adds a 4-stroke engine option and tilt steering. The Skandic models are essentially unchanged.
Renegade Brand
You'll find that the Renegade is now a distinct model and no longer an MXZ version. This is an interesting sled concept that seems to be gaining in popularity. In reality Polaris originally created the idea with stretch-tracked Indys that were the forerunners to specialized powder models. As track lengths increased specifically for deep snow riders, Polaris saw its sales of the stretch track trail version drop off and all but abandoned the niche. That is, until Ski-Doo reinvigorated the category with the MXZ Renegade. The idea of a sporty on-off trail model that could bridge stutter bumps for groomed trail ride comfort and allow powder busting in major snow areas like Michigan's Upper Peninsula became appealing to many riders. Now the concept at Ski-Doo has grown enough to warrant a model line.
Recent Renegade models borrowed deep-snow features from the Summit and the 2010 line is no different. There's even a Backcountry and Backcountry X for the most adventurous off-trail rider. These versions come with a 16-inch wide by 137-inch long PowderMax track with 1.75-inch lug profile. There's an adjustable 38 to 40-inch ski stance and full offset dual keel powder skis. Outfitted with low gearing to let the 151-hp 800cc PowerTek engine pull through unbroken snow, the Backcountry X will come with a Summit-type drive belt, premium shocks, lightweight REV-XP seat, multi-function gauge, and SC-5 rear suspension. The base Renegade models come with a 15-inch wide Ripsaw track and engine choices that include the 600 E-TEC, 1200 4-stroke and the 800cc twin.
MXZ Packages
We've already mentioned the 'racing special' MX Z X-RS as a 'spring only' model. For those less inclined for race-ride stiffness, there is an X-package with a similar revised steering ratio that is said to require less steering effort without sacrificing precision or feel. While the 'X' package shocks aren't full-on race shocks, they are designed to have a supple yet secure reaction for cornering and anti-dive characteristics. There are three engine choices that include the 600 and 800 2-strokes as well as the second-year 1200 4-stroke triple.
If you chose to forego the early ordering of an MXZ, you will still find incredibly competent models in either Adrenaline or lightweight TNT trim. This marks the first time the Rotax fan-cooled 550 twin has been fitted to the lightweight REV-XP chassis. It joins the 1200 4-stroke and 600 carbureted engines as power choices. You'll note that the budget-priced MXZ Trail is now simply referred to as the Sport but returns as the 600-carbed model.
Deep Powder
Deep powder specialists will appreciate the evolution of the Ski-Doo Summit. As with the MXZ line, the Summit gets a special early order X-RS Hillclimb Edition that replicates the sled X-Team hillclimbers campaigned. It comes with the 800cc twin, snow grabbing 154-inch track, a wider front end and suspension upgrades. Taken from the X-Team's open mod racers this 'spring only' edition features a forward steering post to better accommodate stand-up riding. There's a narrow seat and, of course, all the goodies serious highmarkers want. Bragging rights for high marks are left to you!
There will also be a more moderated Summit X package for spring only purchase. These come with pick your own engine choices — 600cc E-TEC or 800cc PowerTEK — and track choices from 16-inch wide by 146, 154 or 163 inches of overall length. Your in-season options will include the Everest with a 4-stroke option and the 600cc Summit Sport.
Touring For Two
To simplify the world of luxo-trail riding for 2010, Ski-Doo dropped the GTX designation in favor of Grand Touring, which is more descriptive and easier to appreciate. While renamed and rebadged, the Grand Touring models offer nearly every on-trail amenity you could consider. The top of the line Grand Touring SE has the smooth power of the Rotax 4-stroke triple, an air-suspension ride, baggage, mirrors, full complement of gauges, and marvelous on-board comfort and ergonomics, including heated seat.
There are two lesser versions of the Grand Touring segment that include a very plush Grand Touring LE with choice of 4-stroke triple or 600cc E-TEC twin and a Grand Touring Sport model with choice of 550cc fan-cooled engine or carbureted 600cc liquid-cooled twin.
Plush One-Up
If two-up luxury touring is a bit much, Ski-Doo offers solo touring luxury in its GSX model line. Based on the REV-X platform, you'll find these trail sleds to be sporty and well appointed. For 2010 you'll see the SE designation added to a GSX model. As you can guess, this is a top line version with 4-stroke power, air-ride rear suspension, tilt steering, heated seat and all the goodies in a pleasing Regal Red graphics package. The GSX LE offers an additional engine choice, the 600 E-TEC. It features its own special GSX tunnel bag and new bright white graphics style. The base line GSX Sport features a choice of the carbureted 600cc twin or the fan-cooled 550 Rotax. At a claimed 437 pounds the GSX Sport affords a good power-to-weight ratio for sporty riding in tight trails.
As Ski-Doo enters the 2010 model year, the 50-year-old snowmobile pioneer maintains a strong position as Number One in the snowmobile marketplace. As Roch Lambert told the media at Ski-Doo's product preview this past January, "We are continuing momentum with the REV. If we bring the consumer to a higher level we will enjoy a strong position with product."