2010 Yamaha FX Nytro XTX Review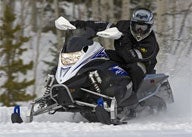 The first true multi-dimensional sled
Score one for Yamaha. Or, is that score three for Yamaha? Introduced last season, Yamaha's FX Nytro XTX seemed too good to be true. After all, Yamaha claimed that this extended length version of its newly redone Nytro RTX SE would satisfy high performance riders as readily as it would please off trail boondockers. Let's not forget that Yamaha also claimed the XTX would give sport touring types the "bridging" effect of a 136-inch track and give a better ride over stutters and trail chop than a short track sled. According to Yamaha this sled did it all!
Fast Facts
Engine Type:Horizontal In-line
Cylinders:3
Engine Stroke:4-Stroke
Valve Configuration:DOHC
Displacement:1049 / 64
Starter:Electric
Turbocharged:No
View Full Spec
Apparently Yamaha's message reached serious riders because the XTX proved to be one of the best selling Yamaha models in recent memory. For 2010 the Yamaha FX Nytro XTX gains some discreet fine-tuning, such as totally re-engineered hand warmers and some normal suspension and powertrain tweaks common from one model year to another. Overall, though, the XTX enters 2010 pretty much the same, sans graphic updates and more accessory options.
The Message
Yamaha's marketing message remains simple — and consistent — for the 2010 XTX, which is offered as the best of all worlds for trail handling, bump-bridging and off-trail flotation.
Yamaha's intent with the XTX remains the same this year as in its inaugural season. It fits into what snowmobile types call the "crossover" segment of performance type sleds with off-trail capabilities. That category places the XTX up against Ski-Doo's Renegade series, Polaris' SKS models and Arctic Cat's Crossfires and new 177 horsepower turbocharged EXT. That's serious competition, especially if you take Yamaha marketing types at their word and figure that the XTX will also compete to a lesser degree against the short track performance grouping — including Yamaha's own RTX models.
Of all the crossover units available this season, we'd say that Yamaha's XTX actually fits just as Yamaha claims. The reason lies tucked under the latest crossover Yamaha's aluminum construction chassis. That's where you find the Dual Shock CK 144 rear suspension. Ordinarily a 144-inch track length makes a trail sled push like an ill-behaving NASCAR stocker at Daytona. You can reasonably expect that amount of track length to add serious "push" when you negotiate a tight corner. Ah-ha! Yamaha engineering thought this out and added six degrees of tip-up angle at the rear of the slide rails. What you actually get on a groomer packed trail is action more akin to a short track of 126-inches (that's our estimate). If you read Yamaha's materials, the company says the response mimics a 121-inch short track sled. We disagree — slightly. Response is definitely substantially quicker than what you'd expect from a 144-inch length or even a 136-inch length, but it isn't as quick as you get from an RTX.
When you add in the fact that the XTX also comes with the latest FXG2 front suspension setup, you can see that Yamaha engineering really did give the XTX some serious development energy. Heck, that doesn't even bring in to play the top line shock package.
Tunable Shocks
Along with the tipped rails, the Dual Shock CK 144 gains the benefit of a 40mm compression-adjustable clicker shock on the rear suspension arm. This high-pressure gas shock features a remote reservoir that manages shock cooling to reduce fade. The front arm uses an aluminum bodied gas shock.
You'll find Yamaha's GYTR dual clicker shocks on the ski suspension. These shocks allow 12 clicks for compression and up to 20 clicks for rebound settings. They also come with a piggyback type reservoir to help resist shock fading in the most serious bumps. Yamaha engineers even fitted the shocks with glove-friendly adjustment knobs.
That's not the only good thinking that went on with the XTX. The 2010 version comes with new suspension wheels featuring removable bearings to make sled upkeep much easier and more cost efficient. You no longer need to junk the old wheels for new ones. Now you simply remove the old bearings and insert a new set.
Yamaha claims that the new wheel with a revised spoke and rubber rim enhances the overall ride character. Of course, that will work with the tipped up rails that let the CK 144 suspension emulate a 121-ish length on hardpack. The suspension places the Camoplast Rip Saw track so it can bridge bumps like a 136-incher while adding its full 144-inch circumference for extra flotation and bite in off-trail powder. The 1.25-inch lug height works for most trail riders, but serious boondockers may find the lug height too much of a compromise and may want to consider an optional track with taller lugs.
Overall, though, the standard 15-inch by 144-inch track should be just fine. Yamaha engineers worked with Camoplast to create this track style, so you can bet that the design maximizes all-around Yamaha XTX performance.
The Power
We haven't mentioned the obvious — Yamaha's 130-hp Genesis 130FI triple. This is the heart of all 2010 Yamaha performance models, with the obvious exception of the Apex four-cylinder motor, which is probably due for replacement or at least a serious upgrade in the near future. The three-cylinder, four-stroke motor gives the XTX exactly what performance riders need — a serious ski-lifting boost for conquering moguls and getting through unbroken snow. Where we find the instant-on character of the Genesis 130FI a bit too much on the short tracked Yammies, that characteristic plays into the design of the XTX. That extra amount of track helps keep the fuel-injected Genesis torque manageable as it gets more grip to the snow and less spin like you get aboard the 121-inch tracked RTX sportster.
As various tests have proven, the Genesis 130FI performs aggressively in a straight line, which means this sled will pull strongly out of corners and off bumps. This is a serious motor with the best engineering ideas Yamaha can muster. The computerized fuel injection gives you spot on throttle response — use it wisely!
Whether it was to match Arctic Cat's four-strokes or not, the Yamaha XTX drivetrain now offers the off-throttle coasting normally associated with two-stroke powertrains. Just when we had gotten used to the braking effect of Yamaha's four-stroke, they go and add an Engine Braking Reduction System. Oh, well.
Extra Versatile
That may be about our only gripe with the 2010 Yamaha XTX. The handlebar set up is exceptionally good with a "just right" curvature that is both comfortable and compliant when riding hard. The sled has all the "right" features like its lightweight aluminum chassis with tipped up running boards. Introduced last season this chassis style was the forerunner for all the other new models, including the MTX mountain and RTX sport series. With this design, Yamaha enhanced its technology with over-engine steering and rider-forward positioning.
As mentioned, Yamaha redesigned its hand warmers so that they provide a more concentrated heat source where you use them. This should prove very handy for January rides. Of course, heat management is controlled as before and you can track the settings via the multi-function digital gauge.
We agree that Yamaha managed to pull off one of the best "compromises" in recent sled design. The XTX does accomplish all three goals as promised. It rides groomed trails like a sport sled. It bridges trail chop like the extended track model that it is. And it affords added traction and deep snow flotation for off-trail adventuring. With its strong power and incredible suspension tunability, the 2010 Yamaha XTX is all things to just about all serious snowmobilers.
2010 Yamaha FX Nytro XTX Specs
Engine
Yamaha Genesis 130FI; liquid-cooled, 1049cc 4-stroke triple; Mikuni 41mm fuel injection
Horsepower
130
Drive
Yamaha YVXC variable ratio drive and driven
Front Suspension
Yamaha double wishbone FXG2; 8.5-inches maximum travel; 40mm GYTR dual-clicker, high pressure gas shocks
Rear Suspension
Yamaha Dual Shock CK; 14.5-inches maximum travel; 40mm GYTR dual-clicker, high pressure gas shock on rear suspension arm; C 40 R12.5 aluminum gas shock on front arm
Brake
Yamaha 4-piston hydraulic with lightweight ventilated disc
Length
119.8 in
Width
46.4 in
Height
45.6 in
Ski Stance
41.3
Track
15 x 144 x 1.25 Camoplast RipSaw
Weight
NA (542 lbs 2009 FX Nytro XTX)
Fuel Capacity
7.4 US Gal (Regular unleaded grade fuel)
Features
Electric start; reverse; digital gauge with low fuel and warning lights
MSRP
$11,049
Related Reading
2010 Yamaha Nytro RTX SE Review
2010 Yamaha FX Nytro Review
2010 Yamaha Vector LTX GT Review
2010 Yamaha Vector GT FI Review