2010 Yamaha Vector LTX GT Review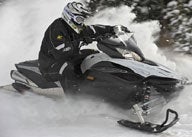 Yamaha adds muscle to its popular Vector LTX
Twist the key and you know immediately that this Yamaha Vector is different. As soon as the ignition sparks, the newly added Genesis 120 fuel injected motor fires with a sound that is both more robust and authoritative than the previous generation triple. With 41mm fuel injectors to cram 87 octane fuel into its larger 1049cc displacement, the 2010 Genesis 120 FI makes 15 more lbs-ft of torque than the carbureted motor used in last season's LTX models.
Fast Facts
Engine Type:Horizontal In-line
Cylinders:3
Engine Stroke:4-Stroke
Valve Configuration:DOHC
Displacement:1049 / 64
Starter:Electric
Turbocharged:No
View Full Spec
Riders who opted for the Apex for its smoother and more powerful 4-cylinder motor may want to rethink their choice as this Vector series with Yamaha's newest triple may be the best trail sled Yamaha has built to date. The Apex still retains its leadership for sheer power, but the Vector LTX GT is a better everyday trail sled than its more powerful sibling.
Useable Power
Consider that the new Vector LTX GT puts more useable power to the track where trail riders want it. The drive off and midrange performance from the new triple is excellent. The Vector motor pulls more strongly out of tight corners and will be easier to drive as well. Where the Apex still exceeds the Vector is on long straights and mile-long lake surfaces.
The new Genesis 120 FI measures more than a liter in displacement versus the under one-liter sizing of the Apex quad (1049cc versus 998cc). Unlike the Apex motor, this Vector triple has a direct-to-crankshaft clutch setup. The Apex design, which was borrowed from Yamaha's high-revving motorcycles, needs gear reduction to bring its crank speed into a usable range for snowmobile clutching. Yamaha has been very successful with its Apex gearing, but the new Genesis triple was designed to be a snowmobile motor, not a powerplant that needed to be adapted to a sled.
Of course, there is another side to this new Genesis motor versus the previous carbureted triple. Despite being larger in displacement, the new fuel injected three-cylinder engine actually delivers five percent greater fuel economy, has stronger pull (or torque), and cranks out 70 watts more power, enabling the use of GPS, heated visors, etc.
Trail Ready
You will wonder from the engine specifications if this is a version of the 130-hp Nytro triple. Yamaha says "No!" We say, no and yes. Outwardly and specification-wise the two motors seem similar. The internal structure and tuning specifications are quite different as this motor's purpose is to provide smooth low end to midrange power with minimal "burps" of torque. The Nytro motor responds more like an on-off switch while the Vector GT engine reacts smoothly like a sliding rheostat switch. There is less but smoother power from the Vector triple. The Nytro reacts more quickly and will yank the skis upward with a quick shove-in of the throttle lever. The Vector will accelerate quickly, but more under control as the engine has been tuned to be smooth, not rude.
Yamaha provides trail-tuned clutching from its proven YVXC drive clutch which will spin up to 8000 revs as it transfers power to the Yamaha driven. If you've ridden previous generations of Yamaha 4-strokes, you'll notice the freer wheeling action of the 2010 Vector LTX GT. Yamaha engineering deliberately fitted the trail-purposed sled with a reduction in engine braking. The result is a sled that rolls off throttle more like a conventional 2-stroke. If you are coming off a two-stroke model and onto a Yamaha for the first time, it won't be much different. But, if you come off an earlier generation 4-stroke Yamaha to this newer design, you will notice the change. As for us, the change is neither good nor bad. It simply is.
Ride & Handling
Over the years we've found ourselves truly enjoying Yamaha's Vector trail models. They come with very smooth power, now made even smoother thanks to the new fuel injected engine. We like the way the Deltabox II frame positions the rider in a "ready for action" mode and we appreciate how the engine sits low, keeping the sled positioned low on the trail to maximize the bite of its lightweight, plastic skis and 43-inch ski stance. The Vector LTX GT is a very good performing, all around snowmobile that maximizes its dual A-arm front suspension to control up to 9-inches of travel. Yamaha fits the GT version with 40mm GYTR dual-clicker gas shocks up front.
At the back, keeping the LTX GT's 136-inch long Camoplast Rip Saw track planted in the snow, you'll find a revised, second generation Mono Shock II RA 136 suspension. The RA simply means that you'll find a tunnel-mounted remote assist dial that acts on the suspension's single 46mm KYB gas shock. This new design, while similar in concept to the original Mono Shock, now features longer life service pieces like needle bearings in the lower front suspension arm. All told, there are 13 updates in this second iteration.
Track Drive
The Camoplast track features open windows and a new clip design to accommodate Yamaha's use of extrovert drive sprockets. The idea is to reduce track ratcheting and vibration felt with the internal drivers. It seems that now for 2010 the industry has come full circle as extrovert, cog-style drive sprockets were used early on by most sled makers. There was a switch to the involute drivers as manufacturers worked to reduce track noise and experimented with new suspension, drive and track setups over the past decades. It truly seems that what's old, does, indeed, become new again.
Innovations from Yamaha for its Vector LTX GT include a new tall, lightweight seat with more cargo area. The raised seating helps you get to a stand-up position more quickly for broaching off-trail obstacles like downed trees. The seat liner features a new waterproof membrane to resist moisture getting absorbed into the seat's foam.
Yamaha spent an inordinate amount of time during its presentations on the new grip warmers, which deliver more concentrated warmth at what its engineers feel add to the greatest comfort for trail riding needs. An insulating material has been inserted between the metal handlebar and the heating element to retain heat longer.
Reasons To Own
While this all may seem like no big deal, it acts to reinforce just how seriously Yamaha engineering addresses on-trail comfort for its consumers. The Vector LTX GT is a great trail sled precisely because of the small details. The fuel injection changes Yamaha made are a bigger deal than the hand warmers, but taken together they both enhance your on-trail enjoyment. The use of the needle bearings in the suspension enhance the sled's on-trail and out of the shop capabilities. While the average trail rider may measure performance in things like horsepower and torque, Yamaha measures them in total ride enjoyment and length of service that its product provides.
After all, while you may go into your dealer's show room to look at the new Genesis 120FI triple in Yamaha's Vector LTX GT, you'll also be looking at and getting a pitch on the "little things" that make Yamaha Number One in resale value (according to Kelley Blue Book).
Reasons for considering a Yamaha are many. We say that the Vector LTX GT is one of the very best trail sleds on the market based on all-around performance. But you'll discover that this 2010 Yamaha Vector LTX GT enjoys some other benefits as well. Consider that Yamaha snowmobiles are rated tops in reliability, ease of operation, fuel economy and are considered to be the best when it comes to low cost of operation. The 2010 Yamaha Vector LTX GT is much more than a pretty face with a much improved and more powerful on-trail personality.
22010 Yamaha Vector LTX GT Specs
Engine
Yamaha Genesis 120FI; liquid-cooled, 1049cc 4-stroke triple; Mikuni 41mm fuel injection
Horsepower
120-plus
Drive
Yamaha YVXC variable ratio drive and driven
Front Suspension
Yamaha double wishbone with long arm, short spindle; 9-inches maximum travel; 40mm GYTR dual clicker gas shocks
Rear Suspension
Yamaha Mono Shock II RA 136; 11.7-inches maximum travel; 46mm gas shock with remote adjustability on rear arm
Length
118.1 in
Width
48.0 in
Height
45.7 in
Ski Stance
43.0
Track
15 x 136 x 1.25 Yamaha/Camoplast Rip Saw
Brake
Yamaha 4-piston hydraulic with lightweight ventilated disc
Weight
N/A
Fuel Capacity
9.4 US Gal
MSRP
US$10,699
Related Reading
2009 Yamaha Vector LTX GT Review
2010 Yamaha Vector GT FI Review
2010 Ski-Doo TNT 550 vs Yamaha Phazer RTX