2010 Yamaha Vector GT FI Review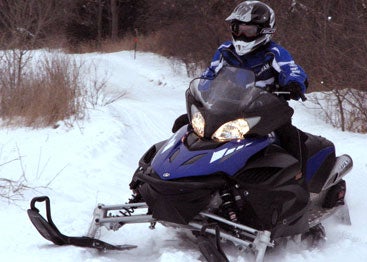 A near perfect trail sled
The 2010 Yamaha Vector GT prototype that we rode in the farm fields near Cannon Falls, Minn., this past January was disguised as a current year Apex GT. Still, it was pretty close to what Yamaha will offer through its dealers. Our prototype 2010 Yamaha Vector GT test sled featured the long awaited fuel injected triple. The final production sled you'll get will be much better than what we rode over frozen field stubble, iced over ditches and along snow packed fence lines. What we rode was pretty darn good, even admitting to a pro-Vector bias.
We've liked Yamaha's trail triple-cylinder sports sled ever since this second generation evolved. The addition of the Genesis 120FI fuel-injected 4-stroke makes the Vector an even better trail value. The 2010 Vector GT uses what is essentially the same chassis and suspension as its pricier, heavier and much more powerful sibling, the Apex GT. Don't think for a second that when the new Vector reaches a long lake bed that it will blow away the 150-horsepower four-cylinder Apex. Won't happen. But getting to that long lake bed will be much more interesting as the 2010 Vector gains a bit of horsepower with a whole lot more usability!
Confirmed Suspicions
Last winter when we played trail rider with a nifty Apex GT, we confirmed a feeling that we'd harbored for some time. The Apex has the ponies, but you have to keep them reined in under most trail settings. We frequently found ourselves using less than a third throttle as we motored along our favorite groomed trails. Indeed, when the corridor trail beckoned and lanes were empty, we pushed the throttle flipper to the handlebar and truly enjoyed the 4-stroke rush.
Looking back to the Vectors of the past, we've enjoyed the 973cc motor with its considerable low-end torque. Still, knowing that virtually every other modern age Yamaha sled engine came fitted with electronic fuel injection, we found ourselves a bit cranky with the carbureted Genesis 120 triple. When you've enjoyed the benefits of fuel injection — the crisp and instant throttle response, easy starting and 'right now' pull off a corner — you find yourself getting a bit temperamental knowing that EFI is something you should have. It is what will take one of the top trail sleds in the business from just 'very good' to exceptional. Finally, in model year 2010, Yamaha gives us what we wanted. Actually, Yamaha gives us a bit more than we asked for as the new 1049cc Genesis 120FI is more Nytro triple than old school Vector triple.
If you can't give up your carbed Vector triple, don't despair. The tried and true snowmobile-specific Genesis 120 carbureted three-cylinder will power the base Venture touring model and the utilitarian Viking Professional.
Darn Near Perfect
The 2010 Vector GT and the stretch tracked LTX version enjoy a Nytro-based 1049cc, 4-stroke triple with great torque at low to midrange and ample top end. If top end is your thing, look to the Apex four-cylinder. If great days of trail riding in all kinds of conditions are your thing, then this is the nearest to perfection trail sled you can get.
Yamaha was adamant at the 2010 model preview that this engine is neither the Nytro nor the Venture GT motor. Well, okay… sort of. We've noticed over the years that Yamaha likes to make some valve train adjustments, revamp a computer chip, retune the intake and exhaust and expect us to look at its latest creation as 'all new.' Folks, we aren't buying that program and we aren't going to exchange heated e-mails with Yamaha over semantics and what we consider minor details. Suffice it to say that the Genesis 120FI is not the old carb triple. And it's not totally the Venture GT engine nor the Nytro triple either. But it's closer to the former than the latter.
The Upgrade
Indeed, if you've paid attention to Yamaha circa 2009, you will have noted that the Venture GT came with the Deltabox II ride-forward chassis and new engine mounting to accommodate the brawnier Genesis 120FI. The 2010 Vectors share the same basic configuration and easily accommodates the latest iteration of Yamaha's groomed trail-tuned 1049cc motor. We won't argue that the larger displacement Gen 120FI triple is actually 2.2 pounds lighter than the old carb triple. We easily accept that the new fuel injected triple gets three percent better fuel economy and can move the Vector GT 7 miles per hour faster at top end.
What you will find sitting sloped back in the Vector GT's engine bay is a revised triple with a totally revised radiator and fan for cooling, a new stator for greater electrical output, a lightweight magnesium head cover, and a six horsepower gain in output versus the 2009 model.
The 2010 Genesis 120FI motor is said to come with a revised camshaft, different crankshaft, a heavier flywheel, Vector-specific injection tuning and an exhaust calibration different than the Venture GT. All of this was engineered to give the Vector GT a strong 'pull' sensation. If you think about it, all of those changes would definitely redirect performance from the instant-on, ramp up of the big bump orientation of the Nytro to a much more trail friendly Vector mode. Nytro owners want a heavy hit to get lift over moguls and help them time their runs over and through bumps. Vector riders want to maximize torque, spreading it smoothly for comfortably quick trips on groomed trails. You'll find clutching on the 2010 Vector GT will be set to keep the engine in the fat power areas of the torque curve by effectively lowering shift revs.
Better Overall
As expected, the 2010 Vector GT is a much better ride overall. We were a little surprised at where the new power curve came in. The carbureted Vector seemed to enjoy a lower power entry than the 2010 prototype, which felt noticeably stronger a thousand or so revs higher than we were expecting. It's not a spike like you might expect out of a 2-stroke motor, but there was a definite power pulse after initial engagement that you'll feel before settling into midrange. Maybe it was a clutching thing as final specifications weren't settled back when we rode the 2010 proto. And, don't misunderstand; we don't consider this a bad thing. We just were surprised at the difference. We never spent much time on the Venture GT so it may be typical for all we know. What we do know is that from 30 to 70 miles per hour, the 2010 Vector GT comes alive. It's no Apex GT, but the 2010 Vector's passing gear is alive and well. That we figure is indicative of its heavy-hitter Nytro DNA and its extremely strong torque characteristics, which can tolerate short shifting in the clutch set up.
The throttle response and power are exceptional. Yamaha went with a Mikuni electronically controlled fuel injection system that may be tuned for improved economy, but provides ample 'git.' As it turned out our test sled — which had accumulated ample mileage from previous demo rides, photo shoots, etc — revealed a worn drivebelt that affected performance for part of the ride. Changing to a new belt picked up performance significantly.
MonoShock Updated
There will be suspension changes on the production versions that we didn't experience on the disguised protoype. The 2010 production Vectors come with a second-generation MonoShock II rear suspension with 13 upgrades from the original. The parallel rails are stronger. There's a larger rear axle. There's the use of more friction-free needle bearings in the unit's lower front arm and lighter weight suspension wheels with replaceable bearings. Yamaha also drives the 121-inch Camoplast Rip Saw track with toothed 'extrovert' drivers, which should lessen track adjustment frequency.
Like previous Vector MonoShock suspensions, the second iteration retains the tunnel-side remote adjuster and the 2010 Vector GT will feature premium dual-clicker front shocks.
Feeling It
Our first ride reality was based on 'feeling' the Vector with its new engine. We're satisfied. The improvements from the 1049cc fuel-injected triple versus the 973cc-carbureted triple are better than we had hoped. We expected much improved throttle response. We get it. We figured there would be a noticeable improvement in on-trail performance. We get it. Plus, there's an almost Apex quickness from 30 to 70 miles per hour. That is a plus. Also a plus is the fact that you can use much more of the throttle with virtually no performance lag like you used to have with the triple carb engine.
Yes, indeed, the 2010 Vector GT 120FI easily can be just about all things to all trail riders. It is smooth. It has good trail economy. It's fun to ride and it'll have upwards of a free four-year Yamaha-backed factory warranty if you visit your Yamaha dealership and sign up between February 11th and April 10th — and purchase your 2010 Vector GT before November 30th. That's a deal!
Related Reading
2009 Yamaha Apex GT Review
2009 Yamaha Vector LTX GT Review