2012 Yamaha Phazer RTX Review
The little sled that should
Story by Jerry Bassett, Photography by Yamaha, Sep 13, 2011
The Yamaha Phazer remains an underappreciated and, in our estimation, a somewhat under engineered snowmobile. Forgive us, while we think the clever 500cc engineering is outstanding, it could or should be more.
The statistics say the truly high-revving half-liter twin, which turns more revs than the R1 motorcycle derived Apex four-cylinder, makes about 80 horsepower in its current Phazer set up. It feels like less, as the engine needs to be throttle-spanked to get the sled to perform as you want it to. The Ski-Doo TNT ACE 600 delivers substantially less power, but at least the Rotax 600cc four-stroke torque seems to feed into and out of the BRP E-drive clutch setup more smoothly and, even, efficiently. The throttle response seems smoother and the overall drivetrain response seems more "normal" and in tune with what a sledder is used to receiving, albeit more relaxed.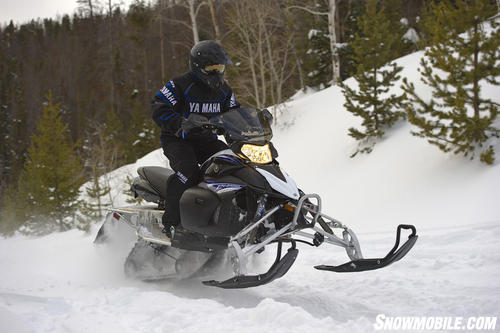 For 2012 the Yamaha Phazer RTX remains the "hot" lowest buck action trail sled in Yamaha's line. Don't look for breakthrough new designs. The sled is only slightly more evolved over the past few years than in the original design season. The latest Phazer RTX model continues with the lightweight frame and low placement of the lightweight fuel-injected twin as when it first came out. It's a sled that we truly wanted to love, but found ourselves spurned by its willowy ride and erratic cornering. Of course, we never truly pushed it for long periods. It seems to be one of those sleds that you almost have to literally beat by forcing it heavily throttled into a corner, getting the sled to heel over to get the front end to force the skis to bite. All the while maintaining a little sawing action on the handlebar to induce roll and shifting body weight to be ready to counter. And then you have to hope the rear doesn't hit a bump and get too unglued to spin out on you. To push the sled, even with the niftiest of shock packages for a sled in this price range, to that extreme seems like too much effort for too little return on the fun factor. You can get a Polaris Shift 550 or a carburetted two-stroke 600 Ski-Doo MXZ for about the same money and they will give you more sure-footed fun with less onboard adventure.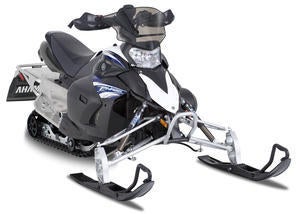 We can appreciate the engineering in this sled, as the engine is a marvel of Yamaha design. There's a driveshaft reduction gearing system to take the 12,000 or so top revs down to a manageable 8000-plus revs to the traditional dual pulley CVT system of drive and driven clutches. Put this 500cc twin in a wheeled product and it likely will rip asphalt as a scooter power plant. But, in a sled chassis, it seems over-matched in even this lightest weight Yamaha platform. Get on the power and head down a straightaway and the digital readout gauge makes good top end numbers. Good enough to get you a stout ticket on Wisconsin trails. But let off the throttle for a series of turns that require on- and off-throttle running and you will come away frustrated. It's no Nytro with the 130-hp one-liter triple, we admit. But, still, it just seems like the power delivery could be better. Heck, the electronic fuel injection works incredibly well. It just seems that the torque outlay for this sled just doesn't pick up like we think it should — or, wish it did!
Then we have to say we have been disappointed with the ergonomics right from our first ride. The seat is not designed for aging bottoms. Nice, firm, narrow young bottoms will find this seat to their liking. The riding position is upright and centered well for quick leaning into turns and you can get ski lift off bumps by sliding back on the seat or standing upright off the rear of the runningboards. This will give you some interaction with the sled to convince you that you are in charge. The fore/aft motion is very good, a bit like a small displacement beginning dirt bike. And, perhaps that is how Yamaha engineers perceived this vehicle — as a dirt bike for the snow. Give them some success there.
The front suspension action is modulated via a set of Fox Float shocks. The double-A arm front system works well enough, but seems to sit quite high giving the front end a soft feeling under heavy cornering. Interestingly, cross country racers successfully campaigning the RTX models usually made some changes to this front end to stiffen it up quite a bit. The sway bars would get revamped and the shock setting would get racer aggressive to lock in the front end and cut down on side-to-side cornering softness. Might that be a solution or, at least, a suggested dealer available setup for hard charging budget riders?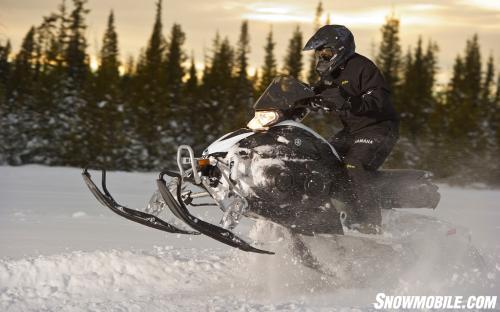 The overall design in front and rear suspension is extremely similar to RTX models of the recent past, including the 489-pound 2008 model. The major upgrade from then to now is about a thousand bucks in suggested pricing. Interestingly, the suspensions give you more than a half-inch less travel now (8.6-inches) than then (9.3-inches). The rear Dual Shock CK rear suspensions are virtually the same in travel allowed at about 16-inches. Interestingly, the 2008 version gave you a KYB high-pressure reservoir shock with compression clicker adjustability. Then as now, the trail grip comes from carbide runners under a saddleless ski and a Camoplast Rip Saw track that measures 14-inches in width by 121-inches in overall length with a 1.0-inch lug profile.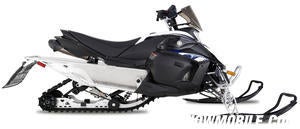 As with all modern four-stroke Yamahas, the Phazer retains its rear-exiting "trademark" exhaust. The handlebar warmers have been revised in recent years and work extremely well. The little Yamaha trail sport requires premium fuel and has space for 7-gallons.
Regardless of what we think and how we view the Phazer, it serves its niche very well as a low-buck trail performance sled that should easily provide many seasons of value, thanks to its uniquely Yamaha build quality. Are there other sleds with better performance for the buck? We would argue there are. Are there other sleds with the solid build quality, expected trade-in value, and overall long term durability of the 2012 Yamaha Phazer RTX? We can't seriously think of any. We'd argue for it being among the best sport trail sled values. That should trump our objections on everything else.
2012 Yamaha Phazer RTX Specs
Engine
Yamaha Genesis 80FI; 499cc, 2-cylinder, 4-stroke, liquid-cooled; 43mm Keihin throttle body electronically controlled fuel injection; requires Premium unleaded fuel
Horsepower
80
Drive
Yamaha YVRC variable ratio; gear-reduction
Front Suspension
Yamaha double wishbone; 8.6-in travel; Fox FLOAT shocks; lightweight plastic saddleless skis
Rear Suspension
Yamaha parallel rail, Dual Shock CK suspension; 16.2-in travel; C36 KYB & C40 aluminum high pressure gas shocks
Brake
Dual piston hydraulic with ventilated disc
Length
111.0 in
Height
46.8 in
Width
47.8 in
Ski Stance
42.7 in
Track
14 x 121 x 1.0 Camoplast RipSaw
Weight
489 lbs
Fuel Capacity
7.0 Gal
Features
Standard: electric start, reverse, low height windshield, halogen headlights, LCD digital gauge cluster; Optional: rearview mirrors, tunnel protectors, DC outlet; One-year limited factory warranty
MSRP
US$8,599
Related Reading
2011 Yamaha Phazer RTX Review
2011 Yamaha Phazer GT Review
2011 Ski-Doo MXZ TNT 600 ACE Review
2012 Polaris 550 Shift 136 Review