2012 Polaris 550 Shift 136 Review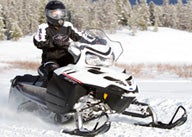 Reliably basic adventure at a very good price
If you drive a standard cab six-cylinder pickup with roll-up windows and a floor-mounted stick lever to get in four-wheel-drive, then you are a prime candidate for a 2012 Polaris 550 Shift 136. Like your truck, this Polaris reflects a no-nonsense, just the basics type of vehicle. That's not to say that it lacks a fun quotient. For the right-minded rider, the 550 Shift 136 will be a total blast.
Fast Facts
Engine Type:Horizontal In-line
Cylinders:2
Engine Stroke:2-Stroke
Valve Configuration:Reed Valve
Displacement:544 / 33.2
Starter:Pull
Turbocharged:No
View Full Spec
As we've noted previously, sleds like this one tend to get the ol' walk-by at the dealership as customers eye the brightest and newest sleds displayed on the show floor. The 550 Shift most likely gets placed a row or two deep on the sales floor. After all, the profit on a sled that retails for US$6,899 will be lower than that for a US$12,000 800 Switchback Assault 144. But that's a sled for the guy with the top of the line crew cab with the leather bucket seats and full navigation gear. No, the 550 Shift goes to the sensible rider who may be just starting out in the sport or is a rider fully confident of his abilities and has his favorite getaway spots where durability and stone-cold no-nonsense reliability are extremely important. The Canadian version of this sled is fitted with a rear rack as the 550 Shift 136 is viewed as a true getaway sled for the serious outdoorsman, like a trapper or backcountry fisherman.
Regardless of your intentions, the facts are simple. You appreciate a sled with a tried and true drivetrain. The 550 Shift has that covered as this 544cc, two-stroke twin cylinder motor features long-lasting nicasil cylinder linings, a digital ignition for quick starts and consistent charge to the spark plugs, dual Mikuni VM-34 carbs and a power-pulsed two-into-one exhaust system. Once upon a time this engine would have been viewed as a big twin, but no longer as this Fuji-built air-cooled motor remains as a reminder of a now-distant Polaris past. Delivering a reliable 50-plus horsepower the 550 will fade into Polaris history as the new breed of liquid-cooled Cleanfire engines takes over.
While the drive system may reflect the past, don't let that past fool you. The combination of Polaris P85 drive and P2 driven clutches remains top drawer and is part of the reason why Polaris snowmobiles have been successful in racing and on the trail. The Polaris-engineered drives just flat-out work regardless of conditions and rider demands. This is a quality drive train that has evolved from many seasons of cross-country racing and out on the trails — and non-trails.
Available performance with the 550 Shift will not emulate that of the 800 Assault, but a capable rider will be able to follow in the tracks of an Assault rider just about anywhere he wants. The strength of the 550 Shift 136 will be picking a route off trail through the back woods where low speed maneuvering and good flotation matter more than speed.
The thumper character of the 544cc twin works well with the 136-inch long Shockwave rubber track in getting the sled through ungroomed snow areas. That's what makes the 550 Shift 136 popular with true outdoorsmen. With its 15-inch width and 1.25-inch lug height, the Shift can plod through wooded sections with relative ease. The light Freestyle seat and raised handlebars give the Shift rider good on board logistics for winding through a tight off-trail area.
The proven IQ front double A-arm ski suspension will provide up to 10-inches of action that is controlled via RydeFX MPV shocks. The stretched rear suspension standard with the 550 Shift 136 combines dual RydeFX MPV shock action on the front and rear suspension arms to work the 14 inches of available travel. Since the linkage is coupled the suspension works easily both on and off groomed trails. Plus, the extra length of the 136-inch track suspension helps even out the ride as it bridges stutter bumps.
One thing that stands out on the 2012 Polaris Shift series is its white color. The any color as long as it's black Shift is gone. Of course, white is kinda the "new" black as it is the only color option available. Fortunately Polaris stylists added some subtle striping to make the 2012 Shifts quite handsome and belying their bargain pricing.
We'll admit that the basic 550 Shift 136 may be just a bit too basic for our taste. No problem with the actual standard features. The 550cc fan-cooled twin has been a solid performer. No issues there. It has a great clutching system. No issues there. Styling is refreshed and handsome. The 12-inch clear windshield offers good style as well as functionality. And, how can you denigrate the push-button electric reverse? Not us!
While we like the rider ergonomics overall, we would add a few of the available options. We want hooks at end of the handlebars. We might go with a rear deck storage bag for simple odds and ends. As long as we are adding storage at the rear, we'd add a handlebar bag for our hat and a map bag. We definitely would pony up for the electric start and add a 12-volt DC outlet. And, just to spiff it up we might add some color accessories from the parts catalog. That would be to give it a little personal style. After all that is what the Shift series has been all about, taking a basic sled and making it your own via customization.
Overall, whether you add accessories of go for dollar basics, you will find the 2012 Polaris 550 Shift 136 offers great value, solid performance and wonderful durability. The fact that it features very good rider-forward ergonomics and nifty lightweight handling has to be considered a very nice plus in a sled in this price category. It's not for everyone, but if you can roll up your own windows and stir a manual transmission, you might want to give this sled a serious once-over.
2012 Polaris 550 Shift 136 Specs
Engine
Polaris Liberty 544cc twin cylinder; fan-cooled; 2-stroke; two VM34 Mikuni carbs
Horsepower
50-plus
Drive
Polaris P-85 drive; P2 driven
Front Suspension
Polaris IQ — 10-in maximum travel; RydeFX MPV shocks
Rear Suspension
Polaris IQ 136 — 14-in of maximum travel; RydeFX MPV on front and rear arms
Length
120.0 in
Width
48.0 in
Height
48.5 in
Ski Stance
42.5 in
Track
15 x 136 x 1.25 Shockwave
Weight
482 lbs (claimed)
Brake
Polaris Phantom hydraulic
Fuel Capacity
11.5 US Gal
Features
STANDARD: Electronic reverse, 2.4-inch riser, 12-inch clear windshield OPTIONS: storage bags, mirrors, electric start, handlebar hooks, 12volt DC outlet
MSRP
US$6,399
Related Reading
2012 Polaris 600 IQ WideTrak Review
2011 Polaris 550 IQ LXT Review
2011 Fan-Cooled 550cc Trail Sportsters
Arctic Cat F570 vs. Polaris 550 Shift IQ vs. Ski-Doo MXZ TNT 550F