Hibbert Sweeps Pro Open Class at Seneca Snocross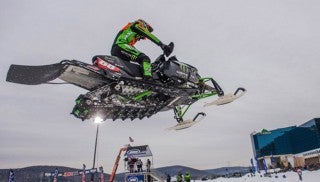 Ross Martin extends podium streak with two second place finishes
Tucker Hibbert swept the Pro Open races in front of record crowds at New York's famous Seneca Allegany Casino and Hotel for Round 10 of the AMSOIL Championship Snocross, powered by Ram.
Hibbert (Monster/Arctic Cat/Ram) started Friday's Pro Open final as the No. 1 qualifier after 2nd/2nd heat finishes and chose a gate position right in the very middle of the first row. He then proceeded to shut everybody up by racing to the Stud Boy Holeshot, tripling out after the finish line while saying 'good-bye' to the rest of the field and 'hello' to his 101st pro win.
"You want to be out front early in every race, but especially this one because the rhythm section was pretty gnarly and you didn't want to be side by side with a bunch of guys going through there," says Hibbert.
Hibbert's move to the middle-of-the-pack gate pick gave him a buffer zone by lining up next to one of the massive finish line divider poles. This allowed Hibbert to flow more to the outside of his lane off the start, carry his speed through the corner and into the early lead. Hibbert then rocketed off a seemingly undoable triple jump just past the finish line and had nearly a two-second lead before the end of the first lap.
"Logan [Christian] was doing that jump in qualifying, so I had to man-up and do it in the finals," says Hibbert.
With Christian (Christian Brothers/Arctic Cat) in second place, Ross Martin (Judnick Motorsports/Polaris) made a charge up from his fifth place start, getting past David Joanis (Royal Distributing/Arctic Cat) into third. Also running fast early was former Pro Open champ Tim Tremblay (AMSOIL/Scheuring/Ski-Doo). The Canadian jumped the start and was relegated to the back row. But by lap four he was up to fifth place, and closing in on Christian and Martin.
Through six laps Hibbert's lead was up to seven seconds on Christian. Martin then caught Christian and the two battled hard for two laps before Martin moved into second on lap eight. Tremblay, who was one second back of Christian, joined the battle as well. But Christian stepped it up and held Tremblay off.
On the Cooper Tires final lap Hibbert set off the fire pots in first, followed a bit later by Martin in second (podium finishes for Martin in every race since round four) and Christian holding off Tremblay for third.
"It took a while to get up here. I've worked hard and so has my team," said Christian of his first Pro Open podium finish this season. "I wish I could have got up here earlier, but I'll take it."
On Saturday, Hibbert left no doubt as to was running the fastest at Seneca Allegany, racing his sled into the top five off the start and biding his time before passing Martinmidway through the contest and winning by four seconds over his longtime Pro Open class rival.
Hibbert lost Saturday's holeshot to Martin, coming out in a conservative fifth place position off the start.
"I was actually happy not to get the holeshot," says Hibbert. "I tried not to get caught up in the chaos of the first lap."
Martin was on a wing early. Hucking a massive triple jump just after the AMSOIL Finish Line landing, Martin gapped the rest of the pack with his aerial bravado. But as Hibbert saw it, Martin's strategy wouldn't last – and it didn't.
"There was guys doing some big jumps out there that I just wasn't comfortable doing," says Hibbert. "I could see Ross doing that big triple behind the start jump. I knew he'd only do it for the first few laps. So I was patient, stayed focused and was able to get around him for the win."
Hibbert caught Martin on lap eight, passing him on the infield "S" turn and quickly built a three-second lead.
Back behind the two leaders a great battle was brewing late in the contest between Christian and Tremblay for third. On lap 12 Tremblay took third from Christian with a powerful move off a double jump into a corner, then railed ahead for the lead. Christian stuck with Tremblay for the next lap. But in the end Tremblay separated for a hard fought podium finish while Christian captured fourth and Adam Renheim (Boss Racing/Ski-Doo) got fifth.