Hibbert Wraps up Snocross Season with Three Wins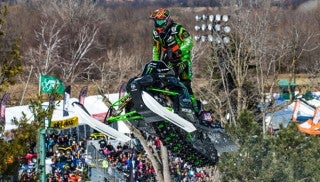 Third straight championship for Arctic Cat pilot
Tucker Hibbert went into final weekend of the 2014-15 AMSOIL Championship Snocross series all but mathematically secured. Rather than taking it easy on his way to a third straight championship (and ninth overall), Hibbert went all out at the Neilson Enterprises Grand Finale in Lake Geneva, Wis. and cruised to three straight victories in a show of racing dominance.
The weekend's opening race on Friday saw Kody Kamm (Hentges Racing/Polaris) pull one of the bigger holeshots of the year down the long straight leading up the Mountain Top ski area and led the first couple of laps.
"I had a sweet holeshot and led for a couple laps," says Kamm. "This was just a great race to come back to."
Just before the start of lap three, Hibbert (Monster/Ram/Arctic Cat) made one of his bolder passes of the season, stretching out over a giant double heading into the final turn, diving low and catching Kamm by surprise before passing him for the lead heading into the AMSOIL Finish Line Jump.
With Hibbert quickly up by four seconds on Kamm, the battle for the final podium spot began to transpire. Ross Martin (Judnick Motorsports/Polaris) always runs well on the Lake Geneva track – and Friday's contest would be no different. Martin started in sixth position and quickly moved up to fourth past Kyle Pallin (Mystic/Loctite/Polaris).
Running in third place through the first five (of nine) laps was Arctic Cat pilot Cody Thomsen. With one of his better starts of the season, Thomsen was searching for his first podium of the year. But Martin had different plans and on lap six shot past Thomsen and took charge of the third and final podium spot. Thomsen held on for fourth place with Justin Broberg (Hentges Racing/Polaris) rounding out the top five.
Hibbert, who had been struggling with his starts all season, figured out how to launch his Arctic Cat off the line in Saturday's main event. He pulled Kamm and Broberg up Mountain Top ski hill in spectacular fashion with the Stud Boy Holeshot, then led second place Kamm and third place Tim Tremblay (AMSOIL/Scheuring/Ski-Doo) down the hill before starting to check out early.
"I got a great start, ripped out of the hole and that was key for sure tonight," says Hibbert. "The track was gnarly. I was scared on the site lap."
Wanting to steer clear of the fire hose roost coming off the back of everyone's sleds (the result of warm temps and highly wet/soft snow conditions), Hibbert clocked the night's fastest lap – a 1:14.6 – on lap two, which was an incredible three seconds faster than the second-fastest lap time.
With running real well in second, the battle for third between Tremblay and Broberg began to heat up. Ross Martin soon joined the fray as well and both he and Broberg got past Tremblay in the downhill section coming towards the ski lodge.
On lap six of the nine-lap contest, Martin launched out past Broberg for third on top of the ski hill, only to land crossed up in a deep pocket and get pitched off his sled – at the absolute worst spot on the track. As Martin gathered himself and grabbed his tether, his Polaris began a slow descent – by itself – down the fast of Mountain Top's steepest ski run, forcing Martin to sprint a couple hundred feet down the hill to fetch his sled.
Broberg quickly re-passed Martin for the third and final podium spot, with Adam Renheim (Boss Racing/Ski-Doo) and Logan Christian (Christian Brothers Racing/Arctic Cat) also getting by to round out the top five.
Sunday was more of the same for Hibbert, as he again pulled the Stud Boy Holeshot in the Pro Open main, rocketing to the lead up Grand Geneva's Mountain Top ski hill – with veteran rival Martin close behind in second place, followed by Warnert Racing/Ski-Doo's John Stenberg.
As the front runners separated from the rest of the pack, Kamm was back in fifth place behind Kyle Pallin. Hibbert reeled off a couple fast laps, putting seven seconds between himself and second place Martin, while Kamm put on a charge of his own and moved into third place by out-jumping Stenberg on the middle downhill section.
As Hibbert increased his lead, Martin rode solid in second and was not going to be caught by Kamm. Stenberg completed an excellent race in fourth, with Pallin holding strong in fifth.
"I had a blast racing at Lake Geneva and couldn't have asked for a better way to end the season, " says Hibbert. "It felt so good to consistently get good starts throughout the weekend and to finish the season on a high note.
"The winter was awesome. I had so much fun. I keep calling my crew the 'dream team' because we're so dialed-in. We work really hard but have a ton of fun. I'm really lucky to be able to work beside such talented people. We all look out for each other and do whatever it takes to make sure I'm 100 percent prepared to win.
"Looking back, I wouldn't change anything about this season. Obviously, it would have been awesome to win every race but the losses I had really fueled me to push harder. My favorite moment of the season was getting win number 100 at Deadwood. After crashing on the first lap, I let it all hang out. It was a really rewarding moment for me and my team. I'll never forget that night."
AMSOIL Championship Snocross Final Standings 1 – Tucker Hibbert – Arctic Cat – 727 2 – Tim Tremblay – Ski-Doo – 578 3 – Kyle Pallin – Polaris – 560 4 – Ross Martin – Polaris – 533 5 – Logan Christian – Arctic Cat – 530 6 – Justin Broberg – Polaris – 426 7 – David Joanis – Ski-Doo – 420 8 – Corin Todd – Polaris – 397 9 – Kody Kamm – Polaris – 373 10 – Adam Renheim – Ski-Doo – 369