Ryan Simons earns cross-country victory
Team Arctic wins seven classes at Ada 100
Story by Snowmobile.com Staff, Feb. 03, 2009
Email a friend
Print Friendly

RSS
Arctic Cat's Ryan Simons picked up his first career cross-country victory on Jan. 31 at the Ada 100 in Ada, Minn. Simon's victory in the Pro 600 class was one of seven class victories for Team Arctic.
"Our racers and teams continue to win and place at the top of their class," says Team Arctic race manager, Mike Kloety. "To win seven classes, place five in the top-10 of the Pro 600 class and notch a majority of the podium positions proves [the] strength and depth of our team."
The highlight of the weekend came in Pro 600, where Simons attacked both laps of the 44-mile course, blasting ditch approaches at full-throttle and banging through the deep moguls with fury. His cumulative time of one hour, 25 minutes and thirty five seconds was more than a minute faster than teammate and second-place finisher D.J. Ekre. Team Arctic strong men Brian Dick, Dan Ebert and Cory Davis finished seventh, eighth and ninth respectively.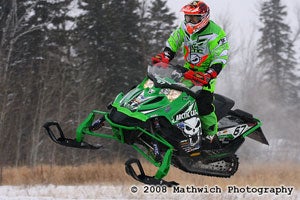 Ekre continued his season-long winning streak in Pro Open, where once again Team Arctic racers filled five of the top-10. In what was his first ever cross-country race in Minnesota, snocrosser Cory Davis was on pace for a podium finish when he suffered a couple of mechanical gremlins. He finished ninth, but his talent indicates better finishes for later this season.
"Cross-country racing is so valuable because every race day brings new challenges to man and machine," says Kloety, "And our machine adapts well to everything our racers have pounded it through. Yet each race is an opportunity to improve our machines, and each week we get better than the last."
Davis' sister Carly was equally talented in the Women's class. Racing on Ekre's back-up sled, Carly put her snocross skills to work and won her first-ever cross-country race in convincing fashion.
Ekre's borrowed Sno Pro 600 must have had some good black magic, because Chad Kyllo raced the same sled to a win in the Semi Pro Improved class.
Adam Brandt remains on top of the Amateur classes with wins in both Amateur 600 and Amateur Improved, while Adam Mach scored his big win in the Junior 10-13 class.
The next race on the USCC schedule is the Grand Cities 100 on Feb. 14, in Grand Forks, N.D. For more information visit http://www.usccracing.com/.
Related Reading
Hibbert golden again at X Games
Ekre tops at Grafton 100 Cross-Country