Tremblay, Hibbert earn Pro wins at ACSS Canterbury National
Tremblay rallies from last to win
Story by Staff, Jan. 13, 2012
Email a friend
Print Friendly

RSS
With nary a flake of snow on the ground, the AMSOIL Championship Snocross Series event at Minnesota's famed Canterbury Park looked questionable. Fortunately, some 3.5 million gallons of water blasted through six high-power snow guns helped cover the track with enough of the white stuff to race.
Friday's Pro Open main event may have provided the performance of the season. Ski-Doo racer Tim Tremblay started from the back of the pack in 14th place before charging past everybody to win.
"Hat's off to Tim ... he was on a mission," says second place finisher Robbie Malinoski (Ski-Doo).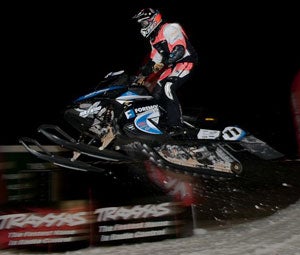 Soon after Arctic Cat's Dan Ebert pulled the Stud Boy Holeshot, Ross Martin (Polaris) blasted out to the lead, with Malinoski and Ski-Doo's Darrin Mees in hot pursuit. As Malinoski and Martin battled for the lead, Tucker Hibbert (Arctic Cat) went off the track and dropped back in the hunt for the top three podium spots. It only got worse from there for the defending Pro Open champion, as he eventually had to leave the race due to a mechanical failure.
Through seven laps Martin continued to lead, though a new racer appeared on the radar - Tremblay - who came all the way from the back of the pack, cracking off a main event-best lap time of 30.839, and challenging Mees for third. Obviously the fastest racer in the field on Friday in Canterbury, Tremblay took quick advantage of a Martin/Malinoski get together in a turn and shot out to the lead - a lead he'd never relinquish.
"It was a really tough day," says Tremblay. "I won the first race, then crashed in the second one and had to go to the LCQ. Tried to stay strong the whole race and ended up winning. Thanks to everyone on my team."
Rounding out the Pro Open podium on Friday at Canterbury was Malinoski in second and Martin in third.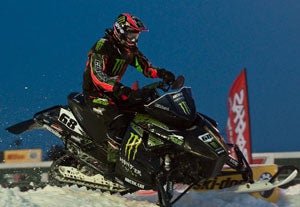 The following day the largest crowd to ever assemble for a snowmobile race at Canterbury Park Raceway was treated to a thrilling Pro Open main event that saw Hibbert come back strong from Friday's disappointing result.
Pulling the Stud Boy Holeshot in the Pro Open was Malinoski, with Ski-Doo racers Darrin Mees (second) and Tim Tremblay (third) in close behind. By lap nine the three had separated themselves from the rest of the pack - with one addition: Hibbert. Within one lap Hibbert dispatched of both Tremblay and Mees and set his sights on race leader Malinoski.

Three laps later Hibbert had all but erased Malinoski's four-second lead and put the skis on his Arctic Cat into Malinoski's view on a couple corners before finally berzerking his sled into the first turn on lap 16 to take the lead. But rather than checking out, Malinoski hung tough and brought the nearly 12,000 fans in attendance to their feet for the final five laps.
"That was a gnarly race, man," says Hibbert. "Once I got by Robbie I thought I'd be able to pull away, but he stayed right there with me. Great race."
"I just about had Tucker Hibbert ... and not a lot of people can say that," says Malinoski."Tucker raced me clean and got to first place."
Tremblay rounded out the podium in third place.
Pro Lite
In Friday's 14-lap Sledhead 24/7 Pro Lite final Kody Kamm (Polaris) came from behind and put pressure on early race leader Derek Ellis (Ski-Doo), then took advantage of an Ellis crash and led the race from lap 11 on for the win.
"I got out in fifth or sixth at the holeshot, then ended up getting passed again," says Kamm. "But I was able to pull things together and finish the race strong for the win. Thanks to Polaris and Hentges Racing."
Qualifying 13th in the Pro Lights and starting out of the last row, Ski-Doo racer David Joanis blasted his way through the field - all the way up to second place. Rounding out the Pro Light podium was another Ski-Doo racer, Joey Sagan, who raced to a third place finish.
In Saturday's Pro Lite finale Arctic Cat rider Matt Pichner shot out of a cannon and pulled the Stud Boy Holeshot, followed by Joanis who got out front early. Followed closely by Kamm and Ellis, the pack separated before Kamm took charge by lap seven, moving five seconds ahead of the next-closest racer.

Moving into the second half of the 14-lap Pro Light main event, chasing Kamm's Polaris - from second place through eighth place were seven Ski-Doos in succession. But in the end none of them would have anything for Kamm who walked away with the win by a comfortable margin. Second place would go to Joanis, with the class' final podium spot going to Ski-Doo racer Travis Mueller.
ACSS Pro-Open Standings
ACSS Pro Lite Standings
Pos.
Rider
Sled
Points
Pos.
Rider
Sled
Points
1.
Ross Martin
Polaris
241
1.
Kody Kamm
Polaris
231
2.
Tucker Hibbert
Arctic Cat
221
2.
Derek Ellis
Ski-Doo
204
3.
Robbie Malinoski
Ski-Doo
218
3.
David Joanis
Ski-Doo
185
4.
Tim Tremblay
Ski-Doo
216
4.
James Johnstad
Polaris
173
5.
Darris Mees
Ski-Doo
185
5.
Andrew Lieders
Polaris
159
6.
TJ Gulla
Polaris
161
6.
Petter Narsa
Ski-Doo
152
7.
Mike Bauer
Polaris
146
7.
John Stenbert
Ski-Doo
138
8.
Garth Kaufman
Arctic Cat
137
8.
Corey Watkinson
Ski-Doo
135
9.
Justin Broberg
Ski-Doo
131
9.
Garret Mees
Ski-Doo
132
10.
Mathieu Morin
Ski-Doo
131
10.
Andrew Carlson
Polaris
132