Reinventing the Yellowstone Special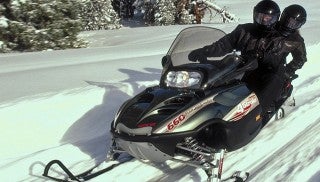 Could a battery-powered sled gain acceptance in Yellowstone National Park?
Okay, okay, okay… I probably enjoyed too much egg nog over the recent holidays, or at least had too much free time. Either way I've had a vision, purely conjectural, about an entirely new and innovative snow vehicle designed to totally placate the "anti" everything crowd that constantly works to keep snowmobilers out of public areas like Yellowstone National Park and other national play areas.
Their premise is that snowmobiles are bad and, thus, snowmobilers, who they rationalize as creating disruptions to the wildlife and the natural beauty of these public access eco-systems.
In Yellowstone snowmobiles are severely controlled with a limit on the number of sleds allowed entry to the park per season. Currently the Park Service allows a limit of 318 sleds per day. But, it has been reported that last season's actual daily usage average was much lower at an estimated 190 sleds.
Snowmobilers are generally confined to tour groups usually requiring a guide to traverse the clearly marked routes to Old Faithful and other points of interest that are routinely followed haphazardly by cars full of summer time visitors. We understand that the limited access allowed snowmobilers is supposedly less distressing to the wildlife and natural eco-system than the actions of 2014's more than three million summertime visitors who may stray from their vehicles to interact with a local Smokey Bear look-alike or ambling on-roadway bison.
The prospect of so many cars, buses, campers and such having less affect on these national public access areas than controlled groupings of snowmobilers seems a bit ludicrous. Well, totally absurd actually! But that is the reality. Consider that over the winter of 2007-2008 the daily peak activity of snowmobilers amounted to 557 sledders. That compares to more than 70,000 visitors utilizing autos, buses, RVs or snow coaches in that same winter season.
Snowmobiles and snowmobilers are not seen as prime visitors. But what if the Park Service's reality were challenged by the appearance of a new and innovative over snow personal conveyance? Perhaps one that emitted no hydrocarbons? One that was quieter than a car or camper or four-stroke snowmobile? One where the loudest sound emanating from the vehicle was the voice of the rider being conveyed into the wilderness park? Virtually no noise, no polluting emissions? Radical thinking, eh?
Here's the thing. Check out what's going on in the automobile world. Visit the news sites for the Detroit Auto Show and look at what mega-corporation General Motors is up to with its Chevrolet Bolt EV. Unlike the highly hyped Tesla electric cars, the Chevy Bolt EV is going to be marketed to those of us who don't make high paying Wall Street salaries. The fully electric Bolt EV is suggested as an alternative to diesel and gas powered commuter cars and is claimed to have a 200-mile driving range before it needs a charge to its lithium ion battery pack.
Alternative Power for Snowmobiles
When you read about the Bolt EV, you'll note that GM engineers claim extended range but also a sporty driving experience. Supposedly the vehicle will not be an aluminum-skinned wheeled appliance with great functionality and long term dependability but totally devoid of creating any pleasurable interaction between vehicle and driver.
Okay, so what? Well, what if an electric snowmobile could offer a unique, interactive sporty driving experience with enough range to cover up to 200 miles before it needed a charge? Such a vehicle would have zero emissions, be quiet and be totally non threatening to the wildlife and the Park Ranger fraternity.
Why create a special snowmobile for areas like Yellowstone Park? The market niche is tiny, but in case you haven't noticed, the sled makers currently make Yellowstone "specials" if they want to enable rental operators to take visitors into the park. The new Yamaha Venture BAT (best available technology) was created to meet federally imposed guide lines. Ski-Doo's multi-mode ACE engines can meet most current park standards as do certain Arctic Cat four-stroke models. The sled makers spend time, energy and money making their brand park accessible, while the standards seem to be frequently changing and making it more and more difficult for snowmobilers to roam these public parks. Indeed, the Park Service is floating a proposal that would set even lower noise and emissions requirements for snowmobiles starting in the 2017 winter season. Of course, snow coaches also would be required to have gasoline or diesel engines of recent manufacture.
Enter a new and innovative vehicle. One that features a Bolt EV conceptual package of a high capacity lithium ion battery pack powering a high torque electric motor driving a track. The electric motor part shouldn't be a problem. Heck the motor could take the form of the drive axle, eliminating the need for the traditional engine bay, which could be left for storage and creating an extremely low center of gravity for best ever handling. Looking at how automotive engineers place their battery packs, sled designers could incorporate the battery into a new frame concept. Set low and situated above the track, snow kicked up from the trail would cool the battery pack, alleviating the problem of overheating lithium ion batteries. Would it be possible to further utilize any battery pack heat to warm the seat? What if the seat featured a rounded vacuum base to capture dead air under the seat that would be warmed and conducted to the seat materials?
Designed for park touring, this Yellowstone Special's highlight would be total rider comfort and on-board functionality. What about specialized storage for gear in the front of the sled, accessible via quick-open panels? Since the sled already has massive on-board electrical output, positioning a large multi-purpose video screen that could offer destination and on-trail sightseeing information would be a natural. Expand the use of GPS navigation and offer an on-board interface to Park wi-fi amenities with estimated arrival times to pre-determined or highlighted areas of interest.
Is an electric "Yellowstone Special" in the offing? Probably not as the demand for such a vehicle would be extremely limited. But, creation of such a vehicle even as an engineering exercise would be interesting and showcase the unique capabilities that modern snowmobile companies possess. If a Yellowstone EV were ever to hit the snows in that national park, would it be accepted or excepted as a compelling truth that no matter what snowmobilers do, they are not welcome by the "anti" everything crowd.