Beyond 2016: Future Snowmobiles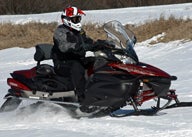 This year's new sleds offer hints at what the future holds
As always, each new model season brings hints of what we may expect in coming years. On the surface, Model Year 2016 appears a bit same-old, same old. But, looking a little deeper we see hints of new models coming as soon as model year 2017 and definitely by 2018 and beyond.
One scenario for future rentals comes from the Yellowstone Specials, sleds created expressly to meet the emissions and sound wishes of the National Park Service and other greenies intent on limiting access and enjoyment of America's winter parks by the motoristas. That's us!
Yamaha brewed up a particularly anemic form of its Venture by permanently setting its very comfy Venture TF with the least amount of electronically controlled performance you can get out of the newly tuned 1049cc mid-performance four-stroke triple. The RS Venture TF E-BAT Yellowstone is the company's first Best Available Technology (BAT) certified model compliant for use in Yellowstone National Park. With its certification, rental operators can take Yamaha riders into the park.
The latest Venture features an electronically controlled throttle system to sense and adjust throttle input according to three rider performance modes; S (Sport) Mode for maximum performance; T (Touring) Mode for smooth low and mid-range response and improved fuel efficiency; and E (Entry) Mode for predictable acceleration, reduced top speed and optimum fuel economy. The Yellowstone model is permanently set in E mode.
What Will Power Snowmobiling's Future?
To get  its sleds into rental operators hands for use in Yellowstone and other picky parks, Arctic Cat created the Pantera 3000, which borrows a 700cc four-stroke twin from its wheeled Wildcat Trail Side-by-Side. Although not currently BAT-approved, this engine is said to blend clean technologies – emissions and sound – with adequate power and fuel efficiency. The Pantera 3000 will likely follow in the track prints of the Arctic Cat TZ series with clean-burning Suzuki four-strokes and earlier Arctic Cat snowmobiles, then known as the Yellowstone Specials because of their specific intended use in Yellowstone National Park. Announced in the winter of 2000, these first sleds used four-stroke, naturally aspirated 660cc liquid-cooled engine with about 40 horsepower and an operating speed range of 35 to 50 miles per hour depending upon load.
To its credit, Ski-Doo developed low emission Advanced Combustion Engines (ACE) with 600cc and 900cc displacements to accommodate the prickly parks and serve the needs of rental operations. Like the Yamaha Venture Yellowstone, the ACE-equipped Ski-Doos offer three engine performance modes, too. Unlike the Yamaha, the rider can change modes on the fly.
Interestingly, during the Tom Tiller regime at Polaris, the company's 2002 Frontier four-stroke model met Best Available Technology (BAT) standards required for snowmobiles operated in select National Parks. Select Polaris' IQ four-stroke snowmobiles were previously certified and continue to meet BAT requirements along with the Frontier Touring of model years 2002 through 2004 and the Frontier Classic of 2003 and 2004.
So, what do we expect to see in the future in this regard? Obviously only Polaris needs a four-stroke option at this point. So, consider this issue closed for the foreseeable future.
But, we suspect that Yamaha may have offered a clue to its next generation of Yamaha-engineered and built (?) snowmobiles. Check out the SingleShot rear suspension introduced this season on the Apex and Vector models. Just when we thought the two venerable models may be on their way out of the product mix, along comes a serious new rear suspension that rides better, is nearly 10 pounds lighter in overall weight than the previous design and totally reinvigorates these two sleds' on-trail performance. Its use of the Fox Float 3 XV air-spring shock offers exceptional tuning opportunities for knowledgeable riders.
We doubt that the SingleShot suspension is a one-and-done suspension. That's not how Yamaha does things. We expect this new rear ride is destined to be used on more than the current Apex and Vector models. It strongly hints at the underpinning of a newer and more aggressive platform. With the success of the turbocharged 1049cc in both MTX and select Viper trail models, might a new Yamaha combine the SingleShot suspension with a fire-breathing 180-ish horsepower turbo drivetrain? Stranger things have happened. We just don't see Yamaha celebrating its 50th anniversary in the snowmobile business with an Arctic Cat built and Yamaha badged  model year 2018 showpiece.
We do envision a new breed of Ski-Doo trail sport sleds coming very soon. With use of a 129-inch track and supportive rear suspension, the new MXZ Blizzard should set a new standard for Ski-Doo sport sleds. This sled comes with an impressive assortment of performance options, ranging from the popular 600cc E-TEC two-stroke to the nicely retuned and smooth running 1200cc 4-TEC four-stroke. For top power there is a potent 800cc E-TEC and for able trail sport economy there is the 90hp ACE 900cc four-stroke. Expect the Blizzard series to grow in importance and overshadow the current TNT line, which will probably evolve into a price-point series of MXZ models.
Beyond 2017 we figure that the Summit series will gain power and lose weight as a new, more potent E-TEC may come online and a shift from gimmicky T3 type sidehilling inducements may be replaced with a new lighter, more directly responsive powder-specific tunnel to combat the latest and lighter Pro-RMK models. We would look for fewer moving parts and a return to old values of power and lightweight ruling the Summits of the future.
Long rumored to have an Arctic Cat engineered and built 800cc direct or semi-direct injection two-stroke in development, look for the Thief River Falls, Minn. sled maker to showcase a new tricked-out and very potent powder player to hit the snows as early as next season and for sure by 2018. Don't be surprised if the new Cat engine exceeds 800cc as it may also be used to replace two existing Suzuki engines – the 800cc two-stroke and the turbocharged Suzuki one-liter four-stroke. Keep in mind that Arctic Cat enjoys being the power leader and when it eventually drops its existing turbo and 180 horsepower class leadership, there has to be something  big to replace it.
Rumors are that Cat has something better and more powerful in the western snows, but it's still in prototype form and has to yet to become public, although hints are coming. All of what Cat decides to offer for the future relies on upper management and what they want to spend to bring newer, more exciting products to market. If Cat can revitalize its mountain segment as well as it did its touring and utility lines, watch out. Plus, with new, more reliable and durable drive systems coming from the partnership with TEAM Industries, we figure that Cat can concentrate on future models and not fixing problems with old ones.
The Entry-Level Snowmobile Conundrum
Still, though, there are some questions that remain. What about those entry-level models? You know, the kid's sled? The three-quarter sized sleds? Let's all get over it. Times have changed and our expectations for what we want in a snowmobile have grown past the bare basics. Think about what a sled manufacturer has involved simply to meet base requirements for sound, emissions and safety. Now, consider the costs of a modern sled versus a top line model from the past.
A 1998 Ski-Doo Formula Z 670 retailed new for US$6,600. In today's money that sled would start at about US$9600. That also doesn't take into consideration the need for some kind of electronic fuel system or a four-stroke option. For an equivalent modern day value, you're looking at a 2016 MXZ TNT 900 ACE at US$10,500 or, possibly, with less goodies a 2016 MXZ Sport 600 ACE at US$8,699.
A brand new 1970s Grand Prix with butterfly steering handles and the 744cc JLO engine option retailed for US$1,850 back in that day. Today's cost spikes to US$11,120, which would get you a 2016 Arctic Cat ZR 600 LXR. A 1965 sled like a top of the line Ski-Doo Olympique or Polaris Colt priced around US$895 would be equivalent to a 2016 Polaris 500 Indy retailing for US$6,599.
So, where are the entry-level sleds? We have them, but inflation has raised the entry fee over the years. So don't look for that to change, but do look for hints of future sleds in the ones that have just been introduced. Hey, we're never satisfied. We're always looking down the trail for what's next.