2017 Flatland Snowmobiles of the Year
Offering all our bests for 2017
When it came to choosing what we feel are the Best New Snowmobiles for model year 2017, we were perplexed as usual because there are no bad sleds in the mix. Certainly we have our favorites and there are sleds that we like better than others, but unlike the distant past, today's sleds are all very good. They are quick, fast and incredibly reliable. If the average flatland trail rider were to buy a new sled because the old one simply wore out, the replacement period could easily be a decade or more. That would not make the sled makers happy at all. But that is how good the average sled is today.
Of course, none of us wants to wait a decade between new sleds. When we do update our sleds, we look for what's newest, technologically most interesting and what helps us stand out on the trail. We want to have the best sled for our chosen riding niche, including the sled that is best of all. After varying miles of test riding, study of the new technologies and general consensus of our experienced test riding crew, we arrived at these sleds as being our choices for the 2017 snowmobiles of the year.
2017 Snowmobile of the Year
Ski-Doo MXZ X 850 E-TEC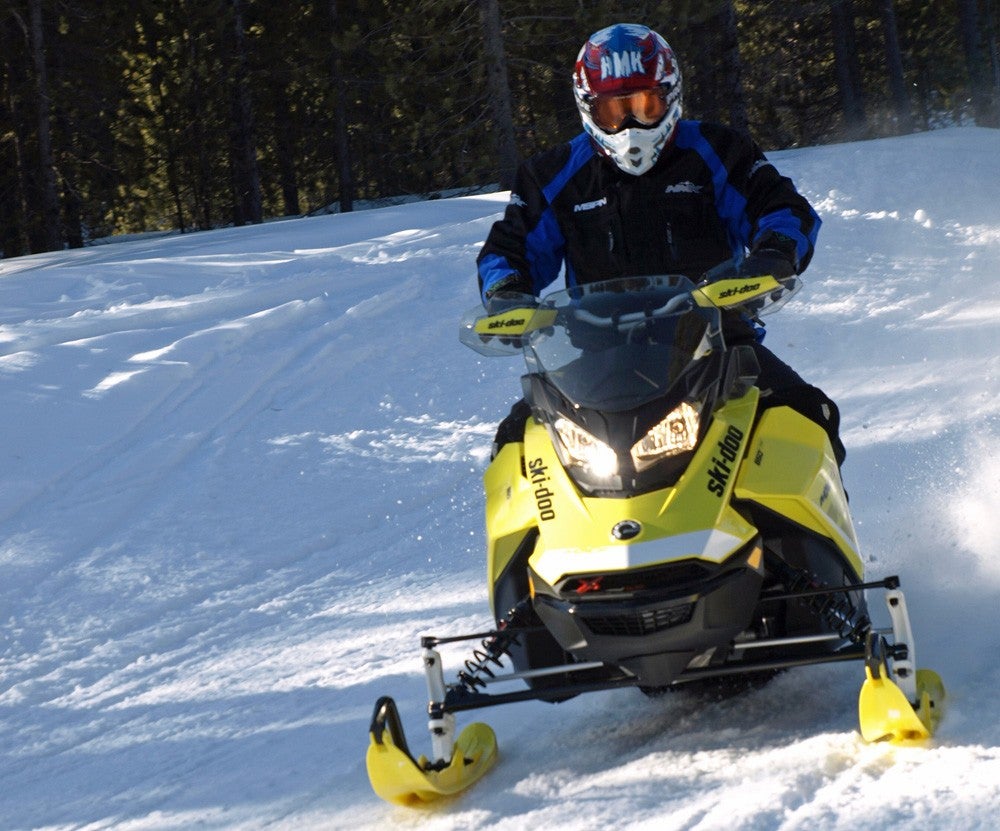 We felt that there were two contestants that truly stood out for the Best Sled of 2017 – Yamaha's Sidewinder and Ski-Doo's Gen-4 MXZ X 850. Truth is we like them both. But only one can be our snowmobile of the year and that honor goes to Ski-Doo for the Gen-4 REV MXZ X 850 E-TEC.
Ski-Doo did an excellent job with this sled, retaining its heritage, yet upgrading it to a new level of on-snow performance. The GEN-4 represents an all-new fourth generation of REV chassis construction that takes the MXZ into a realm of more precise handling and greatly improved balance in cornering. Three years in the making, the MXZ X 850 stylizes past generation models as it advances the overall concept of ride forward positioning, which Ski-Doo's original REV created.
We pick the MXZ X 850 due to its use of innovative features like the narrowed up side panels with love 'em or not foot wells and that imaginative Forward Adjustable Riser that allows you to quickly and "tool-lessly" custom fit your riding for different trails.
And, yes, that 850 engine gains a mate in race-proven pDrive clutching that gets its 165 claimed horsepower to the track more efficiently than ever.
Plus, we were pleasantly surprised that this brand new built-from-scratch design comes in with a "do-able" MSRP of US$13,549. This is no make-over design. It's new, it's bold, it works and it's our first choice for 2017 Snowmobile of the Year.
2017 Best High Performance Trail Sport
Yamaha Sidewinder R-TX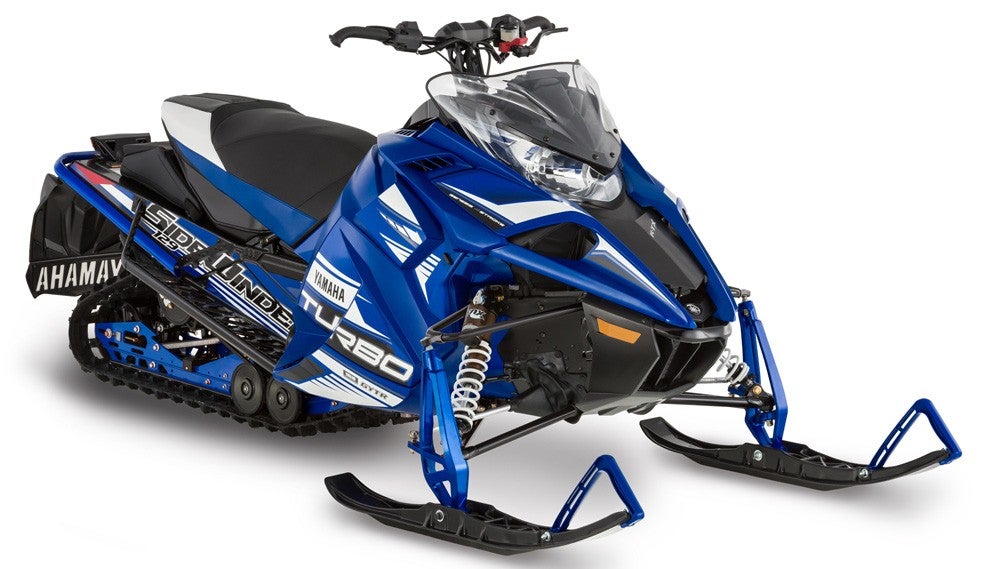 Let's not even pretend. Yamaha's new Sidewinder series kicks butt. That's owed to a new 998cc turbocharged four-stroke that conservatively puts out a claimed 180-something horsepower. That's debatable as independent dyno shops claim vastly more power, but Yamaha to date stays with its 180-ish published "official" rating.
For high performance riders, this is the power package you want. It comes in a variety of Yamaha Sidewinder versions and in 9000 series Arctic Cats as well. The two dominant turbo models for serious go-fast types will be the Yamaha Sidewinder R-TX and Arctic Cat's Thundercat. Other than graphics and styling differences, the two sleds share the 998cc turbo but get power to the track with different clutch packages. The Yamaha favors its own YSRC clutch, which is new and expressly tuned for the new engine. Cat goes with its TEAM clutch package, tuned to Cat specs for maximum performance from the new turbo engine.
The Sidewinder motored around our test riding route with impeccable manners, handling easily, running quietly at trail speeds and totally ready to blast off when we just couldn't take it anymore and had to light the wick on this potent beast. Let's just say that getting to triple digits presents no problem. Fortunately stopping prowess comes from a strong performing Hayes dual piston hydraulic brake.
Most likely Yamaha's Sidewinder will have the most power and should be very quick among high performance models for 2017. But it will come at a price of US$16,599 for the top of the line R-TX LE. Arctic Cat's Thundercat with a 137-inch track length carries an MSRP of US$16,899.
2017 Best All-Around Trail Sport
Polaris 600 Rush XCR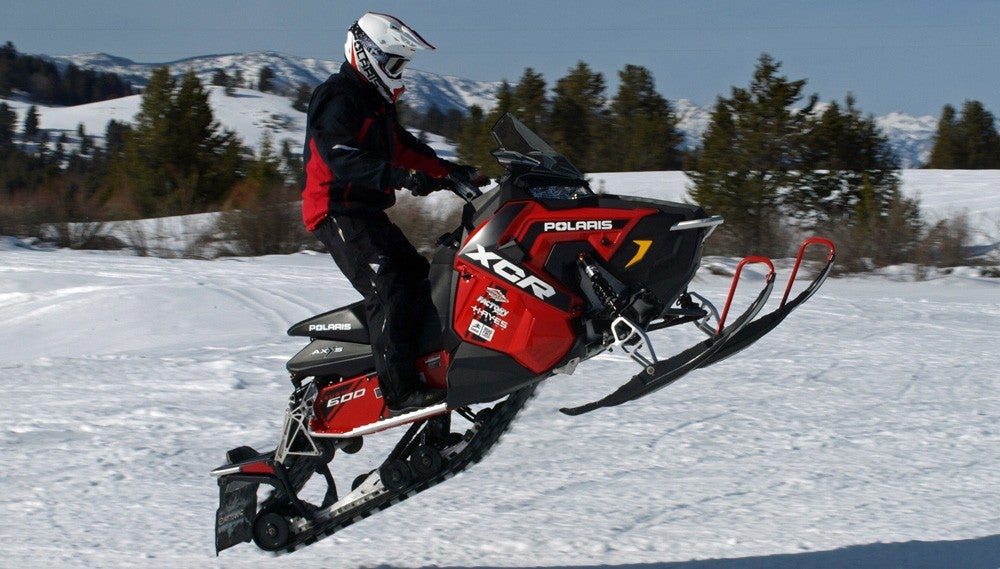 Polaris seems to like tinkering or tweaking various models to create new versions. That's kind of what the Roseau, Minnesota-based firm seems to like to do with its Rush series. The so-called "base" Rush would be the Pro-S with either a Polaris-built Cleanfire 800cc or 600cc two-stroke twin. The Pro-S was the most trail-able sport version until engineers decided to create the XCR version, which retains the AXYS rider balanced chassis, but adds a bit of racer thinking and borrows some thoughts from the big bump Rush Pro-X model. The end result is the Rush XCR, which is a totally sweet ride that can square up corners in a hurry and get you down an unforgiving set of moguls as quickly as you dare.
Polaris expects this sled to appeal to serious riders who will be going fast and will want strong "go and whoa" performance. The biggest go option is the 800 Cleanfire twin, but for flatland trail running near sea level, we fancy the 600 twin as the best all day, every day performance package. The "whoa" power comes from a Polaris racing style brake that includes a side panel mounted air scoop to keep the brake's rotor and pads cooled.
Equipped with proprietary Walker Evans adjustable piggy back shocks, a Pro-X riser bar, Pro-Steer skis and Cobra track with 1.35 gripper lugs, the XCR also comes with Polaris interactive digital display that allows Bluetooth functionality, a GPS mapping capability and connection to your cell phone.
The 600 Rush XCR retails for US$11,999 and is a good value as a modern day all-around trail sled for serious riders who will churn miles over the winter.
2017 Best Adventure Snowmobile
Polaris Switchback Adventure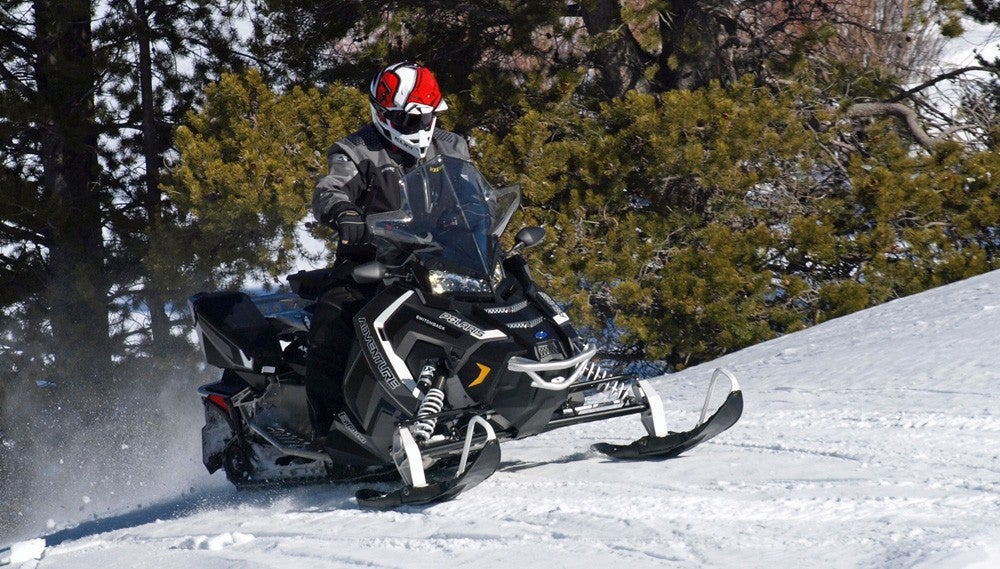 Last year the Ski-Doo Enduro bounced the Polaris Adventure as our choice for best Adventure sled. It was a close call and we admit we liked the adjustable "air" ride suspension that came on the Ski-Doo and felt that its revamped 1200 four-stroke triple gave it a sport persona, but Polaris' 800 Switchback Adventure gets the title back this season.
The 800 version is a blast to ride and since the Adventure is essentially a Switchback, you can bang big unruly bumps as easily as you can manage 200-mile trail days. The plus side for the 800 Adventure lies under the hood with its 800 Cleanfire twin. Designed and built by Polaris, this engine's semi-direct injection provides nearly instantaneous throttle feedback.
Ride-wise the Adventure brings Switchback stretch track off-trail capability that comes from the AXYS chassis and rider balanced positioning. The Pro-XC rear suspension complements the active pitch control engineered into the sled's design.
While easily at home on groomed trails as well as rough ones, the Adventure brings long distance features to its rider. There's an integrated storage rack and an Adventure Cargo System complete with lock and ride saddlebags. This sled also includes the Polaris interactive digital display that can be used for on-trail routing. Of course, electric start and electronic reverse come standard, as does premium Fox QS3 quick adjust shocks.
The 800 Switchback Adventure is as powerful as it is versatile for covering long distances for a weekend getaway. It's our choice for 2017 adventure sled.
2017 Best Personal Cruiser
Ski-Doo MXZ TNT 850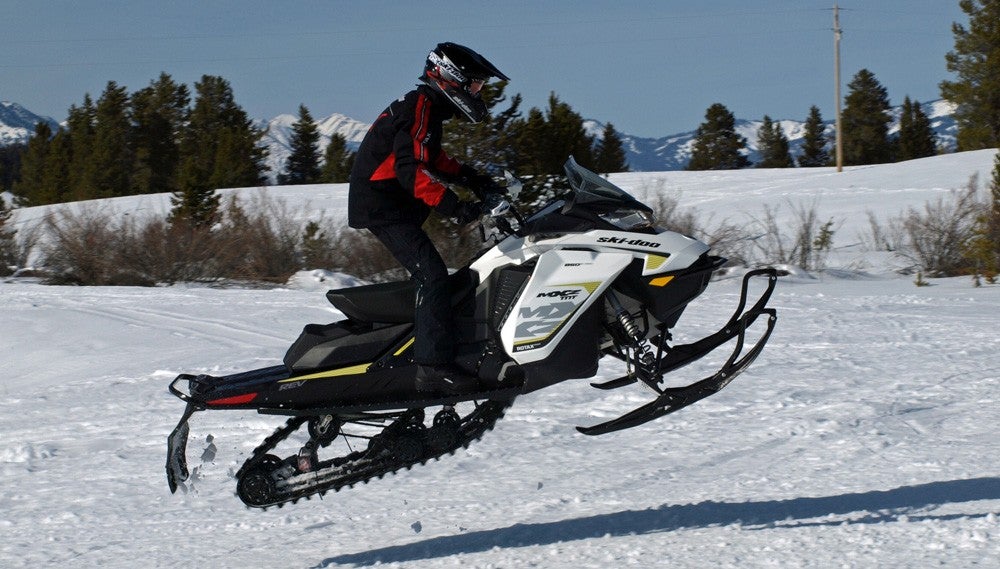 The new Gen-4 Ski-Doo models are destined to obsolete the current generation of REVs. One of the hints to Ski-Doo's trail future comes in the Gen-4 MXZ TNT 850 E-TEC. It shares most of the features of the Gen-4 MXZ X 850, but there are some deletions like the adjustable riser bar. We'd add that to our personal cruiser.
The TNT 850 can be readily fitted with all kinds of personalization add-ons such as a 1+1 seat, a stackable fuel caddy to extend cruising range and even a stylish auxiliary LED lighting system. Equipped with the new RAS3 front end and adjustable rMotion rear suspension, this sled allows you to easily create your own personal trail cruiser that can accept changing moods from full on go-fast to mileage-making tour rider.
The TNT 850 is fast and powerful, yet versatile and a docile cruiser. It's our pick as best personal cruiser for 2017.
2017 Best 2-Up Touring
Ski-Doo Grand Touring SE 1200 4-TEC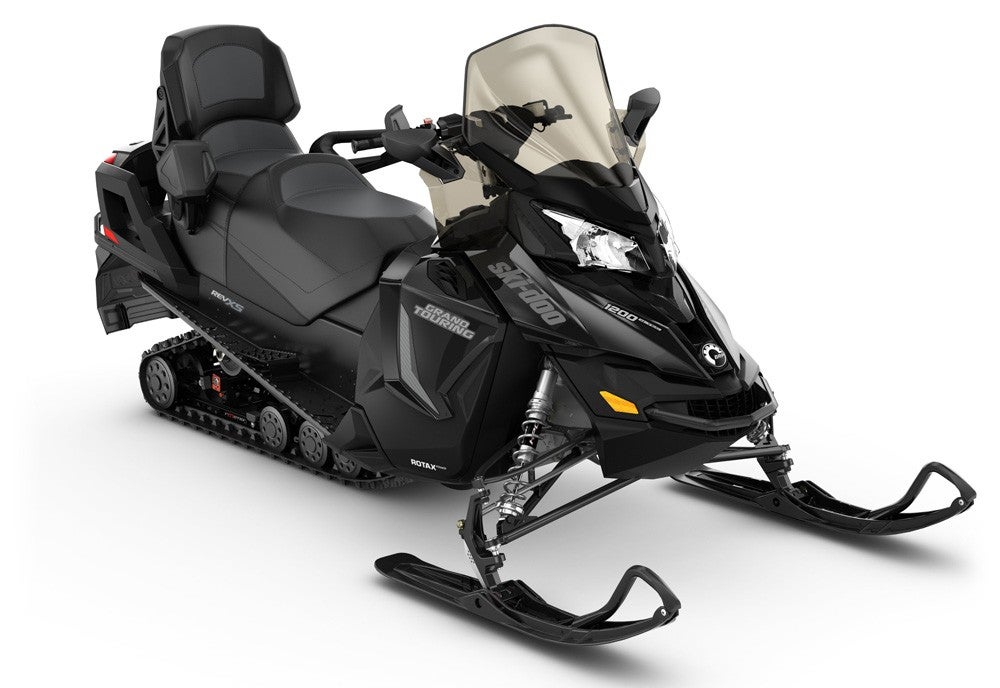 Arctic Cat's updated Pantera with the Yamaha four-stroke certainly challenges Ski-Doo's dominance in the touring market, but how do you better the 2017 Grand Touring SE? Not only does it have an rMotion rear suspension, but it adds air ride and control from the handlebar. For on-trail quiet, Ski-Doo created a Silentdrive system to reduce vibration at the driver's feet by up to 70% as well as cut back on track noise. The 2017 Ski-Doo Grand Touring even offers adjustable Pilot TS skis for changing trail conditions.
There is plenty of room for two on the king-queen seat with its standard adjustable backrest. And there's room for travel gear, too, in the standard weatherproof injection molded plastic side cases.
Ski-Doo essentially invented grand touring snowmobiles that date back to the 1970s and the original Nordic cruiser. That's why making the Grand Touring SE best 2-up sled is an easy choice.
2017 Best Budget Buy
Arctic Cat ZR 3000 LXR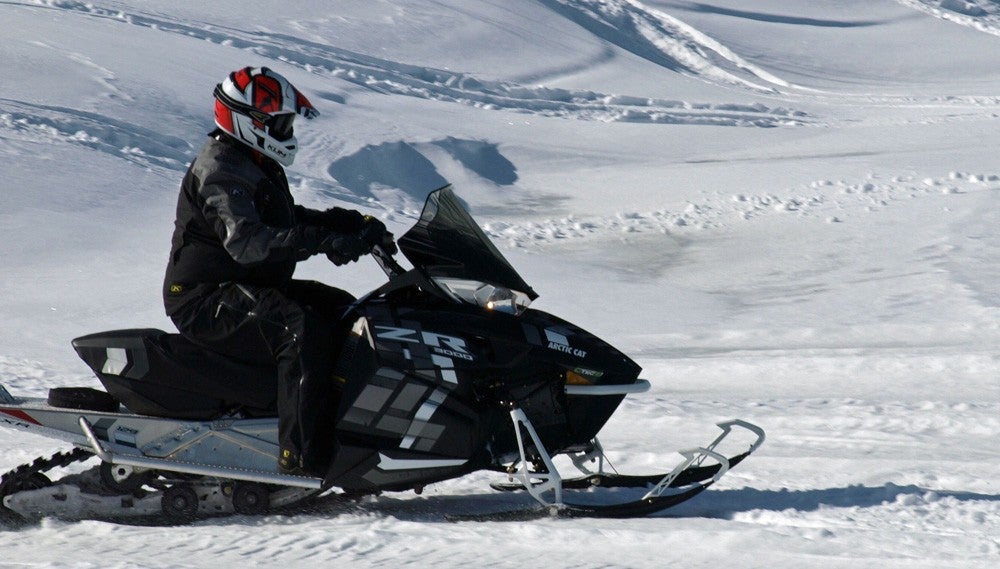 From a price point that sits about $2,000 more than a budget fan-cooled model like Polaris' 550 Indy, the 2017 Arctic Cat ZR 3000 LXR strikes us a solid deal in easy to own, easy to operate budget-oriented sleds. During our test riding and experiences with the ZR 3000, we found ourselves surprised by its performance, which was much more than we expected from its ATV-based 700cc four-stroke twin.
As an LXR model, this Cat gives you a cold-fighting 13-inch mid-height windscreen, 129-inch Ripsaw II track and a 12-volt outlet to charge a cell phone or power an electric face shield. Electric start and reverse come standard, as does the gas shock equipped front and rear suspensions.
Based on horsepower the electronic fuel injected ZR 3000's overall performance compares to the Ski-Doo 600 ACE, but smoother than a 550cc fan-cooled two-stroke twin. We expect better fuel economy due to its EFI and, because it is a four-stroke, lowered oil cost overall.
If we were on a budget and looking for a sled that would provide a decent fun quotient, value over time and long term reliability, the 2017 Arctic Cat ZR 3000 LXR would be a strong choice.
2017 Best Utility
Ski-Doo Expedition Xtreme
As a serious work utility sled we're not certain the Ski-Doo Expedition Xtreme fills the bill like the Yamaha VK or Arctic's Bearcats. But it would be the most fun with which to herd reindeer, get out to a winter fishing hole or ride to the cabin at the end of an unplowed road.
When it comes to talking about serious work sleds, this is the most powerful of any you'll find thanks to its Rotax 800R E-TEC two-stroke twin. It'll get you out to a trap line faster than anything else. Plus, since it's a two-stroke it should be easier to run than a four-stroke in really cold winter climates. With that power comes up to 19 miles per gallon fuel economy that counts big time in the boonies.
Performance aside, the Expedition Xtreme features deep snow capability from a 20-inch wide by 154-inch long track. Keeping this 625-pound sled moving through the boondocks is the job of its synchromesh two-speed transmission.
Add in premium KYB Pro 30 gas shocks on the articulating SC-5U rear suspension for comfort and stability. Rack and hitch come standard.
Ski-Doo expects the Expedition Xtreme to create a niche in the same way its Tundra Xtreme with a 600cc E-TEC did a few years ago. Two-stroke power is an advantage in real cold winter areas and Ski-Doo knows that. That's why we've chosen the 2017 Ski-Doo Expedition Xtreme as our utility sled of the year.
Best Sleds
There you have it, our sled of the year selections. We're already anticipating model year 2018 to be equally as interesting as we suspect that Ski-Doo will roll out its Gen-4 chassis to more units, possibly a new Grand Touring. And isn't Yamaha about to celebrate 50 years in the snowmobile business, which suggests a special edition 2018 something? Cat promises its 450 SVX snow bike and Polaris will keep up the sales pressure with new designs for the powder areas. But that's the future and this is the bests for model year 2017.