2017 Mountain Snowmobiles of the Year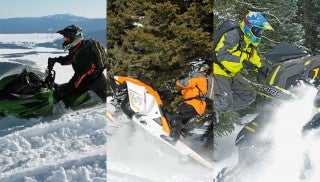 We choose our favorite snowmobiles for the steep and deep
Months before the snow flies with any seriousness in the West and after numerous test rides, skin-scratching and all-around mental gymnastics, we offer our "Best of" list. To most ardent mountain snowmobile fans, the top flight mechanical athlete that wears the ring-of-rings, will be of no surprise, the others, though, may be.
Our "Best of" categories for the mountain segment consist of:
King of Mountain (We've used "Mountain Snowmobile of the Year," but after watching the Jackson Hole World Championship Hillclimbs, we settled on a phrase that is King Kong-like.)
Most Improved Mountain Snowmobile of the Year
Ultra-deep Powder Snowmobile of the Year
Four-Stroke Mountain Snowmobile of the Year
600-class (Introductory) Mountain Snowmobile of the Year
Deep-Powder Crossover Snowmobile of the Year
Following each coronation, we'll give some truncated tech information that backs up our choices.
King of the Mountain
2017 Ski-Doo Gen-4 REV Summit X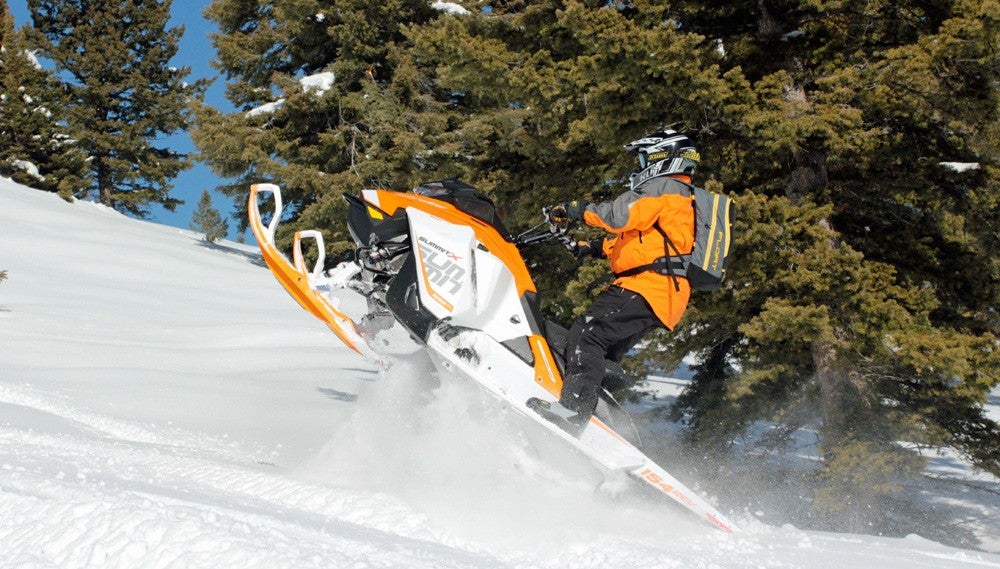 Ski-Doo Gen-4 REV Summit X 154 and 165. This is really a no-brainer and shouldn't be a surprise. Do understood, though, this is not an automatic award just because the Gen-4 Summit X is new. Ski-Doo had to earn it. Ski-Doo, historically for us, is not a company that is open with information. We've had to come with creative ways to learn about its products and to spend ample, and we mean ample, seat and throttle time to learn about its mountain snowmobiles. After all, we ride every important new powder sled each season so that we can give you our honest impressions.
Through all these creative measures, Ski-Doo has notched many KOMs with us; the XP Summit X with S-36 Handling Package; first year XM Summit X; first year XM/RS Freeride; and first year XM Summit X with tMotion and RAS-2. Furthermore, in our deep-powder mountain snowmobile shootout we conduct every January, these Summits have either been our shootout champion or a point or two behind the leader; first or second, year-in and year-out.
With its high-and-tight chassis, dirt bike narrow wrapping, skinny all-new Rotax 850 two-stroke twin cylinder motor, new track and track drivers, minimalist controls, panel and running boards that shed snow and prevent the snowmobile from "paneling out" on sidehill cuts, the high horsepower, torque grunt-giving mountain snowmobile is so light, agile, powerful and business-minded, riders – new, experienced and the older masters – can flog it all day long and at the end of the day, feel young, strong and victorious.
Let's add a twist here – we can't let the Summit SP slip away and not be recognized. The Gen-4 REV 850 Summit SP is every bit as muscular, sweet, agile, nimble as the Summit X. Oh, it may not have the cool rebuildable shocks or the acres of wide-open running board holes, but in our estimation, the SP Summit is the Honorable Mention to the King of the Mountain, Summit X.
Most Improved Mountain Snowmobile of the Year
2017 Arctic Cat Mountain Cat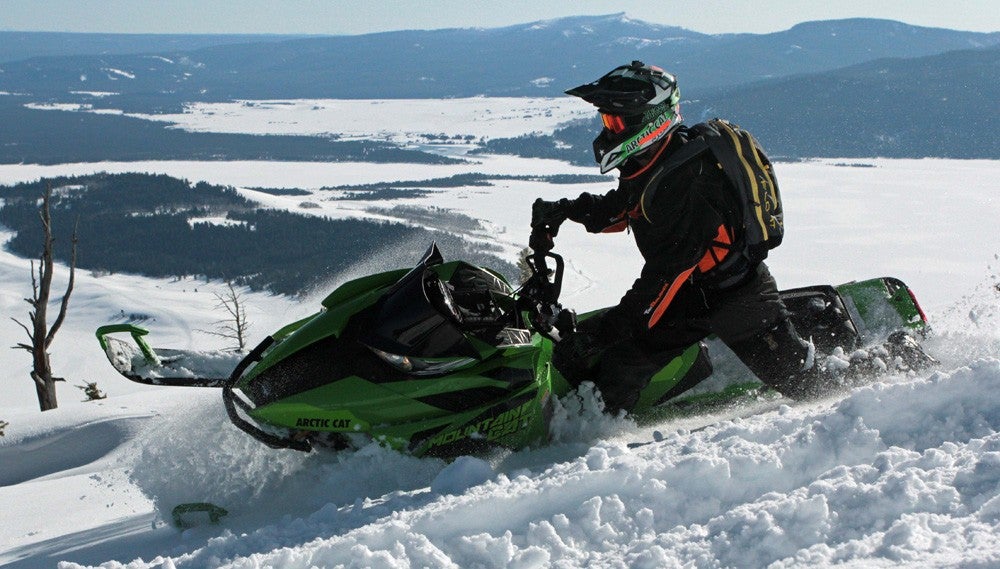 The 2017 Arctic Cat Mountain Cat, part of the M8000 line, is Cat's premier mountain snowmobile. With this version, Arctic Cat may have produced a mountain snowmobile that is so lively and active, some riders may be caught off guard. The quick and nimble is not solely owned by the Gen-4 REV Summit X 850. Each year we report the M8000 Sno Pro or Limited is this magazine's "Most Improved Mountain Snowmobile of 20XX;" here it is again.
The Mountain Cat has a new dropped and rolled chaincase that allows the three-inch PowerClaw to roll around new eight-tooth drivers. With this comes a track-to-snow approach angle that is shallower than its other M8000 siblings. This configuration gives the Mountain Cat permission to be a highly-active chassis.
True to its heritage, the Mountain Cat comes with the reliable Suzuki-built, and Arctic Cat-designed 800 HO two-stroke twin. This fuel-injected motor has been dependable with a low history of failures.
The loud green Mountain Cat comes in 153 or 162 lengths, with choice of two PowerClaw tracks, the 2.6-inch or three-inch. Most opt for the three-inch track. Also, it comes equipped with a stout front crash bumper and ample seat, rear tunnel, and goggle storage.
Ultra-Deep Powder Snowmobile of the Year
2017 Polaris AXYS Pro-RMK 174 LE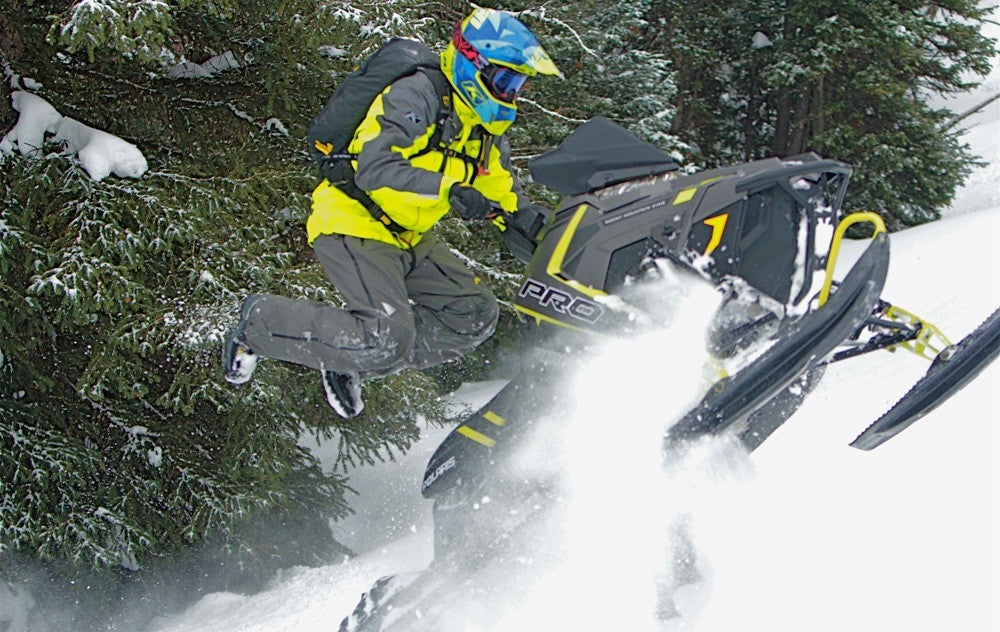 Cued up and ready to rock is the Polaris AXYS Pro-RMK 174 LE; set to take on Ski-Doo's XM Summit X 174.
Polaris, being the master at reading its own history, was not about to release the 174 Pro-RMK until it believed the longer 163 was dialed-in, polished, beat up by test riders, and fully engineered for customer floggings. The 174 from Polaris is not a "Because-he-did-it-too" mountain snowmobile.
The 800 AXYS Pro-RMK 174 may not surpass the 155 or the 163 in sales, but as the competitor to the 174 Summit, it may cut into the 174 Summit's sales. The Gen-4 850 Summit will most likely do this as well.
The 174 LE equipped Pro-RMK comes with only the 800 Cleanfire H.O. (High Output), giving the 174 excellent power-to-weight for its 442 pounds.
The light and rigid rear suspension manages pitch and weight transfer as designed, while the rear rail design helps lift the rear skid, just enough, while driving the vehicle forward.
Four-Stroke Mountain Snowmobile of the Year
2017 Yamaha Sidewinder M-TX 162 SE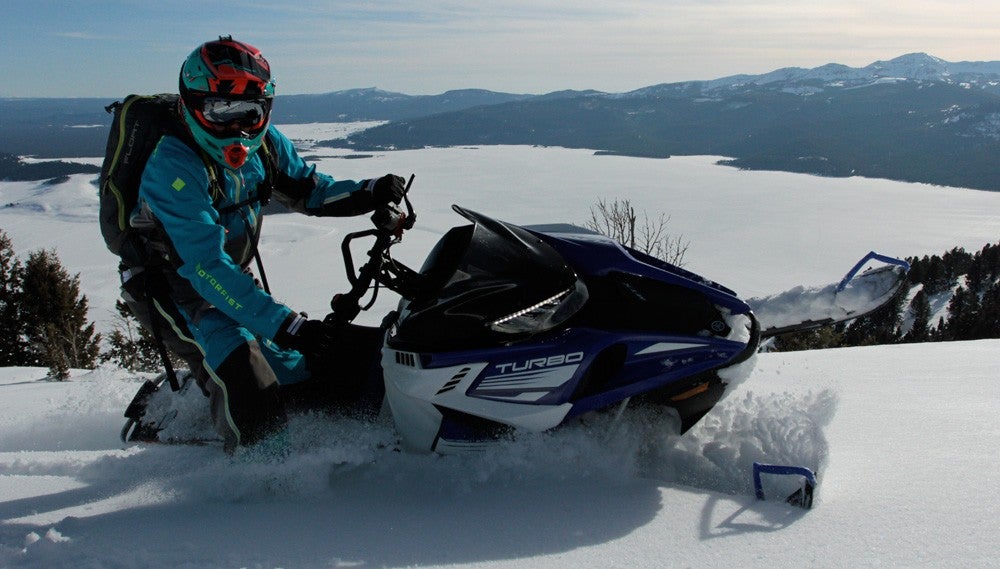 Without any doubt in our camp, the Yamaha Sidewinder M-TX 162 SE is our victor for this category. Yamaha built a remarkable side mount turbocharger for its new 998cc three-cylinder four-stroke motor. The 998 manages pressure on the downstroke and upstroke with remarkable efficiency. The motor's design to induct air, compress it, and manage boost and overboost is engineering brilliance. Horsepower is estimated at a conservative 185. But private dyno claims suggest upwards of 220 horsepower may be the reality.
The Sidewinder M-TX is heavier than the Viper M-TX 162 SE, but with the Sidewinder M-TX having that claimed185 horsepower – 185 at 1,000 feet or 8,000 feet – it easily eclipses the Viper M-TX go power.
On the Sidewinder M-TX comes Yamaha's new MTN ski. It is a very good ski that floats the Sidewinder's nose with little effort on the bars, and it carves well in the deep snow. It may be the best OEM powder ski on the snow.
In deep powder, the Sidewinder M-TX 162 moves about with an airy touch and the quiet motor gives the chassis the oomph to climb. Yamaha (with Arctic Cat) built its motor to handle boondocking stress and boost pressure.
600 Class Mountain  Snowmobile of the Year
2017 Arctic Cat M6000 Sno Pro 153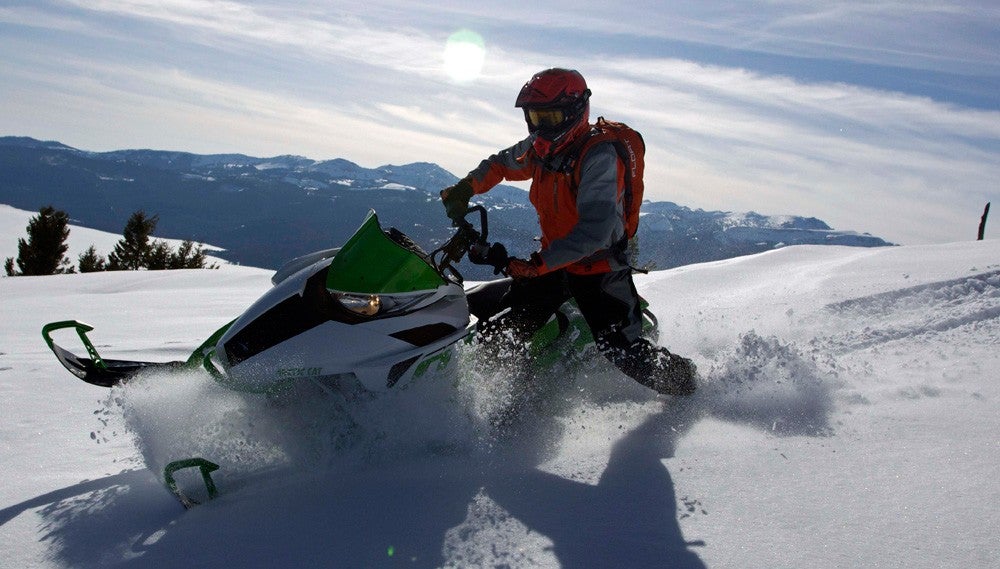 This "Baby 8" class winner goes to Arctic Cat and its M6000 Sno Pro 153, which is a mighty fine and wholly underestimated 600. This is a snowmobile we believe Arctic Cat needs to push more in its the marketing.
The M6000 Sno Pro uses Arctic Cat's own designed and built two-stroke motor that produces 125-plus horsepower. This gives the beginning rider a sound-and-sure mountain snowmobile to start building mountain riding skills. Plus, it provides older seasoned veteran riders a mountain specific "M" that is smaller in size than the bigger bore 800. Cat's M6000 power is dubbed C-TEC2.
The overall performance from the 600 power plant is decent and respectable. We are not saying it will run with the 800s, but it will hang closely. There is a developing market for 600-class mountain snowmobiles, and after riding the M6000 Sno Pro, we understand why Arctic Cat believes the public (for those who want a 600) will purchase this one.
The M6000 Sno Pro competes against Polaris' lighter AXYS 600 Pro-RMK 155 that comes in at a dry weight of 412 pounds, about 30-pounds lighter than the M6000. However, the M6000 Sno Pro is fun, fully loaded and about US$300 to US$400 cheaper.
Deep Powder Crossover Snowmobile of the Year
2017 Arctic Cat ProClimb XF 9000 High Country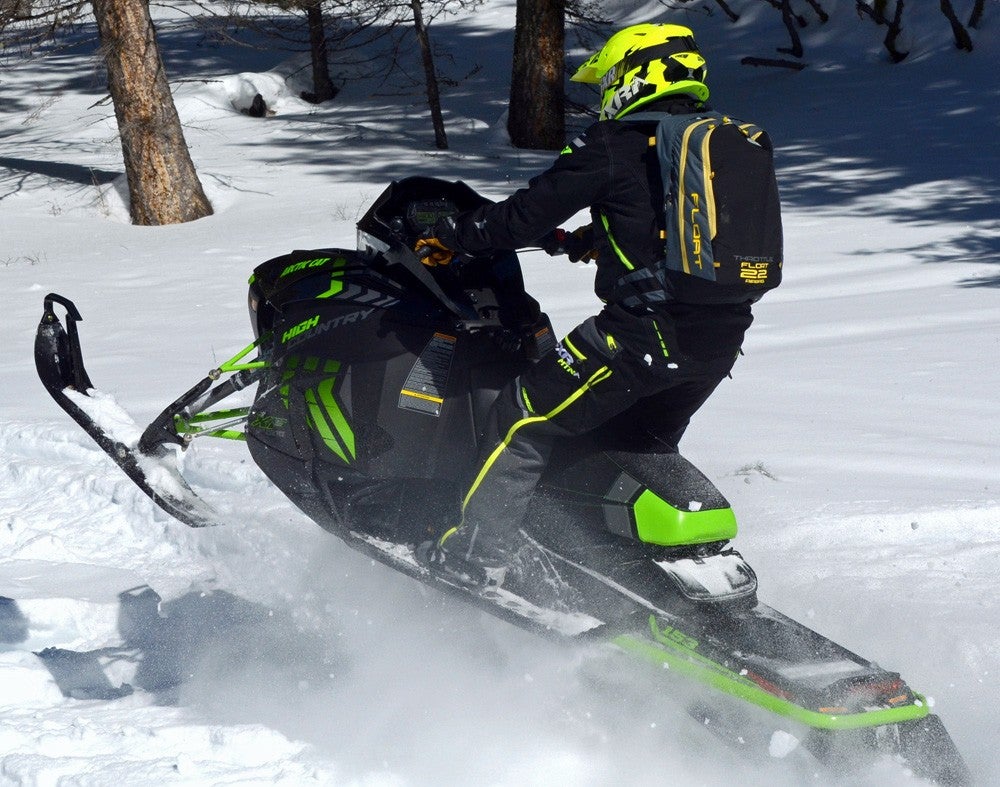 This goes to Arctic Cat (its third award) and its XF 9000 High Country 153. This is Arctic Cat's four-stroke turbocharged crossover snowmobile that is powered by Yamaha's potent new turbocharged 998 three-cylinder. This sled is powerful enough to bend light and straighten trails.
The 2017 ProClimb XF 9000 High Country comes in two chassis lengths: a 141 and 153. The 141 comes standard with 2.25-inch PowerClaw track with a 3-inch pitch. The 153 High Country 9000 can be ordered with two track choices, a PowerClaw with 2.25-inch lugs (like 141) or the snocross competition-inspired 1.75-inch Backcountry X track. Our preference here, and one that makes the High Country both a trail killer and powder masher, is the 2.25-inch PowerClaw track – we wouldn't leave home without it.
Driving the turbocharged 998 ProClimb XF High Country is like tearing down Interstate 15 in a Dodge Challenger Hellcat. Even with all that top end potential, the 998 turbo is tame at low-speed tree and trail runs. But when gas and oxygen are compressed at wide-open-throttle, plan on being Captain Kirk for a moment or two.
The 141 and 153 High Country XF 9000 would not be our first choice for deep backcountry boonie-mashing and tree-running in the steep-and-deep, but if our day consisted of turn-key trail cruising, meadow playing, mogul bashing, and limited deep-powder boondocking, then these are the snow buggies. Oh, and heated seats are mighty fine.