2017 Mountain Snowmobile Shootout: Part I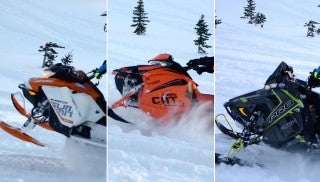 Three elite contenders and four more for more show
Not all mountain snowmobiles in our shootout go home with a trophy. But, in political correctness, there is not a bad rocket ship among this Snowmobile.com test fleet. We believe each is a stalwart performer worthy to be a "mountain sled."
Test rider Roger Raymond said it best in his last hour after riding the seven mountain snowmobiles when he exclaimed "I'm confused." We don't think he was really confused, he was expressing what we all felt after three weekends: the 2017s are that good. In fact, Raymond did say that.
Several days after our final weekend, we met Raymond for a quick chat, he matured his decision and landed on a winner, but only "by one point," he said.
Another veteran guest-test rider, Brent Burton, visited with us a couple times, expressing his thoughts after letting his opinions percolate for two days. We pushed our evaluators to complete their questionnaires in rapid fashion for two purposes: 1) to stay on top of our deadlines, and 2) to gather their impressions while the rides were still fresh.
The 800/850 class high-end mountain snowmobiles for Model Year 2017 are a battle-hardened collection that trade equal punches, but 850 power and new Gen-4 REV chassis from Ski-Doo changed the dynamics.
We started out with two 2017 Polaris Pro-RMK LEs, a 163 and 174; a 2017 Ski-Doo Gen-4 Summit X 165; and a 2017 Arctic Cat M6000 Sno Pro 153. One day after we picked up our M6000, Arctic Cat informed us a 2017 M8000 Limited 162 was ready for delivery. This was odd, we ordered a 2017 Mountain Cat. No matter, we test what's handed to us. By Christmas 2016, we had five 2017s.
In all honesty, we were dismayed. Taking Cat's M8000 Limited to our slug fest to punch against the Pro-RMK 163 and the Gen-4 Summit X 165 seemed out of character for Arctic Cat; as we wanted the Mountain Cat to be in the same combat as well. Then on January 03, Arctic Cat informed us they had our Mountain Cat and a driver – Todd Tupper – will drop it off Tuesday evening, January 03. Tupper showed and next to the all-green Mountain Cat was an all-orange King Cat. What the? No matter, we test what we have. We felt honored and off to work we went.
The rumble in the mountains was on: Gen-4 850 Summit X 165 versus Mountain Cat 800 162 versus Pro-RMK LE 163; all with three-inch deep lugs. Right on.
Not to end there, we stirred the shootout soup with our M8000 Limited 162, our turbocharged King Cat 162, our Pro-RMK 174 LE and our sassy M6000 Sno Pro 153 (the spunky and feisty bridesmaid every dude wanted to dance with at the wedding party).
So over several weekends, all seven 2017s were wrung out. Life was good at Snowmobile.com, specifically in its mountain snowmobile evaluation program.
This past summer we listed our mountain snowmobiles of the year for 2017. The 850-powered Gen-4 REV Summit X was our King of the Mountain, with the Mountain Cat was our pick for Most Improved Mountain Snowmobile. The 174 Polaris Pro-RMK LE received our accolade as Deep Powder Snowmobile of the Year with the M6000 Sno Pro as our Introductory Mountain Snowmobile of the Year (the 600cc class). The King Cat was not on our radar then, but the King's Yamaha cousin, the Sidewinder M-TX, pulled the honor of being our Four-Stroke Mountain Snowmobile of the Year. Thus, in summation, the 850 Summit X (with honorable mention going to sister ship, the Gen-4 Summit SP) wore the King of the Mountain crown.
Our deep powder shootout has an overall purpose; to prove or disprove our initial crowning for the overall King of the Mountain and these various sub-categories mentioned above.
First, we establish actual ready-to-ride (RTR) weights for the seven snowmobiles; RTR means loaded with fuel and oil. Another data table will show average times for electronically timed speed runs, over a 520-foot long course; partly run up a slope of about three degrees.
The data tables throughout display the seven snowmobiles and will also highlight the three main competitors: Pro-RMK 163 LE, Mountain Cat 162 and Gen-4 REV Summit X 165. The Pro-RMK and Mountain Cat are 800s, the Summit an 850.
In separate table data, the M8000 Limited 162, M6000 Sno Pro 153, King Cat 162 and Pro-RMK 174 LE will have their own break away information. By-the-way, the M6000 is a 600 and the King Cat, a turbocharged 998cc three-cylinder four-stroke; the other two are 800s of the two stroke twin cylinder variety.
Following this we'll offer rider impressions for the first three, Group I (850 Summit X, Mountain Cat 162 and Pro-RMK 163); this feature will be Part II of III. This will be tight and comprehensive.
Part III will cover Group II (King Cat, Limited, Pro-RMK 174 and M6000) with rider impressions and scores, and will lend some attention to sibling rivalries, rather comparisons, where we talk Mountain Cat versus M8000 Limited; Pro-RMK 163 versus Pro-RMK 174; and smallest versus the biggest, M6000 against King Cat. This third feature will come to hard and fast as a decision tool coupled with busted-knuckle comparison.
To recap our model year 2016 shootout, the results were, from a maximum 65 points:
1) Polaris 800 AXYS Pro-RMK Pro 163 with 57.625;
2) Ski-Doo REV XM Summit SP T3 800 163 with 55.125 points; and
3) Arctic Cat M8000 Limited 162 with 54.875 points
Our Start and Thanks
When we received our media snowmobiles, we followed the manufacturers' recommended break-in instructions to properly season the motors.
On the first evaluation weekend, we just rode. Absent were two riders, Burton and Johnson, but we only had five snowmobiles then. Second evaluation weekend, we lifted and weighed the seven snowmobiles at Lincoln County Customs (LCC). We then rode out to our honey holes. The third weekend, we pitted all seven against each other in timed runs and slammed the slopes in our favorite hideaway playground.
For our event, the snow conditions near Garns Mountain, Piney Peak and Red Butte mountains near Rexburg, Idaho, and the Squaw Creek near Alpine, Wyo., were deep and plentiful on December 31, 2016, and on January 07 and 14, 2017.
We give thanks to LCC, whose owners, Troy Johnson and Cari Johnson, provided food and their shop for our use; to Bott Yamaha/Ski-Doo, Idaho Falls, Idaho, who kept our Summit X cued up; and to Action Motor Sports, Idaho Falls, Idaho, who set the Pro-RMKs to better-than-best status.
For our four Cats, Todd Tupper, factory smart guy for Arctic Cat's mountain program at its Island Park, Idaho R&D test facility, prepped the four long-legged Cats to be smart and fast.
Sr. Test rider Kevin Allred, along with myself, and guest-test riders Roger Raymond, Brent Burton, Mark Radford, Troy Johnson and Alan Myler gave Snowmobile.com much time and opinion.
Lift It Part I
Here are the Ready-to-Ride (RTR) weights. (In the automobile evaluation world, this is called "curb weight.") The weigh-in required the mountain tumblers be dry from ice/snow/moisture; this was a challenge this year.
Also a Snowmobile.com requirement is the vehicles be filled with fuel and oil, have a spare belt and tool kit; which they did. But – but – we had a slight problem. From the previous weekend's ride, where the snowmobiles played in some lovely deep powder, Southeast Idaho's temperatures plummeted deep into subzero nights with midday high temperatures reaching three to seven degrees. Our snowmobiles did not quite thaw as thoroughly as we hoped. The Pro-RMK 163 LE was eight-pounds heavier from last year. Likewise, the 2017 M8000 Limited also gained four pounds from the 2016 M8000 Limited.  This tells us, the two unchanged snowmobiles held some water – they were not as fully thawed as we desired.
All matters equal though….the seven Snowmobile.com mountain snowmobiles were in the same situation.
Group 1 – Elite 3
Polaris AXYS RMK Pro 163 LE**Chaincase; three-inch paddle track
Ski-Doo Gen-4 Summit X 165
Arctic Cat Mountain Cat 162
RTR Weight
533
552
565
+/- 0
+19 From Pro-RMK
+32 From Pro-RMK+13 From Summit X
Analysis
Polaris' Pro-RMK 163 LE, like last year, announced it is the lightest mountain snowmobile on the market in the 160-plus length. With the Pro's lightweight and powerful motor and superb power-to-weight ratio, it is the lightweight king.  Does this translate to overall better performance? We'll give this some space from our test rider's score cards. Yet we must settle something, how a snowmobile feels through the handlebars – heavy, sluggish or light and quick – oftentimes amplifies its heavy weight, cancels its light weight, or makes it feel much lighter than what it is. Again, we'll drive this truck further into the woods in Part II with our guest-test riders' data on the Elite 3 from.
We need to give credit to the Mountain Cat. With its cinched in panels, narrowed-in runningboards, opened-up toe holds and dropped­-and-rolled chaincase, this 162 ProClimb floats up and on top with ease. It is light through the bars; almost equal to the Summit. The Mountain Cat is everything we predicted it would be.
However, the lightest-through-bars mountain snowmobile was the Gen-4 Summit X. With a 19-pound gain on the Pro-RMK, yet 13-pounds lighter than the Mountain Cat, it trumps both the Pro-RMK and Mountain Cat in turning ease; the handlebars effortlessly rotate. Myler said it was "buttery smooth," as we conversed on the mountain. Raymond echoed this same by saying, "The Summit's handlebar rotation is both silky and light."
We're not kicking snow into the Pro-RMK's eyes, but giving rider impressions, as well as this publication's field-testing opinions, that the Mountain Cat and Gen-4 Summit X feel light, though heavier than the 163 Pro-RMK.
Still, kudos we give to Polaris and its lightweight wonder mountain snowmobile, the AXYS Pro-RMK 163 LE. None of this written above suggests the Pro-RMK is overly hard-handling. If you believe it is, then you need some physical therapy. The Pro-RMK 163 is nimble, but just a few milli- or nano-somethings heavier in the bars than the Summit and Mountain Cat.
Lift It Part II
Group 2
Polaris AXYS RMK Pro 174 LE
Arctic Cat King King Cat 162
Arctic Cat M8000 Limited Cat 162
Arctic Cat M6000 Sno Pro 153
RTR Weight
547
642
571
553
+14 From 163 Pro-RMK
+77 From Mountain Cat
+6 From Mountain Cat
-12 From Mountain Cat-18 From M8000 Limited-89 From King Cat
Analysis
Polaris' Pro-RMK 174 LE, like the 163 LE, came in as the lightest mountain snowmobile in this second grouping, despite being the longest. Yet, let's be clear here, these four snowmobiles are not meant to compete against each other. We give this data for your reference only; call it an FYI in table format.
Yes the M6000 is the lightest "M" of the three powder Cats in this group; it is shorter, has a smaller motor and shorter track lugs. Yes, the King Cat is the heaviest, as expected with its four-stroke three cylinder motor and attached turbocharger; the big 162 is heavy. But oh my, the King's power! It has 800 two stroke-like power, and its power-to-weight covers up the loaded 642-pounds very well. The M8000 Limited is heavier than the Mountain Cat, as Cat reported it would be. With the Mountain Cat, Arctic Cat is moving in the right direction – down in weight. Message to Arctic Cat, give us less; in the mountain snowmobiling world, less equals more.
The only conclusion to draw is these are different in weight due to motor and chassis/track length, but are same in purpose – these are mountain sleds.
The Pro-RMK 174 is a stable, secure and planted snowmobile. It feels like a light and nimble Pro-RMK 163, but planted like a 174. The M6000 is hugely underappreciated. The King Cat is one super hypersled. Oh, you'll know its heavy, but you'll also learn it is freakishly fast and powerful; it will scare-and-tear mountains. In the narrow Mountain Cat chassis, the King feels light as its big four-stroke triple drinks its boosted juice. Its downfall, though, is its short handlebar post and laydown (horizontal) steering. Rider standup position, with the short bars, forces the rider to hump over the bars, and being these bars swing car steering-wheel like, ergos are off. Now, if the short bars were vertical, then most of this would go away. As it stands, the King Cat, with its weight and short laydown post, is cumbersome in the trees and short chutes. Also, we will talk handlebar swing and handlebar height in Part II and Part III.
How Fast Can You Run?
With the three elite Group I mountain snowmobiles filled with fuel, as well as the other four in Group II, we set out to electronically capture each snowmobile's 520-foot uphill speed run through our Brower timing system. Being we had seven snowmobiles to capture, we instructed two drivers, Johnson and Raymond, to trip the timing light at a 10 mph rolling start; these two drivers made two passes on each snowmobile for a total 14 passes for each driver, thus 28 total runs. With a gentle uphill slope of one  to two degrees, the results are as follows:
Group I, Elite 3 – Troy Johnson
Avg. Speed Runs in Seconds
Ski-Doo Gen-4 Summit X 165
Arctic Cat Mountain Cat 162
AXYS Pro-RMK 163 LE
1— 6.54
1— 6.61
1— 7.10
2— 6.49
2— 6.49
2— 7.03
Avg.— 6.515
Avg.— 6.55 
Avg.— 7.065 
Group I, Elite 3 – Roger Raymond
Avg. Speed Runs in Seconds
Ski-Doo Gen-4 Summit X 165
Arctic Cat Mountain Cat 162
AXYS Pro-RMK 163 LE
7.06
1— 6.59
1— 7.50
6.29
2— 6.85
2— 7.14
Avg.— 6.675
Avg.— 6.72
Avg.— 7.32
Group I, Elite 3 – Combined Averages, Johnson and Raymond
Avg. Speed Runs in Seconds
Ski-Doo Gen-4 Summit X 165
Arctic Cat Mountain Cat 162
AXYS Pro-RMK 163 LE
Johnson —6.515
Johnson — 6.55 
Johnson — 7.065 
Raymond — 6.675
Raymond — 6.72
Raymond —  7.32
Avg.— 6.595
Avg.— 6.635
Avg.— 7.192
Analysis
Four-tenths of a second separate first and second and slightly over a half-second (0.557) lies between second and third. The difference between the fastest and slowest time is just under six-tenths of a second (0.597).
The 850 Summit X rolled through the course the fastest, proving Ski-Doo's new big twin is quick. The lightest snowmobile had the slowest time, the Pro-RMK 163 LE. In the middle laid the heaviest mountain snowmobile with the oldest motor; the Mountain Cat gave up very little to the 850 Summit X. Imagine what the outcome would be if the Mountain Cat were 20 to 30 pounds lighter?
If you believe these results are the be-all to end-all, you are mistaken; we do not advocate this. At any time these results can change. The snow conditions we had this day, January 14, did not favor the Pro-RMK's Series 7 paddle track; snow in the shadowy hills and in the deep gully was wind-blown crust and depth hoar (small ball bearing like) below the crust. As the speed runs progressed, the chewed up crusty snow began to challenge the snowmobiles' tracks, thus slightly bringing down the vehicle's ground speed. Also, one must figure in the variable: driver response time. However, the Pro-RMK 163, as in the 174, did not hustle its motor power to the track as fast as the others. It seemed like the Series 7]track struggled in the January 14 snow conditions.
Group II – Troy Johnson
Avg. Speed Runs in Seconds
Arctic Cat King Cat 162
Polaris AXYS RMK Pro 174
Arctic Cat M8000 Limited 162
Arctic Cat M6000 Sno Pro 153
1— 6.29
1— 6.75
1— 6.62
1— 7.20
2— 6.11
2— 6.66
2— 6.93
2— 7.31
Avg.— 6.20
Avg.— 6.705
Avg.— 6.775
Avg.— 7.255
Group II – Roger Raymond
Avg. Speed Runs in Seconds
Arctic Cat King Cat 162
Arctic Cat M8000 Limited Cat 162
Polaris AXYS RMK Pro 174
Arctic Cat M6000 Sno Pro 153
1— 6.77
1— 7.01
1— 7.40
1— 7.41
2— 6.41
2— 6.93
2— 6.88
2— 7.76
Avg.— 6.59
Avg.— 6.97
Avg.— 7.14
Avg.— 7.585
Group II – Combined Averages, Johnson and Raymond
Avg. Speed Runs in Seconds
Arctic Cat King Cat 162
Arctic Cat M8000 Limited 162
Polaris AXYS Pro-RMK  174 LE
Arctic Cat M6000 Sno Pro 153
Johnson — 6.20
Johnson — 6.775
Johnson — 6.705
Johnson — 7.255
Raymond — 6.59
Raymond — 6.97
Raymond — 7.14
Raymond — 7.585
Avg.— 6.395 
Avg.— 6.875 
Avg.— 6.922 
Avg.— 7.405 
Analysis
The big 642-pound King Cat was King here. Right behind it, was its sibling, the M8000 Limited with a half-second (0.48) disadvantage.
The Pro-RMK LE 174 was just a over a quarter-second faster (0.27) than its little brother, suggesting, that though it is heavier than the 163, its longer track receives motor input better, naturally since its track, also a Series 7, spins less with more bite per square inch.
The darling of all this is the M6000 Sno Pro. With its shorter track, shorter lugs and much less displacement, it gave up one and one-tenths of second to the King Cat and just hovered at the half-second mark difference between it and M8000 Limited and the 174 Pro-RMK. The M6000, with its Cat-designed and Cat-built domestic twin is a scrapper, hustler and a mountain snowmobile with an I'll-show-you attitude.
Lastly, the two Cat brothers: Mountain Cat and Limited. The Limited was slower than the Mountain Cat, only by 0.24 of a second; the difference might be explained by the Mountain Cat weighing six pound less. However, the Mountain Cat's performance in deep powder, sidehilling and mountain ascension noticeably exceeds that of the Limited. In 2016, the Limited was a rock star, for 2017, it felt dated compared to the Mountain Cat, Summit and Pro-RMK.
Part I Conclusion
Polaris's AXYS RMK Pro 163 LE is the lightest mountain snowmobile for the Elite 800s; this is fact we conferred and one we expected to confer. The fourth-generation REV Summit with 850-power came in as the middleweight in weigh-in, among the Elite 3, and the Summit elevated itself as fastest of the Elite 3.
Overall from the above data, the 160-something length 800s are close, but we think you knew that.
The speed king goes to the King Cat. Chutzpah, it is whiplash fast. The never-back down award goes to the M6000. The M8000 Limited lost some luster; it felt dated compared to the Mountain Cat, Summit and Pro-RMK. The 174 Pro-RMK LE created much debate. I, your humble author, love, no, adore this snowmobile, but our guest-test riders had much to say, and we will summarize their tantalizing thoughts later.
Next is Part II, rider impressions and scores for Group I, the Elite 3.