Tucker Hibbert Talks About His Dominant Snocross Season
You'd be hard pressed to find anybody who's had a more dominant snowmobile racing season than Tucker Hibbert. The Monster Energy/Arctic Cat pilot won 11 of 16 main events in the AMSOIL Championship Snocross series as he clinched his seventh overall Pro Open championship.
So dominant was Hibbert that fans would hope that Hibbert would somehow get held up at the start of the main event so that they could see him come through the pack, methodically picking off the world's best professional snocross racers in an on-the-edge rush to the front.
But more often than not Hibbert, had he not pulled the holeshot, would be in the lead within two to three turns and – for all intents and purposes – gone by the second lap. Not once did a racer track down and pass Hibbert for the lead on the ACS tour this year.
ISOC had a chance to pin down the champion to talk about his amazing season.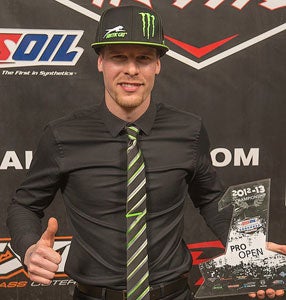 ISOC: Tucker, congrats on clinching your seventh AMSOIL Championship Snocross title. How's it feel to win your title back this year after suffering through a tough season like 2012?
Tucker Hibbert: For sure feels good. I had a pretty rough year there last year, was not winning many races. Then with the injury at the end – it was just not one of my better years. But I kind of bounced back this year and was able to recover, pretty fast actually.
ISOC: Rewinding then to 2012, talk a bit more about your struggles – so we can set up the 2013 season better. Was it as much of an issue with you, or were there some issues with the sled as well – particularly a model year issue?
Tucker Hibbert: We did have a brand new race sled last year with Arctic Cat – something completely different than we had in previous years. So it definitely was a challenge that way … trying to get it dialed in and figure out how to get it to work correctly. It's always a challenge for all the manufacturers whenever they come out with a new design. And then on top of that the snow conditions in 2012 (lack of) also made it very challenging.
ISOC: You opened up at Duluth (Minn.) this year not making the podium. Everyone was wondering if it'd be more of the same, the struggles continuing from 2012. But you were quick to silence those thoughts by sweeping the following rounds in Bessemer (Mich.) and Canterbury (Minn.). Were those two rounds the turning point for you this year, being able to put 2012 behind you and move forward with your title chase in 2013?
Tucker Hibbert: We ended up learning a lot about the (then new) sled in 2012, and had more time to prepare for 2013. So I felt we were really prepared entering Duluth. I ended up with two 5th place finishes, but I was actually pretty happy with that – felt I rode really well and knew things were going to be different this year. But yeah, Bessemer was really where things took off. I pretty much ran away on both days, and that's where things really started to roll for us.
ISOC: People tend to forget how badly injured you were at Lake Geneva last year. You wound up in intensive care at a Milwaukee hospital for some time then had another setback after they sent you home. I'd think this put you behind in your dry land training schedule for 2013, but you seemed to return to AMSOIL Championship Snocross in as good of shape to start the seasons as you'd ever been.
Tucker Hibbert: I was for sure prepared. I think one of the things that helped out most was that I was able to ride motocross over the summer. Raced some local races, then went down to Steel City for the finals, qualified and ended up finishing mid-pack in the 450 class, which I was happy with because it was my first National in that class. I also was able to ride my mountain bike a lot, so we were ready for Duluth.
ISOC: You put together several impressive win streaks throughout the AMSOIL Championship Snocross season this year. You helped shut defending Pro Open champ Tim Tremblay off the top of the podium and held Ross Martin to only a couple wins. Still, despite your winning main event efforts you never really pulled away from Ross and Tim and only clinched the title at last week's Lake Geneva final. So despite your impressive victory tally, the season was actually quite closer than it appeared.
Tucker Hibbert: For me, I've always done well winning the main events (Lake Geneva's win on Friday for Hibbert was his 80th career victory), but I'm not as strong in the qualifiers. Ross is strong in both, and he was able to keep pace in the points (without winning the mains). We did manage to open up the points a bit midway through the season, especially after Tim and Ross had some issues.
ISOC: After sweeping Bessemer and Canterbury you ran into some trouble at Deadwood (S.D.). That looked like a rough one, especially the Saturday night main event.
Tucker Hibbert: Deadwood was the most challenging race of the whole year for everyone. There was a lot of salt and dirt in the snow, and if you were not in the lead you were getting completely hosed with that snow by someone. I won Friday then Saturday I had trouble in the qualifier, so I didn't get a good gate pick and ended up getting run off the track in the first turn. It was a race that could have been rough for us, but I put my head down and just got through it. (Hibbert finished 5th on Saturday at Deadwood.)
ISOC: One thing that really stood out this season was the reliability of the Arctic Cat ProCross F800. Is it safe to say, now that the AMSOIL Championship Snocross season's over, that you didn't have one mechanical failure all year?
Tucker Hibbert: We had no mechanical issues the entire season – which is pretty rare. The mechanics (including Tucker's father, Kirk) were definitely on top of everything, had the sled dialed in for me every week. It's a testament to how tough the Arctic Cat sled is, along with the boys that work through the night on it. Sixteen rounds plus two qualifying rounds in order to make the main – that's a lot of laps to run without any sort of mechanical failure.
ISOC: Don't take this the wrong way, but there came a point in the season where fans would kind of hope you got run off the track at the start or tipped over and stalled your sled – just so they could see you come through the pack to win (versus checking out early). What's more thrilling for you, racing from behind or blasting the perfect holeshot and winning by 25 seconds?
Tucker Hibbert: I think as long as I win in the end either way's fine. You really gain a lot of confidence by putting the hammer down and winning in any situation. The battles (coming through the pack) are a lot of fun. But there's not really a better feeling than getting the holeshot and winning by a large margin. Then you know you did everything right. But yeah, I know the fans like to see me come through the pack. I know when it's possible to win and when it's not, but I think this year I was a bit more reserved and pushed hard enough to get close enough to the front – but not DNF.
ISOC: What was your favorite stop on the AMSOIL Championship Snocross tour this year?
Tucker Hibbert: Traverse City (Mich.) was a great race (Hibbert went 1st/1st). I liked that track a lot, and it was good to win after losing at the previous race at Deadwood. And it's always fun to go to a new place with new snocross fans.
ISOC: You're headed to Sweden today to race the Clash of Nations. You've been to Sweden before (for the 2010 World Championships), are you fired up to be going back?
Tucker Hibbert: Yeah, for sure. The fans in Sweden are pumped on snocross and really enthused about snowmobiling in general. It's going to be a lot of fun going back, seeing new riders and faces. But for the most part all the best guys there already race over here, although you can't count anybody out. And the guys from there race here definitely race faster when they're at home in Sweden.
ISOC: Nice, and good luck next week. Last question … what are your plans on your dirt bike this summer?
Tucker Hibbert: At this point I don't have a set schedule, but I'll for sure be racing a handful of Nationals on the 450. I'm excited to get back on my bike. We'll have a full off season this summer, unlike last year when I got hurt at Lake Geneva. So the plan is to get through the summer healthy and back to Duluth next fall in even better shape than I was last year.
ISOC: Sounds like a solid plan, Tucker. Congrats again on your AMSOIL Championship Snocross Pro Open title this year and best of luck next week over in Sweden.
Tucker Hibbert: Thank you, and thank to all the fans that came out to watch us race this year. Look forward to seeing everyone again at the start of the snocross season in November.