Carlson Motorsports Report: Eagle River Snowmobile Derby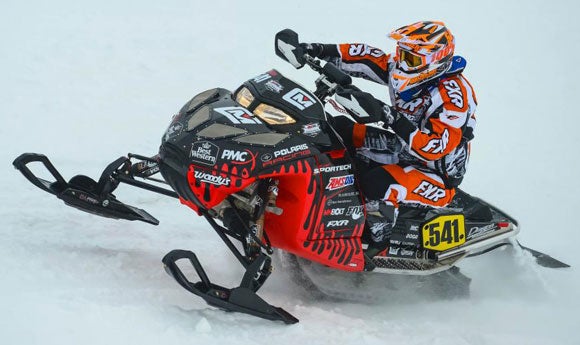 With a less than a week left until the impending green flag at Winter X Games in Aspen Colo., Carlson Motorsports national Sport rider Ryan Springer stepped up to the Pro-Lite level and captured the win and World Championship title at the famed Eagle River Derby track.
While much of the Carlson Motorsports team was busy making final preparations for this weekend's Winter X Games, where Andrew Carlson will compete for the first time, Ryan Springer was busy winning big hardware in Eagle River, Wis.
The tight confines of the Derby snocross track, found nestled on the infield of the banked ice oval, is known for its punishing bumps and difficult to pass design. Springer, however, used his aggressive style to win the Pro-Lite Shootout, grab another podium with a third in the Pro Open Shootout, and completed the day as Pro-Lite Champion.
Meanwhile, Andrew Carlson and his core support crew were at western elevation this past weekend, pounding laps in preparation for Winter X Games. Andrew will test his skills against the world's best riders under the sport's biggest stage this weekend in snocross competition. Last year Winter X Games saw more than 38 million viewers tune in and nearly 120,000 were in attendance. Key snowmobile event dates and times are as follows:
Thursday, January 23, 9-11pm – Freestyle on ESPN Saturday, January 25, 4-6pm – Long Jump on ABC Sunday, January 26, 2-6pm – Snocross on ESPN