Where Does Arctic Cat Go From here?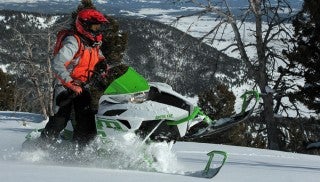 Thinking out loud about future Arctic Cat snowmobiles
For quite some time, year-in and year-out, we've given much attention to the new model mountain snowmobiles and with this, each model's unique mountain riding components. Given that, every January we focus on results from our annual deep powder shootout.
Here, we wanted to take a moment and freewheel some thoughts about Arctic Cat. We'll look back with a short historical glance, move forward to the present and give a crystal ball forward glance.
Several years ago, our mountain test staff sat on a mountain top with Arctic Cat's mountain development team and general managers for snowmobile product development and bantered various snowmobile topics: economics, shareholders, accounting, mission and goals. The snowmobiles we sat on were M8 Sno Pros. We received a glimpse into Cat's heart when they dropped a hint of a common chassis shared for mountain and trail use, and with it, a shared laydown or horizontal steering post. We listened and then, when asked our opinion, we said, "Don't do that. We understand commonality of parts, but" we added, "a trail snowmobile with a stretched tunnel, a narrow front end, and a long track, does not a mountain snowmobile make." Then we hit Cat with a stern warning, "If Cat builds its next generation M8 with a laydown or horizontal steering post, it won't be popular."
When the next gen M8 hit the market, the ProClimb M8 Sno Pro (soon to be renamed M8000) came assembled with a vertical steering post. At the model's introduction to the press, one M8 engineer called the ProClimb M8 steering post, the "Allred Steering Post," as it became known in camp Arctic Cat.
"Just to get you off our backs," he said, "at least before you climb on our backs."
The first year ProClimb M8 was a step backwards, in our opinion, compared to the previous nimble M8. Skis were narrow, finding the sweet spot where it would not over transfer or transfer at all, was difficult. Its blunt nose made cornice hopping a non-starter and its weight was problematic.
Now, over the past years, Arctic Cat diligently worked at making the ProClimb M8000 Sno Pro and Limited a mountain snowmobile that is true to Cat's heritage. The 2016 Sno Pro and Limited were excellent snowmobiles; and for 2017, the Mountain Cat is just out-right nimble and probably the lightest-through-the-handlebar-feeling mountain snowmobile on market. We hear terms "Flickable," "Agile," and "Nimble," from Ski-Doo and Polaris, and guess what – the 2017 Mountain Cat is all these; its chassis so quick being asleep at the handlebars is not wise.
But, Arctic Cat's M8000 and M6000 have two disadvantages, these are heavy and they look like yesterday's ProClimb "M." For us we take function over looks, but customers for the most part, want new to look new. Furthermore, no matter how much we report how light the ProClimb M6000 and M8000 feels in our hands, readers and customers know, of the two-stroke powered mountain snowmobiles currently assembled on factory floors, Arctic Cat's M6000 and M8000 are the heaviest.
Arctic Cat, when we attend the annual new product year media event in March at West Yellowstone, Mont., the M7000 is not a product Cat really pushes to the media; in fact, it fell off the product grid for model year 2017. We believe, or perhaps assume, it is because this is Yamaha's territory and generally Arctic Cat wants to be known as a two-stroke mountain snowmobile company, where Yamaha wants to be known as the leader in four-stroke tech for mountain snowmobiles. The M7000 Sno Pro was a capable four-stroke mountain snowmobile, and the SR Viper M-TX SE remains as a good snowmobile in the ProClimb chassis (named SR Viper M-TX by Yamaha). Fit and finish for the Yamaha M-TX is superb and has suitable power from its four-stroke powerplant – the Yamaha Genesis 1049 three cylinder. But, with weight and a 1049cc motor producing 135 horsepower, the price to own a 2016 M7000 and a 2016/2017 Yamaha Viper M-TX is at the level of an 800cc two-stroke. Furthermore, weight deters many customers from purchasing a four-stroke mountain snowmobile.
So, in this mashup, Arctic Cat has in its two-stroke arsenal an M6000 Sno Pro and several M8000s that are tough as hardened-steel, dependable, reliable, and very good looking, though the chassis and its "looks" have been around for several years.
The M6000 has Cat's own domestic-built 600 which delivers excellent performance. Cat's M8000s use Suzuki's long-living and stout 800 two-stroke H.O. Unfortunately, as good as the M6000 and M8000 are, customers see these mountain snowmobiles as heavier than Polaris and Ski-Doo models, and at times, costing several hundred dollars more to purchase (especially in a chassis that is approaching six years old).
We believe Arctic Cat understands all this. I've heard them say, being Arctic Cat is much smaller than Ski-Doo and Polaris, the public expects the same results. We agree with Cat on this, and yes the public does expect equal results, and when not delivered, Arctic Cat feels the pain.
For us, though, being aboard an "M," be it a 6000 or 8000, is delightsome. These sidehill and roll up on their sides with remarkable ease, and hold a steady line across a steep slope with simplicity and confidence; traits all mountain riders want from a mountain snowmobile. Arctic Cat indeed has taken the ProClimb to a level above its original M8 Sno Pro; the current Sno Pro and Limited models, and the Mountain Cat models, are stars; the M8000 has it right with a good motor, Team clutches, Fox shocks, mountain seat, superb PowerClaw tracks, and proactive suspensions.
So, where can the Cat and Yamaha relationship go, as far as each OEM's mountain program? For Yamaha, the solution is simple; develop a two-stroke motor that is YZ250-like, but add a second cylinder and open the holes up to 800cc or greater, and drop it into the ProClimb chassis, which Yamaha purchases from Arctic Cat. Have at it Yamaha. Seriously!
For Arctic Cat, give the ProClimb chassis a new and much lighter hood, offer a new domestic-built 850 or 880, develop a belt drive system, use Yamaha's new MTN ski, and skinny down the M8000 to be at the most 15 pounds off the other OEM 800-class lightweights. Trickle the lightweight tech to the M6000 and over to Yamaha.
Message too, to Arctic Cat, do not migrate to a laydown or horizontal steering post; keep it straight, as in up and down – vertical – as Cat already does. For the M8000 line, reduce the number of model offerings: in-season Sno Pro and a high-end pre-season Spring-buy model. Keep the agility and nimbleness locked down; don't stray from this.
Do we love the M8000 and M6000? Yes. We can ride these all day, every day. The M8000 is a confidence-builder. To be fair, we can also ride the Gen-4 Summit and AXYS Pro-RMK and SKS Pro all day every day. That's what we do. Heck, we'll even hang out and burn the slopes on a Viper M-TX and Sidewinder M-TX, though the turbocharged Sidewinder M-TX may not be our choice for tree picking, sidehill running, gully hoping and ravine mashing in all-out boondocking assault-mode.
Arctic Cat mentions to us long timers in Snowmobile.com's western classroom that we are the hardest on them. We don't know if this is true or not. Regardless, we know Cat's heritage, and we know it has untapped potential.
Our crystal ball look forward, in closing, is that Arctic Cat will awaken. It will no longer take the hits Polaris and Ski-Doo throw at it. Actually, Arctic Cat's bruises are collateral damage from Ski-Doo and Polaris swinging at each other. Regardless, we predict Arctic Cat will one day launch a mountain snowmobile that few predicted. We imagine it will be rather avant-garde and radical, where light, strong, long-travel and powerful will be mainstays, taking agile, nimble and "flickable" to a new dimension.
But in our reality box, the past half dozen or more years, the green-eyed Cat has wandered from home, lost some of its growl, and we hope now under its new leadership that the green eyed Cat will once again roar, not meow.