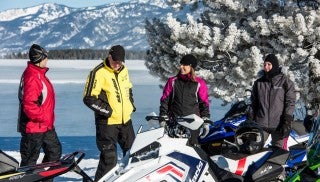 If Nature Deficit Disorder is a malady, snowmobiling is the remedy
Apparently, we don't read the right publications, because the term "nature deficit" has been around since at least 2005 when author Richard Louv coined the phrase in his book Last Child in The Woods. In his description of the term, which he also referenced as a disorder, he simply meant that modern people, especially children, spend less time outdoors and it can result in a wide range of behavioral problems. Louv explained that his definition of nature-deficit disorder wasn't an official medical diagnosis, but was his description of the human costs of alienation from the natural world.
Shame on us. The first time we heard this term was at the opening ceremonies for the Voyageur Country ATV trail system held at Melgeorge's Elephant Lake Resort in Orr, Minn. in early November. On hand to help celebrate the grand opening, US Congressman Rick Nolan stated that modern trail systems like the new ATV network in northern Minnesota could help beat back such a malady as nature deficit disorder.
At the time, we simply thought that the congressman had found a clever phrase, after all he was up for re-election at the time and the phrase does sound rather ominous. Little did we know that it was a malady all on its own.
According to Louv, causes for the phenomenon include parental fears, restricted access to natural areas, and the lure of "screens." There has been research that links a declining number of visits to National Parks with an increase in consumption of electronic media by children. Whoa! Get these kids on a snowmobile and show them the bright graphics of a Polaris Ride Command screen!
Based on personal experience and observations of fellow snowmobilers in their native environment – snow – there seems to be a major disconnect between indoors people and outdoors people. Hence, the nature deficit disorder.
Major causes of this disorder start with parental fear that keeping kids indoors keeps them safe; there is the loss of walkable park and other natural outdoor areas; and, of course, there is the advent of "life like" video games with virtual reality. A kid with a VR screen stuck to his head watching a simulation of a snowmobile ride can't really "feel" it. But, then why would a kid want to venture outside? Embracing negative 20 degrees behind a snowmobile's handlebars on a bright blue sky day could be dangerous, couldn't it? Best to keep that child cooped up inside.
Looks like snowmobiling is in danger, right? How can this malady be thwarted? Do we need to muster a national self-help organization for the prevention of nature deficit disorder? We can create Defeat Nature Deficit Disorder groups. Or, we and our local clubs can host a series of rides for non-snowmobilers. We can spread the word that playing outdoors isn't dangerous and we can let those cooped-up kids enjoy a trailside wiener roast. It was how the old-timers gained new club members. Make newbies welcome and show them a good time. Working with local dealerships might help them to gain new customers.
This isn't a brand-new concept. The International Snowmobile Manufacturers Association and the snowmobile Industry created the Take a Friend Snowmobiling Campaign to help clubs introduce non-snowmobilers to the sport. ISMA research shows that many people would like to try snowmobiling but don't know how to get started. A planned club-hosted ride removes the guess work and can show people how to get started properly, making them more inclined to join a club and get out on the trails. And, yes, it can help in the treatment of Nature Deficit Disorder.
Perhaps we are making light of this quasi-medical condition, but we sometimes wonder how we've gotten to where we are today as challenged as we must be. Like Congressman Nolan, a true outdoorsman who hunts, rides ATVs, and explores nature when he returns to his northern Minnesota congressional district, we grew up with the outdoors being there for our play. We walked across pasture lands, gathered brush to start a campfire, skipped rocks across a brook, and sometimes simply laid down on the ground letting the summer sun warm us as we watched birds flying overhead. That adventure was always waiting on the other side of our front door, just as now when we fire up our sled to ride out on the lake next to our house.
While we make light of this disorder, know that organizations already exist to combat it. The Children & Nature Network leads a "movement to connect all children, their families and communities to nature through innovative ideas, evidence-based resources and tools, broad-based collaboration and support of grassroots leadership."
There is also the No Child Left Inside Coalition with the stated purpose of "working to get children outside and actively learning." This group is working on the No Child Left Inside Act, which would increase environmental education in schools. The coalition feels that nature deficit disorder could be helped by "igniting student's interest in the outdoors" and encouraging exploration of the natural world in their own lives.
As previously noted, we weren't up on this specific disorder. We suspect that nature deficit disorder is a rare malady amongst snowmobilers and the children of snowmobilers. Many of us live in relatively rural settings where we readily can access a boat or canoe in the summer and a snowmobile for exploring winter. We are fortunate as we've probably seen deer, fox, hawks and eagles in the wild, not at a zoo or stuffed at a museum.
Even those of us who live in urban areas such as Minneapolis or Boston can access trails that can take us hundreds of miles into winter. While we may be cooped up indoors during the work week, we make a point of getting outside for our recreation. Nature Deficit Disorder? Probably not a big concern for us "average" snowmobilers who ISMA defines as riding 1210 miles annually by either trailering to a location or simply opening the garage door and riding from home. Indeed, ISMA notes:
Snowmobiling is a great exercise that gets people outdoors interacting with nature and each other.
It is an invigorating sport that is great for stress release and good mental health.
Snowmobiling is a great family lifestyle activity that keeps parents and kids together.
ISMA research indicates that individuals who snowmobile at a young age continue to snowmobile with their parents throughout their lives, sharing great experiences as a family.
Snowmobiling by its very nature dictates that participants be outdoors interacting with nature. Perhaps we can offer our sport as a remedy for Nature Deficit Disorder. After all, if Congressman Nolan is correct in his belief that creation of ATV and snowmobile trails offers the opportunity to explore and celebrate nature; then, perhaps, snowmobiling and snowmobilers can help the "nature-challenged" among us to overcome Nature Deficit Disorder.