What Happens After Textron's Purchase of Arctic Cat?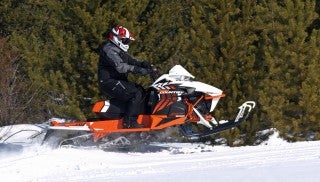 Nothing changes. Everything changes.
When the news of the Textron acquisition of Arctic Cat hit, it was bug-out day at Yamaha's "sneak peek" of its 50th anniversary models and the assembled snowmo-writers were settling in for a farewell breakfast at Deerhurst Resort in Huntsville, Ontario. Like many business travelers do, I had reached for my cell phone to check for email updates before reaching for the coffee. And, there it was: Textron Acquires Arctic Cat.
It wasn't April Fools and after double checking the information source, this was no joke. Wow! Who knew?
In an instant Arctic Cat went from being an independent company with 2016 net sales of more than US$633 million to being part of a worldwide conglomerate with reported 2015 revenues of US$13-plus billion. In the snowmobile world of who's the biggest, Arctic Cat gained financial backing equal to Yamaha, who had the deepest pockets prior to Textron's purchase of Cat. Not being serious stock or financial gurus, we can estimate the money dynamics as follows:
Textron & Yamaha each have revenues of US$13-plus billion
Polaris has sales of US$4.5 billion
BRP/Ski-Doo generates just under US$3 billion
Arctic Cat was at US$ 0.6 billion
From last to tie for first, what a turnaround! There are other pluses if you are a glass-half full person. From the Textron angle, the conglomerate gains access to Cat's worldwide dealer network that can take on Textron product brands including Jacobsen, Dixie Chopper and Bad Boy ATV and UTV.
From the Arctic Cat view, there is the potential infusion of needed cash to make the company's dreams come true. After all, never underestimate the Cat engineering group. They have the know-how and experience to create innovative snow and wheel products, some of which may be allowed to blossom with new R&D monies. Cat has an idea for a new deep snow suspension. It has planned a new platform for its trail sleds. We've just seen the company's new 800cc C-TEC2 two-stroke. At 800cc it could be punched out and punched up to be a serious 850 and add power to the 160 class.
Going somewhat unnoticed is the fact that Textron owns its German engine maker, the former Weber Motors that made a 750cc four-stroke normally aspirated and turbocharged twin for Polaris. Now branded Textron Motors, the engines are seen in various Bad Boy off-road vehicles. Could there be a bit of collusion between the Cat engine group and the Textron Motor line?
We suspect that nothing much will change for the immediate future in Cat's snowmobile group. The 2018s are already on the way with the new 800 C-TEC2, a Kymco 700 and both a 1049cc normally aspirated Yamaha triple and the 998cc turbocharged powerhouse. Per Textron, Arctic Cat will continue operating as an independent company with its facilities intact.
We accept that. Textron's Specialized Vehicles includes "independent" companies such as E-Z-Go vehicles. That's some irony as E-Z-Go was the surviving partner when Textron owned Polaris back in the late 1960s to 1981. These companies seem to fare well under the Textron banner, which lists aviation brands such as Cessna and Beechcraft. Its Bell Helicopter group keeps the world's bad guys uneasy as this group manufactures the V-22 Osprey, the Bell Valor and one of the most world's most recognized attack choppers, the Bell AH-1Z Zulu. You good guys can relax in a Jet Ranger or updated Huey.
If we were a half-empty fellow, we'd add a cautionary tale for Cat's long-term as Textron is a major worldwide conglomerate and as such expects to see profits at some point. To achieve those goals, we don't expect Textron to pump cash into the Cat's coffers long term. We would expect Textron to seek contingencies and synergies within its group of companies.
For example, last year Textron Specialized Vehicles acquired a Georgia-based facility that adds up to 600,000 square feet of manufacturing near where the company builds E-Z-Go, Cushman and Bad Boy off road vehicles. At the time of the announcement, it was noted that the space would enjoy "capital improvements to prepare the facility for vehicle manufacturing."
It is unlikely that the snowmobile group would move outside Cat's heritage site of Thief River Falls, Minn. But consolidation of the wheeler businesses might have merit, either in Georgia or the planned expansion in St. Cloud, Minn. that Cat executives were working to put into place. Some financial support from Textron would make that happen.
What happens if the Textron Motor group and Cat's engine development team combine expertise in engineering and manufacturing? Those modular "Weber" engines have powered sleds and currently power the Bad Boy side-by-sides. Cat's line of ATV/UTV engines could easily augment the Bad Boy models and the Weber design might fit the plans for future off-road Cats.
As for snowmobiles, we wonder what effect this all has on Yamaha? In the short term, depending on the Yamaha contracts, we doubt much happens there. But we sensed a bit of concern as we left the Yamaha model year 2018 preview. It would seem this Textron/Arctic Cat development caught them off-guard. Yamaha appears to be banking on the partnership it achieved with Cat, especially since the Sidewinder turbo drew traffic and sales that Yamaha dealers hadn't seen in years!
We heard reports of Yamaha Sidewinders outselling Vipers as much as four-to-one in some areas. Those weren't all ex-Yamaha blue buyers returning. That 200-plus horsepower turbo has been a big draw for Yamaha, creating a renewed credibility for the tuning fork brand. Obviously, Yamaha wants that to continue and its relationship with Cat to grow. We suspect the Yamaha snowmobile product plan depends on it – at least for the short term!
In the short term, we don't expect much to change at Cat. The long term will reveal itself over the upcoming seasons, but we do expect Cat's future business plan will have some serious changes. There may be intermingling of off-road products, but count on a new cadre of "shadow" and not so shadow management watching the bottom line for synergies in manufacturing, development of marketing plans, expansion or consolidation of business efforts as defined by Textron.
Yes, there is always the possibility that world market conditions could have Textron move away from wheelers and sleds just as it did in 1981 At the least, as in 1968 when Textron took over Polaris things changed as Textron closed satellite plants in Wyoming, Manitoba and shut down special projects like a personal watercraft and the Star Car. Textron wanted Polaris to be a snowmobile company – up until 1981.
Textron stayed with Polaris through environmental issues of noise and the oil embargos in the 1970s, but heading into the decades of the 1980s, Polaris didn't make sense as Textron sought to divest its snowmobile group, reportedly losing more in the final year than it had made in the previous five years.
Textron sold off other divisions over the years as well to concentrate on its core, most profitable pieces. After all, conglomerates are in business to make money and find opportunities to make more. So, with Arctic Cat available for US$247 million plus taking on its liabilities, why not take a chance on a company with a hugely loyal following that is generating revenues of US$600-plus million in a stagnant market and return to the snowmobile business?