Ski-Doo Accessories and Add-Ons
Ski-Doo's creative thinking betters your riding lifestyle
Ski-Doo's new fourth generation REV platform with the big bore 850cc E-TEC twin makes good riders better and makes you want to find ways to skip work and stay out in the cold. The engineering staff at BRP/Ski-Doo truly took the Ski-Doo REV another step forward in the evolution of the snowmobile.
We can sing the praises of the Gen4/850 while knowing that Ski-Doo doesn't have the fastest nor most powerful sled on the snow for model year 2018. Not yet anyhow. We praise this platform/engine package precisely because it demonstrates just how seriously and correctly Ski-Doo works at understanding the wants and desires of today's serious snowmobiler. As a package, the combination of the totally evolved GEN4 platform works perfectly in alignment with the updated and vastly improved second generation of E-TEC two-strokes, the 850 E-TEC. Not the most powerful of all 2018 sled engines, the non-turbocharged 850 twin is powerful enough among its normally aspirated peers that include Polaris' Cleanfire 800 and Arctic Cat's all-new 800cc C-TEC2 twin.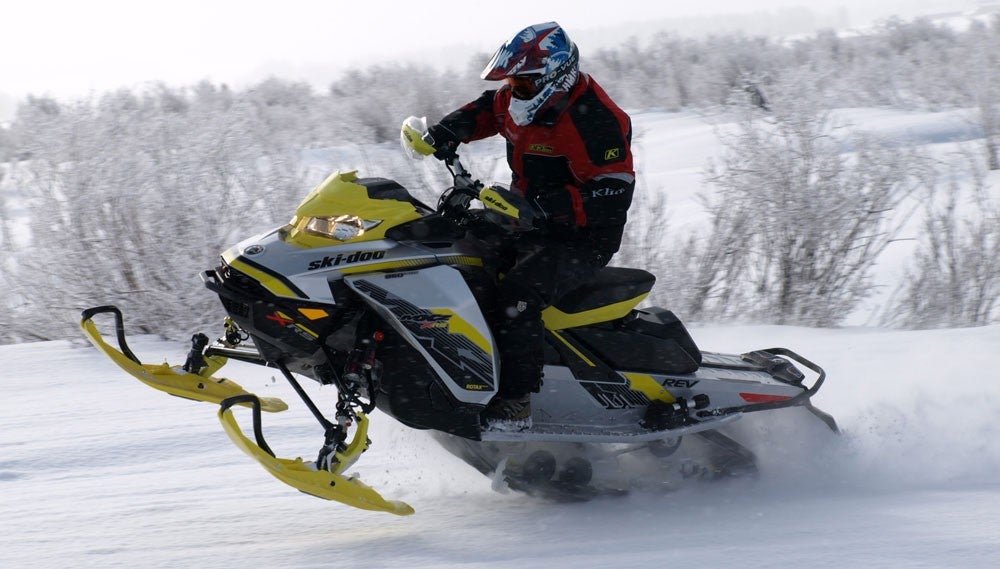 At our annual "ride & shoot" of the latest key 2018 models from the four sled makers, the import of Ski-Doo's newest chassis and engine pairing sunk in. Although introduced in limited models last season, this GEN4/850 package expands into more key segments, the ones that serious riders care about most. Obviously, Ski-Doo wanted to expand its deep snow offerings, because, to paraphrase "Sutton's Law" ascribed to famed 1930s bank robber Willie Sutton, "That's where the money is." The company also wanted to add to its personal trail and off-trail legacy satisfying more niches for the backcountry rider, super sport rider and serious "big air" terrain pounders. The Gen4/850 for 2018 does all that. Ski-Doo proved extremely adept at outfitting their new series of Revs with just enough features to satisfy the everyday rider, but not quite enough to totally satisfy their loyal cadre of owners who want more personalization in their sled.
Ski-Doo engineers worked together with its accessories group to create pieces that riders would want and that would fit with a factory-built flourish. We've been impressed with just how clever and adept Ski-Doo's accessory staff has been. The basic sled may be just fine and all, but we always want a little extra to set our ride apart from the crowd. Ski-Doo offers it, somewhat at the expense of the aftermarket, which used to be the main supplier of after purchase upgrades. Today's sled makers, Ski-Doo notably, aren't leaving many consumer dollars on the counter.
We did find some aftermarket pieces that fit the latest Gen4/850 models, including a lighter weight 850 exhaust and an alternative lightweight front bumper.
If you want a quieter and 7.5 pounds lighter muffler, check out Straightline Performance. This Minnesota-based aftermarket specialist offers the "Rev Gen 4 Lightweight Muffler" that it claims weighs about 7.5 lbs. less than the stock muffler and provides a low-tone performance sound that's "designed for today's noise conscious state and province regulations."
The company also offers its own sport bumper specifically for Ski-Doo's Gen4 850 series of sleds. The company notes that it offers protection and a bold and unique look. These bumpers are available in three configurations in a wraparound design to provide protection from unexpected obstacles and, notes the company, it's a must for those who like to play off-trail. Check the company's website for the latest colors, style and pricing.
Make no mistake, Ski-Doo won't give up any sales to the aftermarket if it can help it. You'll find a colorful and well-designed online catalog of the latest gear for the Rev 850 — and earlier Rev XS and XM models — at Ski-Doo's own online store.
There you'll find a grouping of bags and storage gear that specifically fits into Ski-Doo's proprietary LinQ system. For off-trail riders, the REV Gen4 MXZ & Renegade LinQ Combo Bag provides an ample 8-plus gallons of capacity for rear storage with multiple easily accessible compartments. This is a quality product with semi-rigid construction of the sides and top surrounding a thermoformed plastic base. Suggested retail is US$199.99.
While baggage excess is always desired, it doesn't afford the eye-appeal of custom lighting like the Gen4-specific auxiliary LED light options. You can fit your new Gen4 with the power of 2,500 additional lumens of intense trail lighting from an 8 LED light bar that installs with a pre-wired "plug & play" hook up. This system has been designed to integrate perfectly with the GEN4's styling. Available at a suggested retail price of just under US$400, the Auxiliary LED Light will meld perfectly with Ski-Doo's Signature LED Light for Handguards.
You'll stand out on the trail with this custom package that replaces the stock transparent trail handguards on trail models or the flexible mountain handguards used on deep snow models. The kit delivers a pair of LED-equipped handguards, including the wiring harness. Retail for this custom bright idea is about US$120.
If you are a serious long distance runner, you might consider an optional LinQ fuel caddy. This accessory has been available for several years, but has been updated to accommodate fuel storage on select Gen4 models. The "Stackable LinQ Fuel Caddy" designed to fit the REV Gen4 has been updated to allow easier pouring of its 3.8 US gallons capacity. While individual fuel caddys cannot be stacked one on top of the other, you can fit a LinQ tunnel bag on top. The suggested retail for this proprietary fuel storage solution is US$169.99.
All these pieces add a touch of convenience and customization. But if you're looking for some creativity along the lines of the easy-adjust handlebar set up, check out the Adjustable Windshield. This lever-operated height adjustable windscreen offers up to 4-inches of adjustment. That means that this single windshield can function over a range from stylish mid-height to wind-blocking tall. When we think about it, why be surprised by this accessory; it comes from the company that came up with the "dial-adjust" runner for the ski, engineered the unique SHOT start system for mountain sleds and as mentioned envisioned a similarly creative adjustable handlebar.
As we noted earlier this type of creative thinking demonstrates how Ski-Doo works at understanding the wants and desires of today's most serious snowmobilers and effects real product change to make a difference in the everyday snowmobiling life of the rider.