Accessories for Your New and Near-New Polaris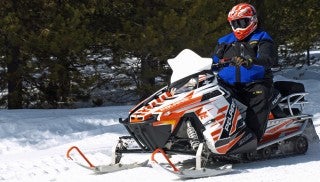 Making your Polaris snowmobile stand out in style and comfort
When the Parts, Garments and Accessories group can contribute revenues of 17 percent or more to its US$4 billion plus bottom line, Polaris makes certain that PG&A creates unique and innovative ways to maximize Polaris-branded gear for its snowmobile customers. As most snowmobilers already know, proprietary on-board attachment systems not only offer easy-on/easy-off convenience, but quite literally lock in the option choices for racks, bags and other gear to fit Polaris' Lock & Ride custom storage technology.
Polaris isn't the only sled maker to have accessory options solely for its own models. Ski-Doo has its own similar proprietary LinQ system, but the systems are not interchangeable making Polaris' Lock & Ride gear purely suited for Polaris sleds only — and vice versa. This clever manipulation of attachment systems maintains brand loyalty when outfitting models for deep powder, touring or off-trail running. Let's give Polaris a bit of credit, though, as the company's PGA minions offer pre-packaged groupings of gear. Or, at the very least, suggested options to help sled buyers customize their dream ride online. If you click the "build" option when looking at Polaris' online new sled catalog, you'll be offered a variety of accessory options that provide sled-specific gear such as seats with backrests, electric start kits, shock upgrades, color options for skis, ski hoops, skid plates and, of course, the ever popular basics of racks, packs and windshield options.
In a few cases, Polaris' PGA specialists offer a pre-packaged system such as the AXYS Ultimate Switchback Adventure Storage, which will carry a package price and will be fitted by your chosen dealership. That's the whole idea behind the online suggestions and the packaged kits; cement a bond between the customer and the dealer. While Polaris could do the Amazon model and ship its products directly to you and bypass its dealers, that really isn't going to work too great for anyone. You'll get potentially better price on the gear, but then you'll have to install it, which most likely means there won't be much if any guarantee and installation may be tricky, especially if you need special tools. With the dealer cut out of this equation, he'll be unhappy, which could undermine dealer relations with the company.
Since Polaris wants to direct its customers to Polaris dealerships, this model defeats that purpose. What works best is for you to order the sled you want online, price it out with accessories and send the completed form to your Polaris dealership, which will contact you to arrange details. You'll be happy as you get the sled you want with the gear you want. The dealer is happy as he gets a sale, can help you with exactly how you want your sled set up and can set aside the time to outfit your sled properly and arrange a convenient time for you to pick up your sled. Polaris wins as it not only sells you the sled you want, but provides the right gear options for it.
If you've ever researched and priced out an automobile or truck online, this Polaris model takes a similar approach, but when done before full sled production gets underway, it works better in assuring you of getting what you want. The best option is ordering during the time limited pre-season offerings where you can select almost everything from rail colors to shocks to body wraps and more.
Okay, that's all well and good, but what about looking for gear for your newer but not brand new Polaris. Since neither Polaris nor any other sled maker intends willingly to surrender any revenues to aftermarket companies if they don't have to, they try to make the purchase of accessories as easy as possible. Polaris makes it super easy.  If you know what you want, check out the online Polaris snowmobile catalog and go to the "accessories" area. This is an easy exercise where you'll be rewarded with all manner of choices including a listing of "Top Sellers."
Deep snow riders can select items such as the Adjustable Fuel Can Rack that retails for US$114.99 and fits the 800 SKS 155 ES. This rack fits into the Polaris Lock & Ride system and will hold most popular 2.5-US Gallon fuel cans, including square base and tall versions. The fuel can is not included.
If you're looking for the latest in technology for an older sled, like the 800 Indy SP, check out the "Technology & Electronics" section and key in on the Polaris Interactive Display 2.0, which retails for US$799.99. Polaris claims the 2.0 is both simple and seamless putting you "…at the center of your riding experience in a whole new way."
Its Ride Planning Feature enables you to plan a ride on RiderX, save it as a GPX file, and transfer it to the display through the USB interface. It features Bluetooth accessibility, provides distance to a selected waypoint, automatic Day/Night brightness changes, and greater visibility to view diagnostic screens as well as screen text messages.
If your sled doesn't come with an accessory outlet, you can order a 12-volt plug-in online for US$54.99. This 12-volt accessory allows you to operate a small handheld device or charge a cell phone or GPS unit. All installation hardware is included.
Of course, if checking out the digital screen on your GPS or interactive display leads to inattentive riding, you might consider the Pro-Ride Ultimate Front Bumper in matte black. Available for US$174.99, the Polaris-designed front bumper provides outstanding front end protection for a variety of Polaris models. Its rugged black aluminum tube framework is well suited to protect the nose of the sled and the front heat exchanger. It is designed for easy bolt-on installation and will replace the stock unit.
If you prefer serious assaults on off-trail meadows or backcountry fire roads, you might consider upgrading your sled's rear track shock. Polaris offers the Fox Compression Adjustable Coil Over Air rear track shock for select models. This three-way switchable design by Fox has become quite popular with serious riders who want to make quick and easy adjustments.
The FOX Air QS3 shock's combination air-spring and coil-spring design gives it consistent performance for virtually any terrain. Its three-click compression damping provides a broad range of ride calibration between settings for smooth trail terrain to off-trail brutal. Its combination coil and air-spring allows you to easily and precisely adjust for carrying a passenger, touring gear or setting up for rough terrain. This shock retails for US$999.99 and is constructed of aluminum in a black anodized finish.
Now, if you like to work on your own sled, you'll find ample Polaris-specific shop maintenance gear ranging from oils and lubes to grease gun kits. Whatever you need for your Polaris is most likely available online, including the location of your nearest Polaris dealership. After all, with millions of dollars to be made from PG&A, Polaris, which has created a very user-friendly online presence, wants to make it easy for you to help contribute to the bottom line.