Accessories for Ski-Doo's Gen4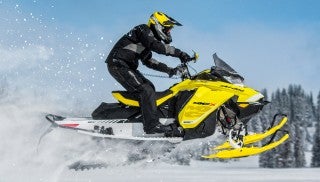 Here's how we'd make our Ski-Doo GEN4 stand apart on the trail
One of the right moves that Ski-Doo executives made was to involve its parts and accessories staff with the design and implementation of the all-new Generation-4 models. Instead of offering accessories that might or might not fit properly, the 2017 line up of Ski-Doo GEN-4 accessories were planned to integrate with styling and function of the new sled design. Our compliments to Ski-Doo for that decision.
While we have been impressed with the overall heritage styling that Ski-Doo's stylists presented with the various 850cc models, we've been equally impressed with the fit and finish accomplished with the aftermarket accessories. Maybe adding a LinQ bag to the rear deck isn't such a no-brainer, after all that concept carries over from the non-GEN4 chassis. But making that new stackable fuel carrier able to mate with an accessory bag is very creative.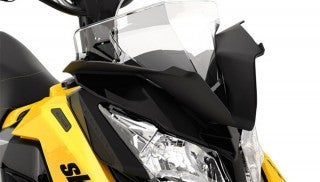 BRP-Made Upgrades for Your Ski-Doo
If you want to have some good reading, set aside the latest Ski-Doo accessory and parts catalog. It's a modern snowmobiling version of the old Sears Wish Book.
According to Ski-Doo honchos, the new fourth generation sled started from a blank CAD screen about three to four seasons ago. Based on the amount of new add-on pieces we see highlighted in the 2017 parts and accessory catalog, the PG&A folks had to have been busy coming up with new ideas since then as well. If we were to own a brand new Gen-4 MXZ 850, we'd pop for custom pieces to make that sled uniquely ours and to set it apart out on the trail. Consider that done and done!
LinQ Fuel Caddy
These may not be the items that click with you, but we'd consider the option of the stackable LinQ fuel caddy. However, note that individual REV G4 fuel caddys are not stackable. But you can stack a LinQ tunnel bag on it. You will need to fit the fuel caddy with the available shim kit.
The LinQ fuel caddy holds about 4 US gallons of fuel and retails for about US$200. Designing the new GEN4 fuel caddy resulted in a container that pours easier with less potential for spillage. You know, more environmentally friendly! But to accommodate a stacking bag, you will need the US$60 shim kit conversion. Or, you can simply add the bag and forget the extra carry-on fuel.
But we'd go with it. A recent chat with some fellow snowmobilers who travel areas unfamiliar to us told noted that some official state-provided maps they were using claimed that some marked pit stops had fuel, when in actuality they did not. Ouch!
Accessory Bags
Even though modern sleds have gone back to offering some onboard storage options as standard fare, we like to carry more than the bare minimum. You also like to have a minimalist tool kit, room for a spare drive belt, an extra pair of goggles and such. That's why we'd add the US$215 LinQ tunnel bag. If we take the fuel caddy, it'll sit on top of it. If not, it fits into the rear deck.
The new SR 21 Liter LinQ Tunnel Bag features a semi-rigid design to keep the bag from collapsing from snow or wind directed to the rear of the sled. The bag was developed expressly for the G4 chassis, but offers all the conveniences of previous designs.
We'd also add the glovebox extension that doubles as support for a Garmin GPS system. This US$120 item replaces the stock storage compartment cover, but can be used to mount a GPS unit like Garmin's ZUMO 590. Or not, depending if you want to foot the US$1170 cost for that accessory unit.
Where Polaris created a US$800 proprietary integrated interface with its Interactive Digital Display, Ski-Doo relies on electronic aftermarket products such as the Garmin. When mounted on the new G4 sleds, the device looks and fits like a stock item and its functionality includes Bluetooth capability with most smartphones, downloadable trail maps and an easily readable five-inch, glove-friendly screen. While we don't know Ski-Doo's long term plan, we won't be surprised if some future G4 chassis model comes with an integrated GPS system on at least a limited edition model.
Hold On
Without a doubt we'd opt for the foot hold kits for the Gen4 MXZ. However, we'd recommend if you get a new Ski-Doo GEN4 that you ride it without adding any add-on foot holds. Try it stock and, if you find as we did that you prefer more stability for your foot position, order the Ergo Lateral Footplates and, possibly, the Ergo shim kit for the toe-holds. The lateral footplates retail at US$120 are cast aluminum and add support for riders who prefer a more locked in feel. The toe-hold shim kit (US$60) comes in two heights (10 and 20mm) and allow you to fit your boots into the toe-holds.
The newest MXZ X 850 that was offered as an early season model came stock with the Forward Adjustable Riser. The FAR kit can be ordered for the in-season GEN4 models and we'd recommend it. This accessory gives you four positions of fore and aft movement over a four-inch range of motion, mimicking aggressive MXZ RS to sit-back trail cruising. The extension kit raises the system by almost two-inches. Once you've tried this new FAR system we think you'll want it on all future sleds.
Lit Up
We are big proponents of being seen when we ride, be it sleds, motorcycles or bicycles. Apparently Ski-Doo's accessory makers like to be seen as well. Not only do these add-on lighting options give your sled a unique on-trail presence and stylish countenance, they add to on-trail safety. We really like the aggressive "look" of the auxiliary LED light component. Retailing for US$400 this scoop design features eight LED lamps that project 2500 lumens in an intense and wide fog light pattern. The unit hooks up to your sled with easy plug and play installation.
While that will give you excellent trail lighting and an aggressive on-trail appearance that signals your arrival, the addition of the Signature LED Light for the GEN4 with transparent handlebar air deflectors adds a signature look unique in snowmobiling. The accessory retails for US$150, replaces the stock unit and includes the wiring harness.
Of course, there are more accessories, but these are where we'd start if we ordered the GEN4 850. You'll have all summer to mark up your 2017 Ski-Doo parts and accessories "wish book."