Tested: FXR Backshift BOA Boot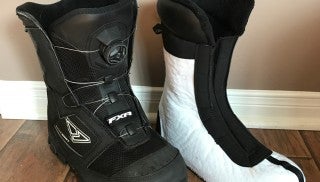 After multiple seasons of wear, the FXR Backshift BOA boots have proven to be impressively supportive on hard landings.
When I got a great deal on the FXR Backshift BOA boots at Hay Days 2015 I was told they were last year's model.  Deals on last year's models are always great for snowmobilers and successful past technology is always used moving forward. Here is my review of this boot in case you purchase a pair.
Technology and Design
The FXR Backshift BOA is built for high impact and therefore they are best suited for aggressive riders.
Notable features provided by FXR:
Rated to -75° C with 1200g insulation
Removable liner
Waterproof (my model and year)
Molded inner heel flex insert for backward flex
Minimal seams in sled-contact areas
Impact absorption sole
Fit
The single BOA H3 Coiler lacing reel offers great access and allows the liner/boot to open very wide. The slip-on removable liner with micro fur lining is soft and comfortable. The single BOA tightens up evenly and gives you control over how snug you want your boot.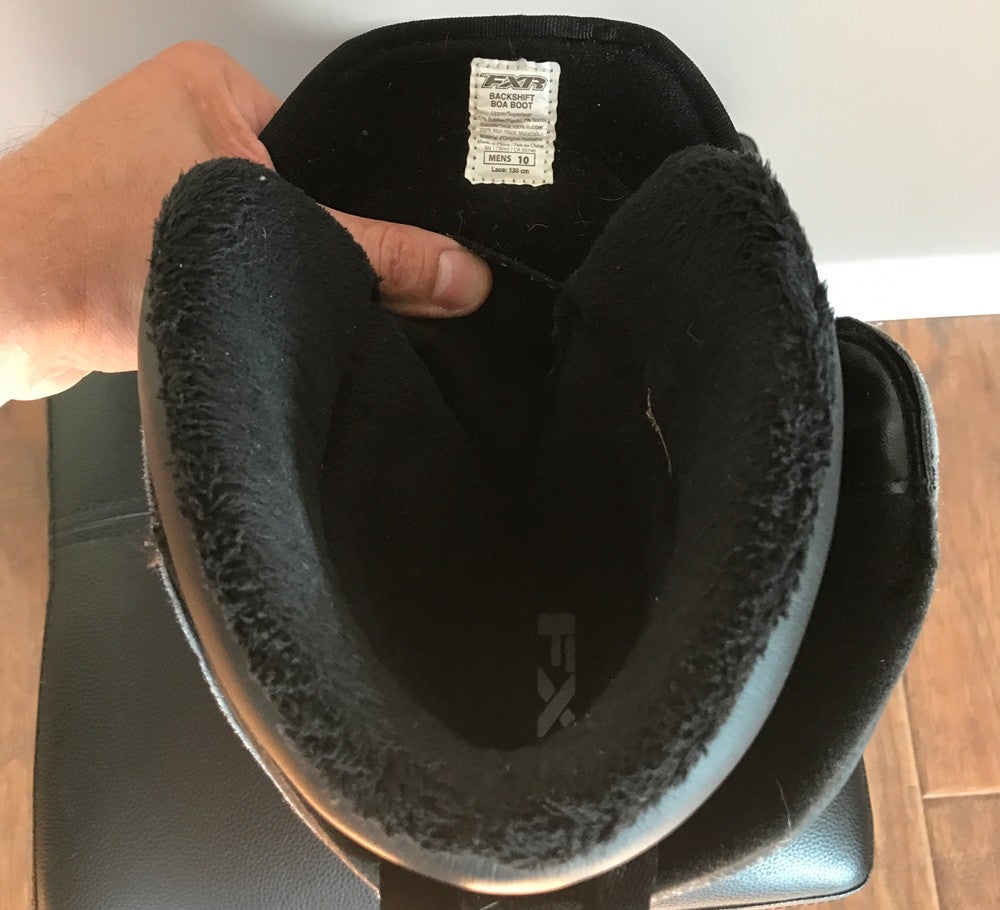 Performance
Hard landings feel soft in the FXR Backshift BOA boots. They are fairly stiff and keep your ankle supported to avoid ankle rolling. They give you confidence by making you feel safe.  They allow me to get up on my toes easily and lean forward, which is important for snocross weight distribution or backcountry jumps. The soles grip aggressive runningboards very well.
When on the trails they do feel a bit bulky. Walking in them with a straight ankle is tough. These are traits that I'm used to and are trade offs for safety when I'm off trail or at a track. When I return to my vehicle I must have other footwear to drive.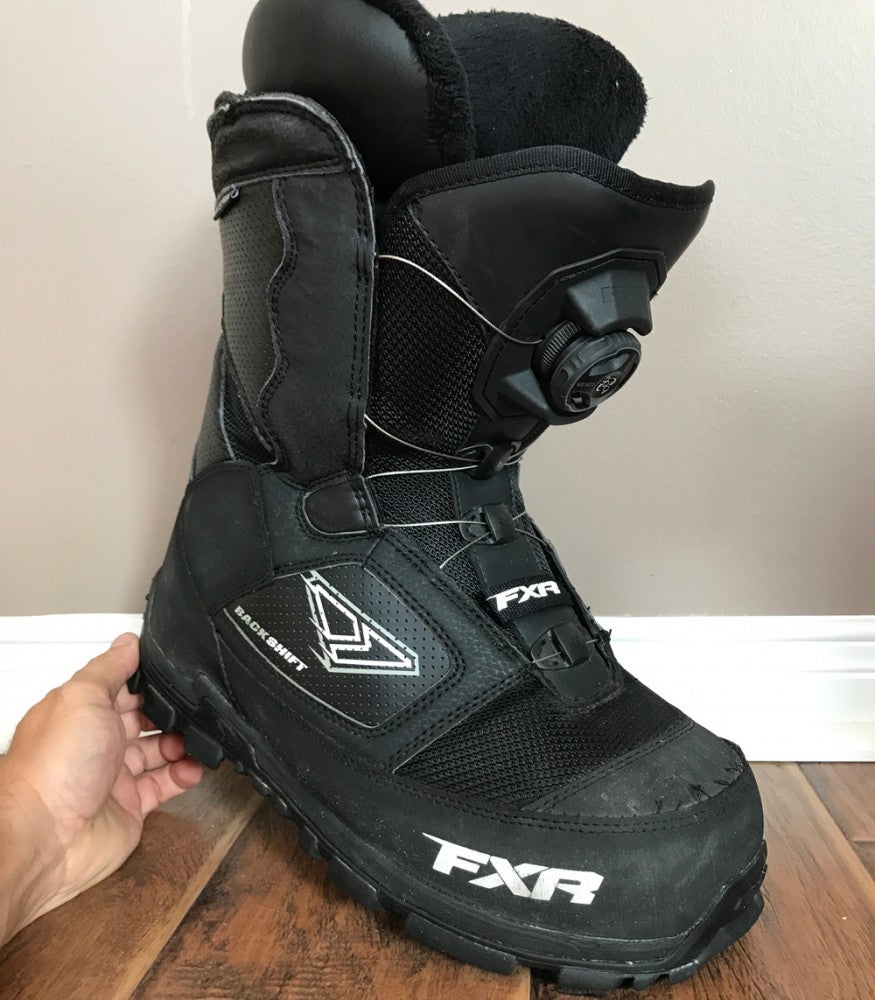 Warmth
When dressing I am sure to put these boots on last as the micro fur lining is quick to warm your feet. With smart-wool socks I still ensure I'm ready to go outside when I put them on to avoid foot sweat. Throughout the riding day they keep my feet warm and I'm sure to remove the liners and put them by the woodstove so they're ready for tomorrow.
Durability
Sadly I have ridden less than 1000 miles in these boots. To date I have no rips or tears, and minimal creasing at the back of the ankle. The soles are in excellent shape and there is no sign of any peeling at the toes.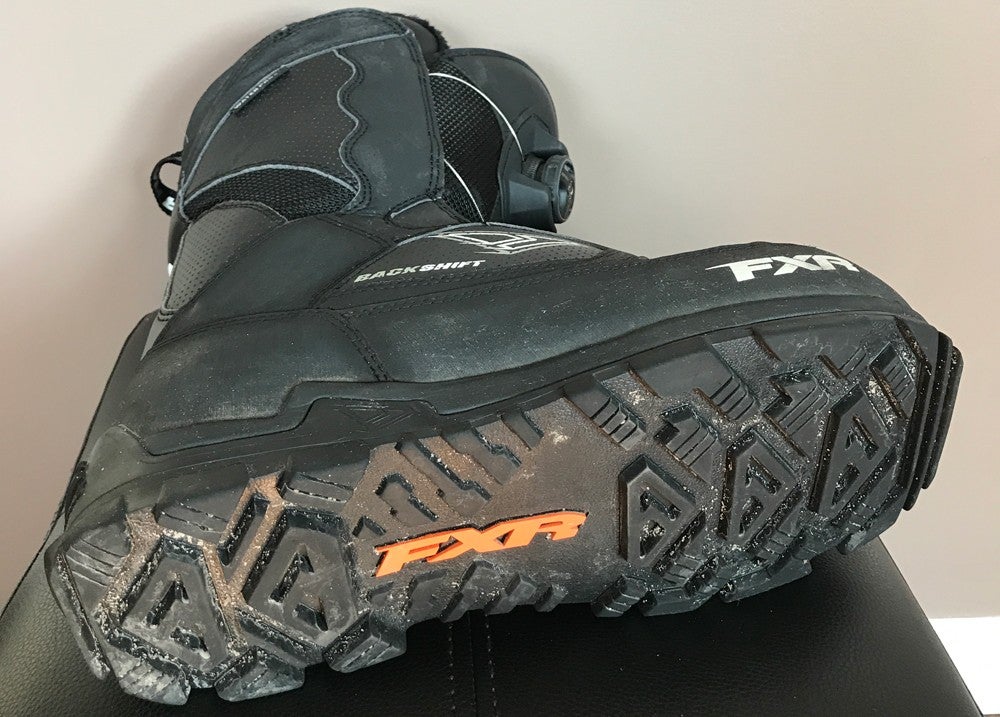 Conclusion
You'll find the technology of these boots in newer models as well. These boots make hard or awkward landings better. My ankles appreciate their stiffness and support, as not all of my landings are perfect and snocross in the 90s was hard on my ankles.  Hopefully this winter will offer a longer season so I can ride more backcountry in these boots.
Here is a link to FXR to check out its most current boot selection.