FXR Snowmobile Boots Buyer's Guide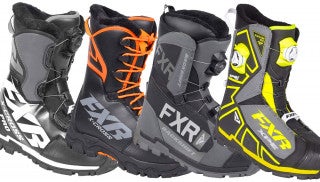 Find the right snowmobiling boots for your riding style
If you are looking at picking up a new pair of FXR snowmobile boots, make sure you get the right ones for the type of riding you normally do.
No snowmobiler ever wants wet, cold or cramped toes. It can ruin a day of riding, and make for a not so happy camper on the trails, mountains or wherever you ride. That's why it's so important to find the type of snowmobile boot that is best for you. One of the most popular snowmobile boot brands is FXR and this guide will help you find the right FXR snowmobile boots for your needs.
The type of boot you need really depends on what riding you are doing. Choose a stiffer boot for increased stability (usually with mountain or backcountry riding) where you are more active as compared to sitting and riding on a trail. For trail riding up north where temperatures dip well below freezing, you want something that is obviously warm and going to keep your toes cozy. These five FXR snowmobile boots offer options for just about any rider.
1. Editor's Choice: FXR X-Cross Pro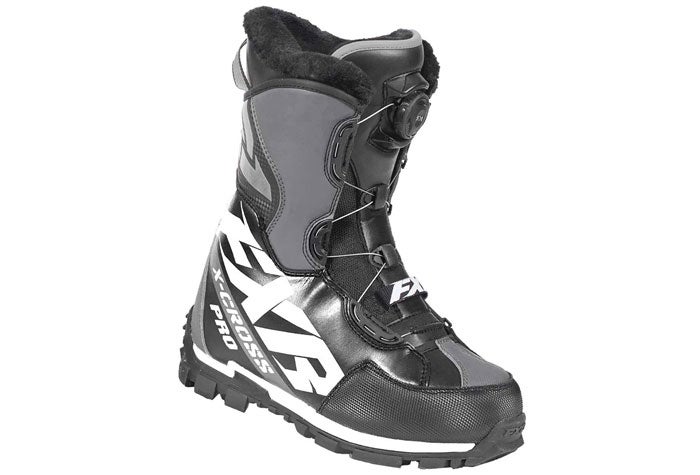 The FXR X-Cross Pro is a great all-around boot. Insulated at 600 grams (rated for moderate activity), this boot should keep you warm in -40 degree temperatures. It's rated a 5 for stiffness, meaning it's right in the middle and should be good for a variety of activities. However, if you're a mountain riding junkie or somebody who is very active on a sled, you may want to look into something that's a bit higher in terms of stiffness rating. A BOA single M3 reel makes these FXR snowmobiling boots super easy to put on and tighten up.
2. Runner Up: FXR Helium Boa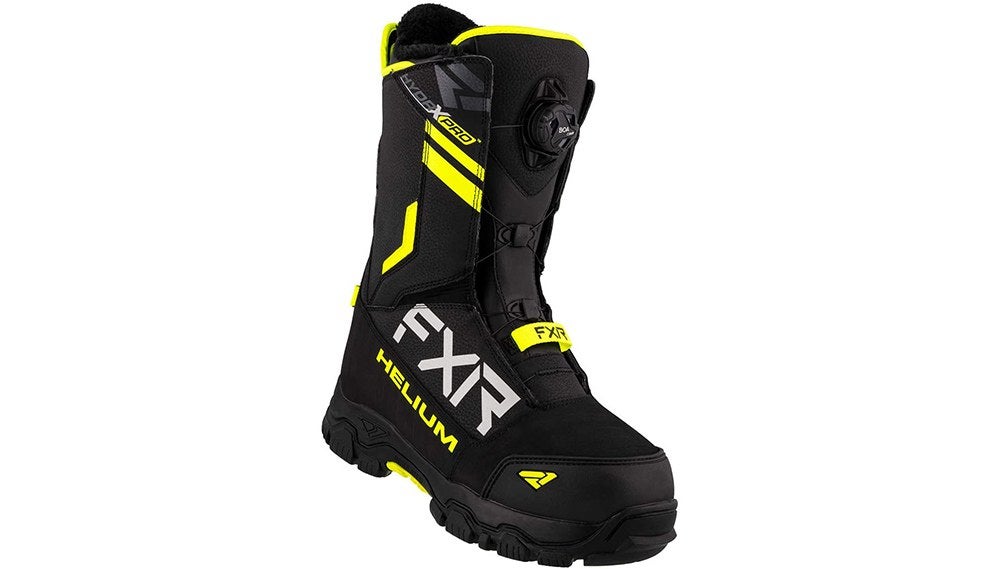 These FXR snowmobile boots are built for versatility. They are lightweight and have features that are perfect for both mountain and trail riding, rated at 800 grams, for -60 degree temperatures, and a 6 for stiffness level, these boots are super flexible and offer the support riders need. This boot comes with a BOA lace system, and or even more support, FXR designed the Helium Boa boots with a stiffness rating of 8, which should be plenty for any hardcore backcountry rider.
3. FXR X-Cross Speed Boot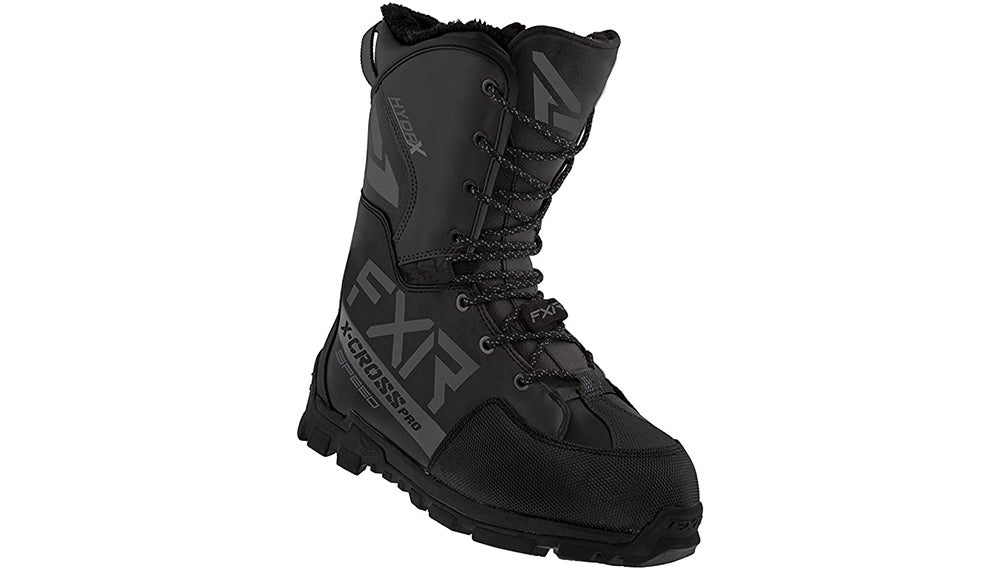 The FXR X-Cross Speed is similar to the X-Cross Pro; the primary difference here is that this boot is made with sewn-in molded speed lace hooks for quick tie-up and release. In addition, this boot is lighter, but still rated for the same -40 degree weather, and level 5 in terms of stiffness. These boots come with a fixed faux fur lining, and BTO thermostatic midsole insert.
4. FXR Women's Snowmobile Boots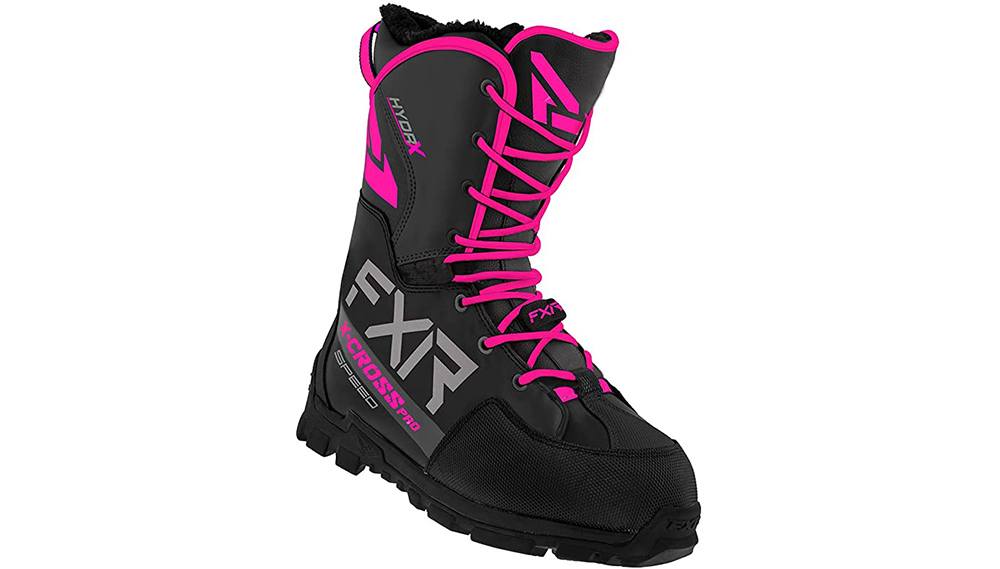 Women snowmobilers also need to keep their feet warm, dry, and secure, and FXR addresses that by making women's sizes across its lineup of snowmobiling boots. That means women can wear any of the boots listed here, or any number of others. If women's sizing isn't listed, no need to worry. There is typically a two-size difference between women's snowmobile boots and men's, so if you see a men's size 8, that would be a women's size 10. Likewise, if you see a men's size 6, that would be a women's size 8.
What is the benefit of a boot with the Boa system?
The Boa tightening system makes life simple when putting on and tightening your boots. Instead of having tie laces, which are unreliable and prone to come undone at the most inconvenient time, these are continuous cord that is tightened by a rotating adjuster at the top of your boot. This adjuster locks into place and creates an even pull across the tongue of your boots for a comfortable fit.
What makes stiffer better than ones that aren't as stiff?
The stiffer boots offer better support for your ankles and are more comfortable on longer rides by providing a more solid platform.
Additional Resources
Recent Updates
1/10/2022: Updated product descriptions, ranked products, added new products (x cross pro speed women, x cross pro, and x cross speed boots) added additional resources, added FAQ.
---
We are committed to finding, researching, and recommending the best products. We earn commissions from purchases you make using the retail links in our product reviews. Learn more about how this works.