Timbersled Trio, Ride Command App Among Polaris Releases at Hay Days
At Hay Days, Polaris introduced some exciting items to the market, including the Timbersled Trio front suspension, Ride Command App for iOS and Android, and the Camso Storm 150 track.
Timbersled Trio Front Suspension
Polaris referred to this as a new revolutionary front suspension that increases performance, handling, and control for all riders. We have seen the snow bike industry growing in popularity, but it is not without its growing pains. A snow bike is a dirt bike that gets thrown into a snow environment it was never intended for. One of the problems is fork valving.  Avid factory riders from Timbersled stated they would go through three different valve changes during the course of a year.  Requiring them to pull the forks and then ship them off to get re-valved. This adds an expense to riding, plus increases down time.
This suspension kit provides a third shock that is fitted in-between and just to the rear of the factory forks, and mounted to the ski. This is a quick and easy bolt on installation kit is designed to eliminate bottoming out and decrease ski dive, because it keeps the suspension riding high in the stroke. It provides a correct spring rate and damping for snow riding, plus the rider is able to customize the ride to their preference. This is a cost-effective upgrade, because the owner avoids the seasonal cost of returning shocks to summer riding, then back again the next winter season.
The shock itself is a Fox Float 3 EVOL, with adjustments on the EVOL air spring and EVOL float air spring. Features SSSS (Samurai Scraper Sealing System). The shock is fully re-buildable and re-valveable, and its ultra-light weight design is also extremely durable and infinitely adjustable.
Timbersled currently has kits available for 80% of all makes of dirt bikes. It can also be paired with other snow bike kits with the ARO spindle ski kit. The Trio kit is$899 and the mounting kit is $59
Ride Command App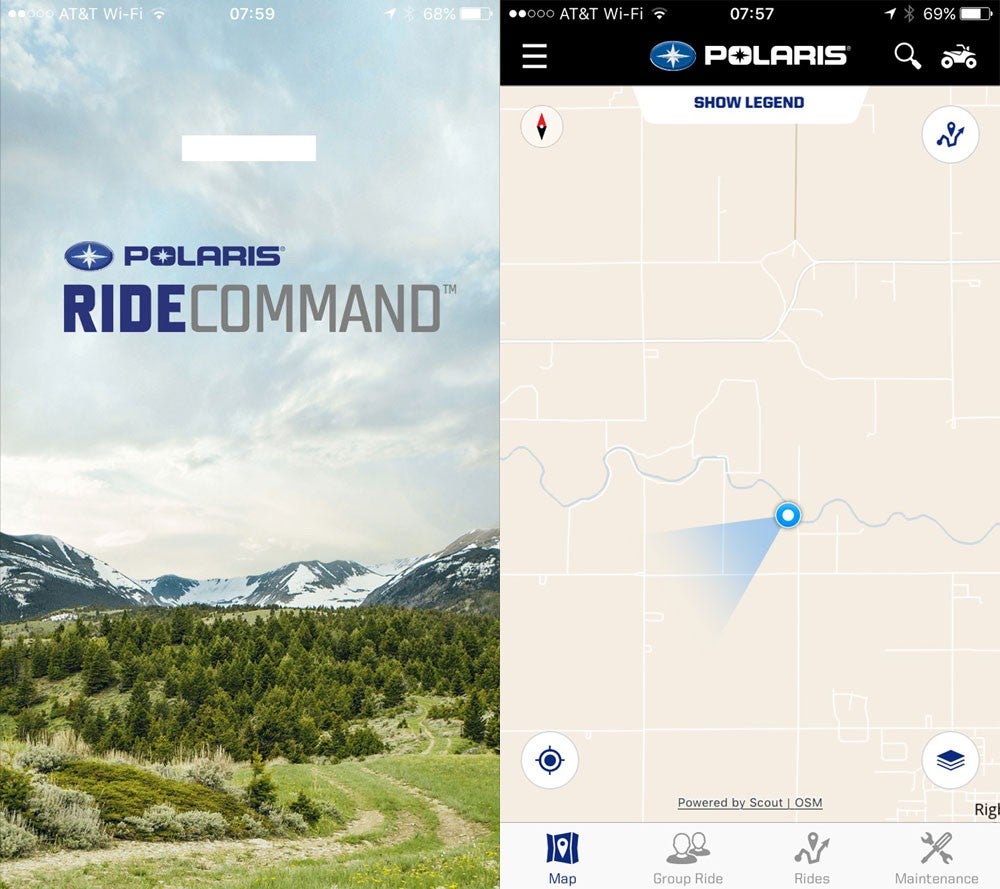 Polaris continues to push the boundaries in all aspects of the sport. Even the social aspect, Polaris has combined a form of social media into an app that connects users by displaying trails and then allowing them to rate the trail conditions. That rating is then updated in real time, so other users can see the trail rating. Polaris says that over 200,000 snowmobilers and other off-roaders used the app last year for over three million engagements.
When planning your next ride, a user can select Riding Conditions; a layer then shows simple color-coded icons – green for good, blue for OK, and red for poor. These ratings are placed there by other riders that have been on the trails within the last 24 hours. When leaving a trail condition review there is an option for comments, so the rater can further elaborate on the condition of the trail. A user that wants to go beyond the simple good, OK, and poor, can click on the icon and read the comments. The app will automatically prompt you to add a Riding Condition report after ending a tracked ride or stopping during a group ride. This app is available for all users, not just Polaris users.
Camso Storm 150
Polaris and Camso engineers co-developed a new and innovative trail track that provides all-out acceleration and agility. The center lugs are cupped shaped and are 1.5 inches tall. This provides the acceleration on packed trails and bite in soft snow. The outer lugs are 1.25 inches tall which provides power and control through tight turns by improving the tail slide capability. This combination helps maintain ground contact, and its support columns provide the right balance of lug rigidity and flex for all around performance. This track will fit the RUSH 2010, and 2015-2018, Switchback 2015-2018, and the 2018 SKS 800 146. The track comes in 120″, 137″, and 146″ track lengths.