Admission coupon for Toronto International Snowmobile ATV & Powersports Show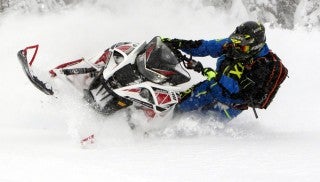 Coupon offers up a discount to attend the show
Pretty much 365 days a year we sledders long for fresh powdered snow on the trail and in the trees, crisp temperatures, and a throttle under our thumb. After a long summer of those dreams, we flock in legions to our favourite fall snowmobile shows.
This weekend marks the 30th Anniversary of the Toronto International Snowmobile ATV & Powersports Show.  Although our friendships and likeminded conversations draw us there, we are also treated to exciting freestyle shows by the likes of X-Games Gold medallist Heath Frisby, to deals on all kinds on gear and accessories, new technology offerings from the manufacturers, sales of new and used sleds, the vintage display, and more.
Snowmobile.com would like to share this $3 off admission coupon with you. And if you see us there, please stop us, say hi and tell us a story! Is it Friday yet? Is it snowing yet??