Get Ready For the Big East Powersports Show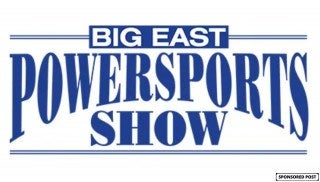 If you are a snowmobile superfan and you're not too far away from the northeastern United States, get ready, because one of the biggest indoor powersports shows in the region is coming to Syracuse, New York at the end of September.
The Big East Powersports Show, which bills itself as the "premier indoor powersports show in the northeast," is coming to the New York State Fairgrounds Expo Center on Friday, September 30. It will continue running through Sunday, October 2, giving attendees the opportunity to engage with the latest snowmobiles and powersports gear from some of the industry's biggest names like Arctic Cat, Polaris, and Ski-Doo/Lynx, and to hear from some of the most influential people in the industry on the Big East Stage. Special deals will be available throughout, from exhibitors offering everything from performance parts and lubricants to riding gear, towing products, traction products, and powersports print publications.
Also making a return this year is the Big East Classic Vintage Show, where you'll have the opportunity to get up close and personal with over a hundred classic vintage snowmobiles. The featured brand this year is Arctic Cat. Sleds of the era looked characteristically – almost comically – simple, and if you've never before had the opportunity to see one in person, that alone is worth the price of admission.
Curious what else you might see at the 2022 Big East Powersports Show? As of this writing, show organizers are still hard at work compiling a list of this year's featured speakers on the Big East Stage. A published list of exhibitors reveals that, in addition to the manufacturers previously mentioned, there will be booths run by Snow Goer Magazine, Hygear Suspension, New England Trail GPS, Pelican International, Mack Studs, Legend Performance, California Heat Heated Clothing, and countless others.
This year marks the 29th for the Big East Powersports Show, and beyond serving as one of the biggest opportunities to interact with countless vendors and industry bigwigs, it's a gathering spot for local snowmobile riders of every stripe. In fact, more than a couple snowmobile riding clubs will have exhibitions at this year's show, making it a great place to link up with fellow snowmobile lovers, whether they're acquaintances old or new.
Tickets to the 2022 Big East Powersports Show are priced at $13 for adults and children age 12 and up, and $7 for children ages 6 to 11, so it doesn't cost a lot to get in on the action. To get your tickets, read all about the features and exhibitors of this year's show, and view photographs of exhibitions from years past, visit bigeastpowersportsshow.com.