How To Get Your Snowmobile Unstuck From Deep Powder + Video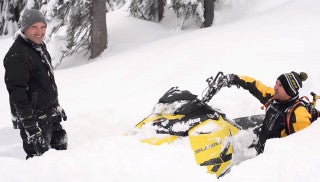 Anybody who's ever been riding in the deep powder knows what it's like to get your snowmobile stuck. While there are a few schools of thought on how to get out of a bad spot and up and running again, Ski-Doo Backcountry experts Tony Jenkins and Rob Alford put a video together to show you an easy way to get unstuck.
Keep in mind that this method requires two people, but hopefully you are out riding with a buddy anyway.
Early in the video, Tony Jenkins references the pin and wiggle method, but in the deep, thick powder of British Columbia, that doesn't get the job done. Fortunately, Alford has a solution for these conditions that involves packing down the snow around the sled and making a little flat runway in front. From here, one person pulls and guides the skis while the other works the throttle to get the sled unstuck.
Check out the video below to see exactly how it's done.