2016 Arctic Cat XF 8000 High Country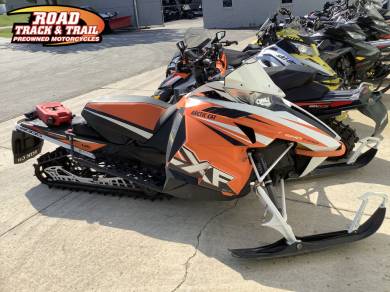 Year : 2016
Color : ORANGE
Mileage : 1,579 Miles
Location : Big Bend, WI, US
Price : $ 6,799
Product Description
141, HIGH COUNTRY, GUARDS, MIRRORS, FOX FLOATS , EXTRA GAS TANK. SHIPPING IS AVAILABLE

2016 Arctic Cat XF 8000 High CountryFeatures may include:
160-class HP makes this 794cc 2-stroke the most powerful 800 engine in the industry. It features a lightweight, quick-revving crankshaft, twin spark plugs per cylinder and weight-saving engine reverse technology. The engine knock sensor provides octane recognition, giving you more fuel options.
ARCTIC DRIVE SYSTEM WITH TEAM CLUTCHES
New for 2016, the Arctic Drive System incorporates a large TEAM BOSS driven clutch and TEAM drive clutch. By eliminating belt skid, these clutches reduce temperature and transfer more power to the track. In addition to their incredible strength, these clutches are known for their easy and precise tuning.
ARCTIC MOUNTAIN FRONT SUSPENSION
Arctic Mountain Suspension (AMS) is all-new for 2016, from its single-post spindles set to a 27-degree caster angle for better sidehilling, to the 2.4-lb. weight savings in the A-arms and 7-in. tapered skis. All that, plus a narrower 40.5-in. stance. FOX FLOAT 3 shocks cushion aggressive bumps and smooth out even the harshest ruts.
FLOAT-ACTION REAR SUSPENSION
Unique tri-hub rear axle system is engineered to be very light and very strong. Front-arm Arctic Cat IFP shocks provide stability, while rear springless FOX FLOAT 3 air shocks provide a full range of pressure and tuning options while reducing snow buildup weight.
The new ProClimb-7 mountain ski is 7-in. at the tip, tapering to 6.5-in. at the center. The wider skis enhance your carving abilities and prevent unintended braking while going downhill. A wider ski damper featuring a longer axle and bolt increases lateral adjustability.
NARROWER 38.5-42.5 ADJUSTABLE SKI STANCE
For boondocking and riding off trail, the narrower ski stance (adjustable: 38.5-in.42.5-in.) takes you places you couldnt go before. Easier for carving, sidehilling, and just easier to handle.
DELUXE DIGITAL ANALOG GAUGE
The deluxe gauge lets you choose between digital and analog speed, and tachometer readouts. Theres also an odometer, two trip meters, engine hour meter, reverse indicator, optional altimeter and warning lights.
PUSH-BUTTON ENGINE REVERSE
The push-button reverse is all about quick, easy activation. This feature reverses the direction of the engine rotation. In addition to being smooth, its also a weight-savings feature.
TELESCOPING WITH ADJUSTABLE MOUNTAIN HANDLEBAR
Drop down for the trail. Pull up for the powder. The quick-adjust telescoping steering system allows riders to quickly adjust handlebar height within a 4-in. range, using a simple hand-operated locking collar.
5.5" RACE-HEIGHT WINDSHIELD
Because its not the same hiding behind a tall windshield as you carve through fresh power.
141-IN. POWER CLAW TRACK WITH 2.25-IN. LUGS
This lightweight, 141-in. single-ply track rips through the deep stuff. Stagger-set, curved-forward paddle towers wont fold over. The 2.25-in. lug height lets you go deep with confidence.
Image Gallery
Company Profile
Road Track and Trail
Contact Name Sales Department
Tel 262-662-1500
Fax 262-662-2009
Address W228 - S6932 Enterprise Drive
City Big Bend
State Wisconsin
Country United States
ZIP/Postal Code 53103