2018 Arctic Cat XF 6000 High Country ES (141)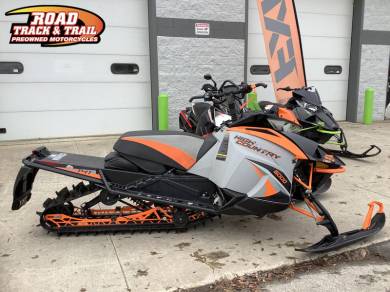 Year : 2018
Mileage : 4,557 Miles
Location : Big Bend, WI, US
Price : $ 6,299
Product Description
ELECTRIC START, REVERSE, TUNNEL BAG, ADJUSTABLE HANDLEBARS, COOL CROSSOVER!!

2018 Arctic Cat XF 6000 High Country ES (141)Features may include:
Arctic Cats Next-Gen body panels are designed to seamlessly cut through the air with as little atmospheric tension as possible. With only a quarter-turn of the two quick-release tabs, the side panel comes off and provides easy access to the engine compartment for general maintenance.
6000 C-TEC2 ENGINE WITH DSI
This 599cc 2-stroke DSI is the unmodified version of the engine thats been launching Team Arctic down the racetrack since 2012. This quick-revving, 125-class horsepower C-TEC2 power mill is the product of a world-class engine assembly plant ours. Whether youre riding a ZR an M or a Crossover, the 6000 is one of the most satisfying engines found in a snowmobile.
ARCTIC DRIVE SYSTEM WITH TEAM RAPID RESPONSE II DRIVE AND TEAM RAPID RESPONSE BOSS DRIVEN CLUTCHES
The Arctic Drive System features a lightweight magnesium chaincase. The new TEAM Rapid Response II drive clutch features an auto-adjusting belt tension design that delivers consistent performance without manual adjustments. It also features a 12.5% lower effective starting ratio while maintaining the top ratio for smoother engagement and reduced belt wear at drive-away speed.
ARCTIC MOUNTAIN FRONT SUSPENSION WITH ARCTIC CAT GAS IFP SHOCKS
The Arctic Mountain front suspension packs the essentials. The ProClimb-7 mountain ski is 7" at the tip, tapering to 6.5" at the center to enhance your carving. Single-post, angled-out spindles help you shed some sled weight while maximizing quality and strength. Arctic Cat gas IFP shocks feature a hard-anodized aluminum body, 0.5" shaft, aluminum internal floating piston, and high-quality seals and ice scrapers. For added strength, the eyelet on the shaft end is forged, replacing the welded design.
FLOAT-ACTION REAR SUSPENSION WITH ARCTIC CAT IFP GAS SHOCKS
The FLOAT-ACTION rear suspensions unique tri-hub rear axle system is engineered to be very light and very strong. The Arctic Cat IFP shocks are proven on the hill for reliability and stability.
This dual configurable LCD screen gauge allows to you check all the vital information about your snowmobile and more. 14 different readings to be exact. Theres an odometer, speedometer, max RPM, 2 trip meters, engine hours, low oil light, coolant temperature, exhaust temperature, intake air temperature, battery voltage, fuel level, clock and reverse indicator.
TELESCOPING WITH ADJUSTABLE MOUNTAIN HANDLEBAR
Simple one-hand adjustment allows you to quickly choose your handlebar height within a 4" range for the way you ride. Raise it up when youre in powder or lower it on the trail.
141-IN. POWER CLAW TRACK WITH 2.25-IN. LUGS
This lightweight, 141" single-ply track with a 3". pitch rips through the deep stuff. Stagger-set, curved-forward paddle towers wont fold over. 2.25" lugs let you go deep with confidence.
Need to charge your phone or another electrical device? Weve got you covered. Just plug in and power up while you ride.
Say goodbye to cold hands. Our hand and thumb warmers provide plenty of warmth and comfort on long rides.
Image Gallery
Company Profile
Road Track and Trail
Contact Name Sales Department
Tel 262-662-1500
Fax 262-662-2009
Address W228 - S6932 Enterprise Drive
City Big Bend
State Wisconsin
Country United States
ZIP/Postal Code 53103