2021 Polaris 650 Indy VR1 137 SOLD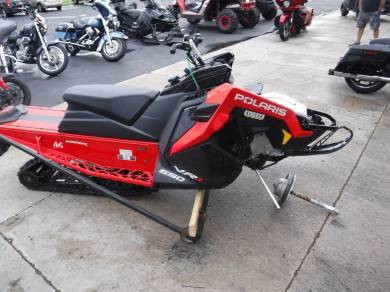 Year : 2021
Color : RED BLACK
Mileage : 99,999 Miles
Location : Big Bend, WI, US
VIN : SN1TDV6R2MC356598
Price : $ 4,000
Product Description
RUNS CURRENTLY, SOLD AS IS , MECHANICS SPECIAL, SOLD AS IS, ICE RIPPER TRACK, MISSING FRONT SHOCKS, MISSING SPEEDO MILES UNKNOWN AT THIS TIME, MISSING A ARMS, TUNNEL OR BULKHEAD MAY NEED REPLACEMENT, LEFT PANEL MISSING, UPPER PANEL MISSING, SECONDARY MAY NOT BE FOR THIS SLED. SOLD AS IS.

2021 Polaris 650 Indy VR1 137Dominating Trail Performance


Features may include:
Patriot Powered Engine Choices
The all-new 650 Patriot built on the proven 850 architecture delivers outstanding durability, refined run quality and a new level of fuel economy. Throttle response is instant, power is pure and acceleration is smooth from first pull to open throttle.
Lightweight Aluminum and Carbon Fiber Chassis
Lightweight body and frame with unmatched rigidity and durability.
Effortless Control in Any Condition
Industry-Leading Polaris Race IFS
The perfect balance of effort, precision & zero-bump steer-stability to deliver ultimate handling and control.
Proven Pro-CC Rear Suspension
The PRO-CC Rear Suspension is the next generation rear suspension from Polaris and provides the industry's best acceleration, handling, and consistently smooth ride. The rear ski's coupled design controls pitch through geometry without reducing the fun factor. The front torque arm is calibrated for trail compliance without bottoming.
The Most Advanced Technology on Snow
7S Display with Ride Command Integration. Full Color, Touch Screen and GPS Display.
Left Hand Controls to Change Views and Functions
Easily explore maps, switch gauges, and control phone calls and media with integrated handlebar controls.
View speed and RPM along with 7 additional configurable gauges on your main gauge screens.
See Your Ride Group on the Map With or Without Cell Coverage
Industry-leading V2V (Vehicle to Vehicle) Group Ride allows you to see and follow your group whether you have cellular data connectivity or not.
Control Media with USB and Bluetooth Connectivity
Pair your phone via Bluetooth and connect your Sena headset to make phone calls and listen to music.
This new headlight brings state of the art lighting technology to Polaris riders. Six projector beam optics deliver precision lighting with an engineered pattern to deliver exceptional visibility for night riding.
Image Gallery
Company Profile
Road Track and Trail
Contact Name Sales Department
Tel 262-662-1500
Fax 262-662-2009
Address W228 - S6932 Enterprise Drive
City Big Bend
State Wisconsin
Country United States
ZIP/Postal Code 53103